Reviewed by NEAL GENDLER
It might seem that every possible Shoah-related story has been written, but historians, novelists and most important, survivors, keep proving otherwise.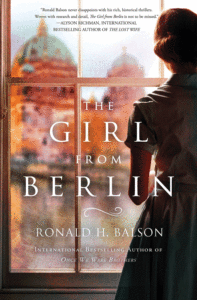 Writer and Chicago attorney Ronald Balson's The Girl from Berlin is a very imaginative novel, engaging from the first page and very hard to put down.
Balson has created two stories in one, or rather, a story within a story, sort of outer and inner tales — the two related in a way kept from the reader until nearly the end.
The book moves between its two plots, the first set in summer 2017 Italy and the second starting in 1918 Germany.
In the opening, outer plot, a conglomerate has served an eviction notice on an elderly Italian woman, Gabi Vincenzo, physically frail but mentally tough. The company claims that it, not she — who has lived there seven decades — is the legal owner of a 70-acre grape-growing estate surrounded by the company's extensive Tuscany vineyards.
The woman's Chicago nephew, restaurateur Tony Vincenzo, seeks help from his friends Catherine Lockhart, an ace attorney, and her husband, Liam, who we eventually learn is a private investigator with the last name of Taggart.
Catherine isn't licensed in Italy and neither speaks Italian.
Readers of Balson's hit Once We Were Brothers will recognize Catherine from her role there, its subject affecting Catherine's availability.
Tony will pay all the costs if the couple will travel to his aunt's home outside Pienza and try to stop the order.
Gabi's sharp, bilingual assistant quickly ships Tony a stack of legal documents in Italian and a leather binder full of papers in English that Gabi says will explain matters in a way she refuses to disclose. Gabi insists Catherine read the contents.
Catherine has the documents translated; the conglomerate's title looks legal. The binder holds a memoir beginning in 1918 by Ada Baumgarten, child prodigy violinist and daughter of the Berlin Philharmonic concertmaster.
Her story interests Catherine and, eventually Liam, who's able to draw apt conclusions from wisps of information found with help from Giulia Romano, the energetic young Italian lawyer they engage.
Ada blossoms early, becoming concertmaster of the Berlin Junior Orchestra, then getting eight nights and a solo with the Berlin State Opera that wins nerve-wracking, in-person praise from Reinhard Heydrich.
By 1937, Germany's anti-Jewish laws have broadened and her father, who's being protected by conductor Wilhelm Furtwängler, sends Ada and her mother to Italy. Even under Mussolini, Italy has little anti-Semitism and its eventual anti-Jewish laws are little enforced.
Ada gets a year's appointment with the Bologna State Opera, succeeds as a soloist, becomes accompanist for Italy's star tenor, Beniamino Gigli, and plays in the Rome Opera Orchestra. The only character much developed, she's a very sympathetic personality; you want her to succeed.
With chapters jumping from one story to another, Balson paints a pleasant picture of the colorful Tuscan countryside while nicely capturing Ada's adolescent enthusiasm and the darkening gloom of Nazi rule and persecution.
On page 254, set in 1939, Balson deftly weaves the two plots together, beginning a connection astute readers may have suspected. But even so, Balson hasn't used up his surprises.
He ratchets up the tension, pushing you closer to the edge of your chair because by this time, you're invested in both plots — which includes significant, clever twists I've not not mentioned — and particularly in Ada.
The women's joyous safety shatters in September 1943, when Italy surrenders. Germany occupies its northern half and begins rounding up Jews. Ada agrees to flee, but only after one more concert, the opera season's finale.
It's like watching a horror movie and wanting to shout: "Don't open that door!"
And to find out what awaits, you'll have to read the book. You'll enjoy it.
***
Neal Gendler is a Minneapolis writer and editor.