A visitor to Husi finds a neglected Jewish cemetery and shul — and feels immense gratitude for his ancestors' sacrifices

By MICHAEL A. APPLEMAN, Ph.D.
There are things that are unimaginable.
I would never, for example, imagine that my great-grandparents' graves in Husi, Romania, would be desecrated, disrespected and dilapidated. But that is what I found when I visited their cemetery last Pesach.
Old World Roots Trip
This was a trip of contrast — from simcha to sorrow. I had first traveled to Jerusalem for beautiful chatuna, the wedding of my cousin, Adi Zisman, before continuing on to Husi (pronounced "Huush"), a small and poorly accessible town in northeastern Romania. My mother, of blessed memory, Gertrude Gittel Appleman, was born there more than 100 years ago.
I traveled more than 5,000 miles — from Tel Aviv to Bucharest to Iasi (pronounced "Yash"), where I hired an English-speaking Romanian guide, Claudiu, to drive me to Husi.
The two-hour drive on a pot-holed, single-lane highway was treacherous and laden with fog, and I was thrown back centuries. Women in babushkas walked along the side of the road. The houses were flat, grey, non-descript stucco.
Claudiu told me that this part of Moldavia (a province in Romania) has freezing cold winters, and hot and humid summers, just like Minneapolis.
We arrived in Husi not knowing a soul. With difficulty — after asking the local police and people on the street, as well as a clerk in a small auto parts store — Claudiu located the only Jew in Husi. He spoke no English, but he had a key to the cemetery and synagogue.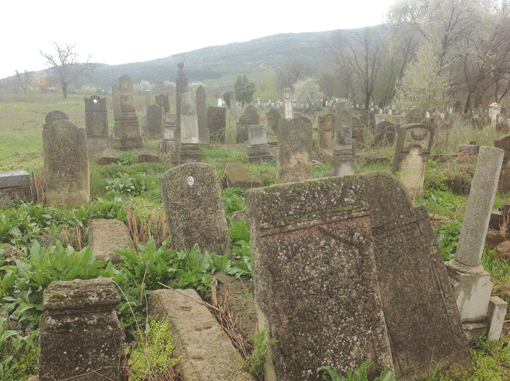 This cemetery dates back to the 15th century or later. The shamash opened the wrought iron cemetery gate, which featured a Magen David on its door, and we nearly slid down the muddy hill down to the graves.
Here I found that my ancestors' bones were laid to, but do not rest. The tombstones were in shambles.
I found few legible fragments of stone. Tombstones were broken and laden with moss. To my dismay, one part of the cemetery had small trees growing between the graves. The graves had not been maintained for decades.


The Romanian Jew claimed that there were no funds to maintain the cemetery. He occasionally received donations to clear the brush and remove some of the trees.
There was a small corn field next to the graves that had just been plowed. I wondered if they let cattle graze there, too.
In Husi, there were once five synagogues. But the pogroms wiped out this once-thriving community; thousands of Jews were slaughtered.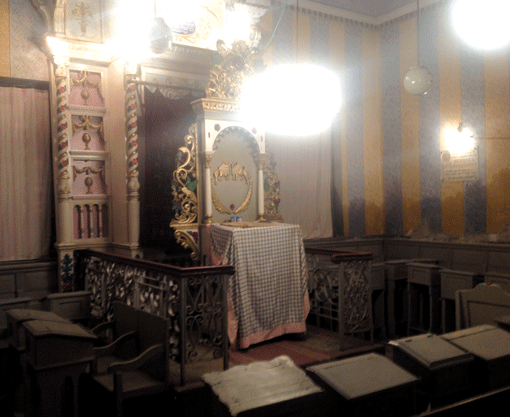 Now there is only one shul, surrounded by barbed wire to prevent vandalism. When the Romanian man opened the door to the synagogue, we found that the rooms were cold; there was no heat. The Torah ark and faded Torah blessings, which were displayed in a picture frame on the wall, were more than 600 years old.
There were old prayer books in a glass cabinet that dated back centuries. These Judaica should be in a Jewish museum, not haplessly thrown, one on top of each other, in the cabinet.
The man knew that I was engrossed in the history of my family's synagogue. And he was brazen, asking me for 100 lei (about $35 USD) for the tour. He said the money was used to keep up the synagogue, but it was clear the shul had not been touched for decades.
My mission was not accomplished. Yes, I found the graves where my ancestors were buried and the shul where they likely prayed, but I did not find my great-grandparents' graves (no Goldsteins or Frohlichmans).
From Husi, I wrote an e-mail to Rabbi Alexander Davis at Beth El Synagogue in St. Louis Park to share the resultant findings of the cemetery and shul. His reply resonated clearly: Our ancestors risked a great deal to give us a better life. We are indebted to them.
Indebted I am! One is not prepared to see how our families lived in Eastern Europe. But once you do see it, once you do feel it and once you do experience it, you have the engrained gratitude for their sacrifices.
***
Michael Appleman, Ph.D., has written several articles for the AJW on his humanitarian missions to Cuba. He recently hosted an Israeli and Cuban art exhibit at his Cubano Gallery in Golden Valley, with the proceeds used to support the artists.
He is married to Mickey Appleman and has three children, Alaina, Joshua and Danielle. He can be reached at: appleman.michael@gmail.com.
(American Jewish World, 5.9.14)