The Rimon Artist Salon Series opens its 14th season with Women Repair the World: Artists Edition, a virtual Zoom event at 7 p.m. Wednesday, Nov. 11.
The event features performance, film and dialogue by visual artist and activist Rachel Breen, vocalist and composer Ariella Forstein and filmmaker Barbara Wiener.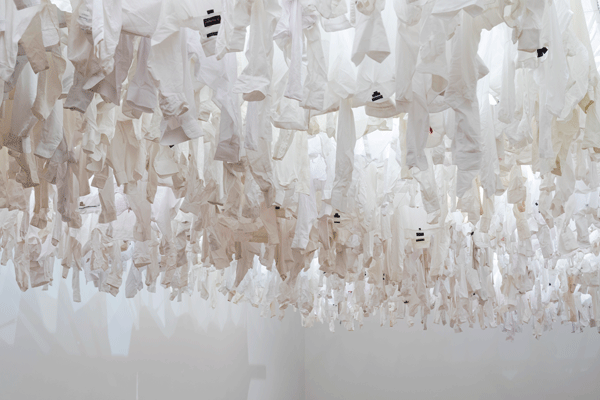 Participation is free. Registration is required at: bit.ly/WRWArtist.
The event is a collaboration with the philanthropic initiative Women Repair the World, a project of the Minneapolis Jewish Federation and Hadassah Upper Midwest, which provides impactful educational events for women and their allies.
Moved by a desire to heal the world through internal exploration, critical insight and public actions, artists are essential workers in our contemporary culture. Representing several generations and art forms, Breen, Forstein and Wiener address the brokenness of the world through their work in voice, textile, installation and film.
They uncover in provocative ways our responsibility to each other. Their visions encourage us to seek out compassion; the interconnection of life and labor; and the balance between a rooted internal voice and an unfettered public call to action.
Breen is a visual artist who works at the intersection of drawing, installation and public engagement.  She has exhibited her work both locally and nationally and is the recipient of four Minnesota State Arts Board grants, the Walker Art Center Open Field fellowship and the 2019-2020 Jerome Hill Artist Fellowship.
Breen is also a co-founder of Jewish Community Action. Breen holds an MFA from the University of Minnesota and an undergraduate degree from Evergreen State College. She is a professor of art at Anoka Ramsey Community College.
Forstein is a songstress, cantorial soloist and ritualist — embodying the practices of a Hebrew priestess and interweaving her songful expression with Mother Nature. Along this path, she's been a vocal empowerment coach for 13 years, helping others hone their voices for speaking, singing and authentically communicating.
Wiener has been a film producer, director and writer for three decades, focusing on cultural and social justice. She is the founder of TVbyGIRLS, where she has used filmmaking to develop cross-cultural leadership with adolescent girls. She has earned six Emmys, a Cine Golden Eagle and three national educational media awards. Wiener is an adjunct professor of film; creates virtual world tours via cinema at FilmNorth; and is currently working on a film about incarcerated artists at Minnesota Correctional Facility — Stillwater.
The Rimon Artist Salons have been called "one of the leading series of Jewish events in the country." Since 2007, Salons have investigated dance, photography, slam poetry, popular music, puppetry, glass arts, fiction, papercutting, multimedia installation, film, architecture, theater, painting, video and nonfiction.
For further information, call the Rimon office at: 952-381-3449 or email: rimon@sabesjcc.org.
—Rimon