Al Milgrom's new film, The Dinkytown Uprising, looks at a 1970 social protest and its reverberations
By MORDECAI SPECKTOR
A playful trailer for Al Milgrom's new film, The Dinkytown Uprising, begins with a dramatic trumpet fanfare from Mahler's Symphony No. 6 in A minor ("Tragische"). The trailer proclaims: "TEN YEARS IN THE MAKING."
However, the documentary film portrays the course of a tumultuous 1970 protest against a proposed fast-food burger joint. Led by U of M and University High students, and a colorful cast of hangers-on in the famed commercial hub adjacent to the University of Minnesota campus, protesters occupied four storefronts on the 1300 block of 4th Street S.E., over a span of several weeks.
The loose-limbed, entertaining documentary — which will have its premiere April 12, at the Minneapolis-St. Paul International Film Festival (MSPIFF) — is actually 45 years in the making.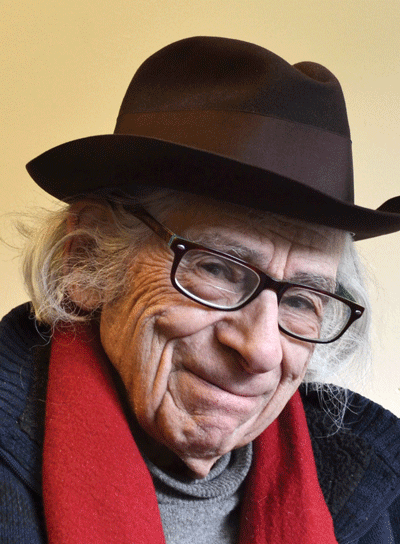 In 1970, Milgrom was a junior instructor in the university's humanities program.
"I was teaching film history… I always wanted to get into film," he explained during an interview last week at the Jewish World offices.
The original footage for The Dinkytown Uprising was shot on an Eclair 16mm movie camera.
"I had it sitting on my basement shelf, until about 1990, and I thought, 'Well, gee, I better start doing something with this,'" said Milgrom, about the old Dinkytown footage, which features interviews with protest leaders and street-level scenes from the "uprising."
More than 30 years after the actual events in Dinkytown, Milgrom started shaping his movie.
"I started in 2003, I got a Jerome grant, which got me going," he recalled.
Then the interview with the AJW veered into Milgrom's family history — his parents in the "Pale of Settlement," in Berditchev ("Rabbi Nachman country") and Ostropol, Ukraine, and the migration to Pine City, Minn.
How did the family get to Pine City?
"By Northern Pacific Railroad," Milgrom replied, and added, at some point, "It's the standard Midwest diaspora Jewish story."
The roots of The Dinkytown Uprising go back to Milgrom's hometown south of Hinckley.
"When I was 10 years old, I was developing film in my basement in Pine City," he recalled. "I'm one of the last remaining members of my [Pine City High School] Class of 1940."
Milgrom said that he's "92 and a half."
The film about the popular movement opposed to the construction of a Red Barn hamburger outlet in Dinkytown focuses on several rabble-rousers in 1970, and then interviews them more than 30 years later. The follow-up interviews took place between 2003 and 2014, according to Milgrom.
Most prominent in the film is David Pence, a squeaky-voiced street orator in 1970, who became a doctor and came to espouse a right-wing political philosophy.
Also featured is his sister, Ellen Pence, a U of M dropout — "I actually flunked out," she reveals — who professes love for her brother, in one of the later interviews, and decries his adoption of right-wing, "anti-gay" views. "What he's become is very sad to me," she says.
The Pences eventually reconciled, according to Ellen, a co-founder of the Duluth Domestic Abuse Intervention Project, who died of cancer on Jan. 6, 2012.
In the way of a Jewish angle, Mike Gelfand, who became known locally as a personality on the KQ Morning Show, on KQRS radio, talks about the Dinkytown he knew while attending University High. The Dinkytown occupation, ostensibly about local zoning for the proposed Red Barn franchise, "was more about Vietnam than anything," comments Gelfand.
John Cairns, a member of the Minneapolis City Council in 1970, representing Ward 2, agrees that the antiwar protests in 1970 "kept fanning the flames" of the Dinkytown rebellion.
For example, on May 4, 1970, in the midst of the Dinkytown events, Ohio National Guard troops opened fire on protesters at Kent State University. Four students were killed by gunfire, and nine others were injured.
The late Allan Spear is seen in the film addressing the crowd from the rooftop of a building on 4th Street. At the time, he was teaching African-American history at the U of M.
"The Red Barn was seen as a big corporation coming into a community that didn't want it, forcing its way upon people who wanted to have their own way of life," said Spear, in one of the follow-up interviews. "Essentially, the Red Barn was doing to Dinkytown what the United States military was doing to Vietnam. It was coming in and imposing its will on another people. I mean, it may seem far-fetched, and in some degree it was — the connection [between Dinkytown and Vietnam]."
Spear, who was Jewish and one of the first openly gay legislators in the United States, became president of the Minnesota Senate. He died Oct. 11, 2008.
The Dinkytown Uprising also features Jean Barsaloux, a charismatic young organizer, who says, in 1970: "I'm a research assistant turned radical." She later had a career as a federal bureaucrat in Washington, D.C.
Monte Bute, a sort of occupation clown in 1970, tells tales of hitting the road to the Haight-Ashbury hippie district in San Francisco, and then returning to U of M activism. He went on to head the Minnesota Public Interest Research Group (MPIRG) and teach at Metropolitan State University.
Also seen in the film is Charles Stenvig, a Minneapolis cop who ran for mayor on a law and order platform and won, in 1969. Stenvig died in 2010.
The film, which is narrated by local theater actor and director Peter Moore, features music by Bob Dylan and Willie Murphy.
In the way of a plot spoiler, the police bust in Dinkytown came on May 6, 1970. About 100 Minneapolis cops showed up with paddy wagons, as a helicopter hovered, shortly before 4 a.m., and evicted protesters from the storefronts on 4th Street. About 40 people were arrested.
"Officers began their sweep in an eastward direction at a brisk pace," the Minneapolis Star reported. "Several persons nearest the advancing line were shoved and clubbed. Those struck included students, a gray-haired man, a newspaper editor and a woman reporter who was knocked sprawling to the ground, her glasses flying in one direction and her shoes in another."
The cops stayed around to supervise the destruction of the buildings, which quickly were "reduced to broken wood and shattered concrete. The helicopter still was circling overhead."
Following the police action in Dinkytown, someone drove a car through the front of the Red Barn restaurant at 313 Oak Street S.E., located about a mile away.
In addition to The Dinkytown Uprising, Al Milgrom, who founded the University Film Society in 1962, directed Rediscovering John Berryman, which also will be shown at MSPIFF next month.
The 27-minute documentary is about the life of the late renowned poet, who taught at the University of Minnesota. Milgrom was his teaching assistant for a time.
The film — which features music by the band Okkervil River — had its premiere at the "John Berryman at 100" symposium, which took place last October at the U of M.
"The newer generation… college kids rediscovered Berryman as sort of a cultural hero of the '60s… a tragic hero, in contradistinction to people like Dylan Thomas, Robert Lowell, even Sylvia Plath," remarked Milgrom.
Berryman committed suicide by jumping off of the Washington Avenue Bridge, in 1972.
"I've got some other things I want to get done," Milgrom commented toward the end of the interview. "I've shot a lot of film on Czech heritage; because I grew up with a lot of Czech kids in Pine City."
Czech-American businessmen "helped my father during the Great Depression in a very good way," Milgrom explained. "I shot about 25 hours of a polka band in New Prague, the Eddie Shimota Band, and that's my next project."
Finally, Milgrom just submitted a proposal to make a film about the Yiddish Vinkl, the group of Yiddish speakers that meets at the Sabes JCC in St. Louis Park.
The guy has more energy and initiative than most 20-year-olds, kinehora.
***
The Dinkytown Uprising will have its world premiere 6 p.m. Sunday, April 12 at the St. Anthony Main Theatre, 115 S.E. Main St., Minneapolis, as part of the Minneapolis-St. Paul International Film Festival (MSPIFF). A second screening is scheduled for 2 p.m. Monday, April 20.
Rediscovering John Berryman will be shown 7 p.m. Tuesday, April 14, at the Best Buy Theater in Northrop Auditorium, on the U of M East Bank campus. A second screening will take place 4:50 p.m., Wednesday, April 22 at St. Anthony Main Theatre.
For MSPIFF information and tickets, go to: mspfilm.org, or call the box office at 612-331-4724.
(American Jewish World, 3.27.15)