DFL State Rep. Steve Simon, of Hopkins, announced plans to run for Minnesota secretary of state on Tuesday. Simon has represented Hopkins and St. Louis Park in the legislature since 2005 and serves as chairman of the House Elections Committee.
The primary responsibility of the office is to administer state elections. Current Secretary of State Mark Ritchie is not running for reelection.
"Secretary of State Ritchie has helped make Minnesota's election system the envy of the nation," Simon said Tuesday in a statement that was reported by KSTP. "I want to build on Minnesota's proud tradition of leading America in voter turnout, voter access and voter engagement. As secretary of state, I'll work to protect the integrity of our election system and make it easier for Minnesotans to take part in our democracy."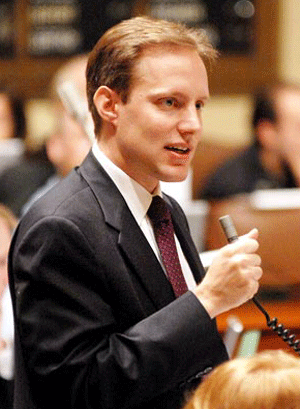 Simon will face challenges from his current House colleague, Rep. Debra Hilstrom, of Brooklyn Center, and former state representative Jeremy Kalin (7-19-13 AJW). No Republicans have officially stated their intentions to join the race.
Simon, 43, is a former assistant minority leader. He graduated from Hopkins High School, Tufts University and the University of Minnesota Law School. He is also an attorney in private practice and a former assistant state attorney general.
According to his Web site, Simon is a member of Temple Israel and is involved with the Jewish Community Relations Council of Minnesota and the Dakotas (JCRC), among other community activities.
This year's election will be take place on Nov. 5.