By ADRIAN GLASS-MOORE / Assistant Editor
Minnesota Hillel is set to open this month after a $7 million renovation.
"We pretty much gutted the building" at 1521 University Ave. S.E. in Minneapolis, Minnesota Hillel executive director Benjie Kaplan said in a phone interview with the Jewish World.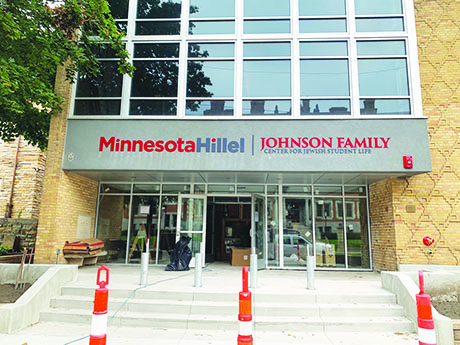 The new Johnson Family Center for Jewish Student Life features a 200-seat event center with kosher meat and milk kitchens, lower level recreation center and rooftop deck. The building was equipped with AC for the first time. It has a new security system and is fully accessible, Kaplan said.
A ribbon-cutting ceremony with University of Minnesota President Joan Gabel is set for Sept. 9.
"We'll be touring students in small groups after Labor Day and have made significant upgrades to the space to allow for us to use it this year safely and healthy," Kaplan said. "For example, we upgraded all of the bathrooms in the building to be hands-free."
It's unclear when students will return to the University of Minnesota Twin Cities campus. University Regents voted on Aug. 24 to delay reopening the Twin Cities, Duluth and Rochester campuses by at least two weeks, the Star Tribune reported.
September is usually a busy month for Hillel with the High Holidays and other events. Kaplan wrote in an email that Hillel was working to keep Jewish activities going despite the COVID-19 pandemic.
"Welcome Back will take the form of small group tours of the building coupled with at-home boxes stuffed full of everything students will need to 'do Jewish' no matter where they are this year," he wrote. "Shabbat will rotate between in-person and virtual experiences. Each week will offer students an opportunity to engage in community in different ways."
He added: "Through well thought-out COVID-19 procedures, increased security and a full docket of in-person and virtual programs, we look forward to another amazing (though different) year of Jewish life on campus and we can't wait to find exciting ways to tell those stories to the community."
The Johnson family was the lead donor for the renovation project. Alumni and parents also donated.
"This was a $7 million project on a $8 million campaign, meant to leave us with a $1 million endowment to ensure upkeep of the building moving forward," Kaplan said in a phone interview. "The campaign still has a little over $1.2 million to raise."
Campaign co-chairs were Elliot and Eloise Kaplan and Debbie Stillman led the fundraising effort.