Fred Baron, who survived Auschwitz and Bergen-Belsen, dies at 91
By ERIN ELLIOTT BRYAN / Community News Editor
Judith Baron first met her husband, Fred Baron, in the garden of a Swedish hospital, where they were both recovering after being liberated from the Bergen-Belsen concentration camp. Judith was sitting with her friend enjoying the fresh air.
"He came out for fresh air, too, and saw that we were dark-haired people, couldn't be Swedes," Judith recalled. "He started a conversation in German, Swedish and so on. But he never let on that he knew Hungarian, which is my native language and my girlfriend's, too. So we made remarks in Hungarian about him and he never let on."
Remembrance
When Fred was discharged from the hospital, he sought out Judith and her friend to say goodbye — in Hungarian.
"Naturally, I was upset about that, but we ended up in the same rehab place and so we became friends, eventually," Judith said.
Judith and Fred were later married and spent 65 years together. They were successful business owners and raised two children, Gary and Susan.
Fred Baron died May 23 at the age of 91.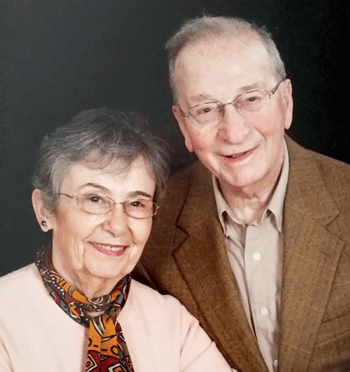 Baron was born into a well-to-do family of assimilated Jews in Vienna, Austria, and was just 15 years old when the Germans marched into the city in 1938. Soon he was kicked out of high school and his father's business was closed down.
"Bank accounts were closed, people lost their jobs, Jews were not allowed to practice as professionals," Baron told editor Rhoda G. Lewin for her 1990 book Witnesses to the Holocaust. "We were penniless, forced to share our apartment with other Jews."
Early in 1939, passage to England was secured for Baron's 12-year-old sister, Gertrude. Later that year, as war broke out in Poland, Baron's father became ill and died, as there was no medical treatment available for Jews.
Baron and his mother hid with non-Jewish friends until Baron was able to get work at a railroad station that granted security for the two of them. In 1941, they crossed the mountains into Hungary, where Baron's mother had relatives.
In December 1941, Baron and his mother were sent to an internment camp in northeastern Hungary. They were eventually separated, and he last heard from her in the spring of 1944.
Baron was deported to Auschwitz and transported to other labor camps before ending up at Bergen-Belsen, which he described as a "nightmare of a different sort" — prisoners were no longer worked to death, they were starved to death.
After liberation, Swedish Red Cross officials assessed which prisoners were in the worst shape.
"He asked each one their nationality, and when I said 'Austrian' he said he can't take Germans or Austrians," Baron said. "I said, 'I was put into this mess because I am Jewish, not Austrian!' A day later I was on the ambulance train to Bremen and then went by ambulance boat to Sweden."
And it was there that he met Judith.
"He was a very kind, very gentlemanly young man, and he wasn't bad looking either," Judith said. "We had a lot in common."
Wanting to leave Europe behind, Baron had an opportunity to immigrate to the United States in 1947. He spent some time in New York, but eventually settled in Minneapolis, where he had heard there was a large Swedish population. After the war, Baron did reunite with his sister, who came to visit him in Sweden. She later immigrated to the United States and settled in Florida.
In 1948, Judith was finally able to immigrate to New York on a student visa to attend Bais Yaakov Teachers' Seminary.
"I left the school and came to Minneapolis because Fred said he was broke coming to visit me in New York," Judith said.
The two were married later that year and began to integrate into the Minneapolis Jewish community. They joined Temple Israel and the New Home Club, a group of local Holocaust survivors that became like family.
Baron spent 12 years as an office manager for a hat manufacturer and went to night school to earn his accounting degree. The Barons owned and operated two franchises of House of Fabrics, in Fort Dodge, Iowa, and Austin, Minn., while cultivating Shield Lenscare Products on the side. After 10 years, they sold the fabric store franchises and worked to grow Shield into a successful operation.
He was intelligent and well respected, with all of his employees calling him "Mr. Baron."
"He always said it was important to work hard, but be honest," daughter Susan Miller said. "He was proud because he made an honest living."
Baron was also very formal, insisting that his children refer to adults as Mr. and Mrs., and always wore a tie.
"The only way I knew it was a Sunday was if he came out of the bedroom without a tie or a suit coat," son Gary Baron said.
As early as the mid-1960s, Baron shared his Holocaust experience. He was integral in establishing the Altar for Freedom monument at United Hebrew Brotherhood Cemetery in Minneapolis, as well as the Holocaust studies programs at St. Cloud State University and the University of Minnesota, where his testimony is available through the Visual History Archive developed by the USC Shoah Foundation Institute for Visual History and Education.
He was also a member of the Speakers Bureau for the Jewish Community Relations Council of Minnesota and the Dakotas (JCRC).
"Fred was a blessing for his continual and indomitable efforts to tell his story of survival within the radiance of the preciousness of life as reflected in the people who helped him and Judith," Steve Hunegs, JCRC executive director, told the AJW. "One message that Fred always conveyed to the thousands of people who heard him speak over the years was the need to affirm life, particularly through simple acts of kindness from one person to another. He was a champion of humanity despite experiencing the worst of people."
In his spare time, Baron loved fishing, classical music and bridge, and exercised daily. He enjoyed telling stories and jokes, many of which his family had heard several times before.
He and Judith spent several winters in Arizona and also traveled around the world, though never to Germany.
On one trip back to Vienna, Baron visited his childhood home, which still had an engraved "B" on a small brass plate affixed to the door. Baron's father had engraved the plate, which was never taken down; Baron took it home and placed it in a small frame.
Judith polished it recently.
"He was my husband, my friend, and we understood each other's pain," Judith said. "We both wanted to raise a family of our own, which we did, and we are very proud and very happy for our family. It couldn't be better."
Baron is survived by his wife, son and daughter, five grandchildren, sister and niece.
(American Jewish World, 6.20.14)