Rabbi Marc Liebhaber, the former publisher of the American Jewish World, received the Schechter Medal from Rabbi Prof. David Golinkin, president of the Schechter Institute of Jewish Studies in Israel, on May 4.
Liebhaber was honored for his "leadership and outstanding contributions to the growth of the Schechter Institute," at the dedication ceremony of the first building of the new Schechter Institute Campus, located next to the Israel Museum in Jerusalem.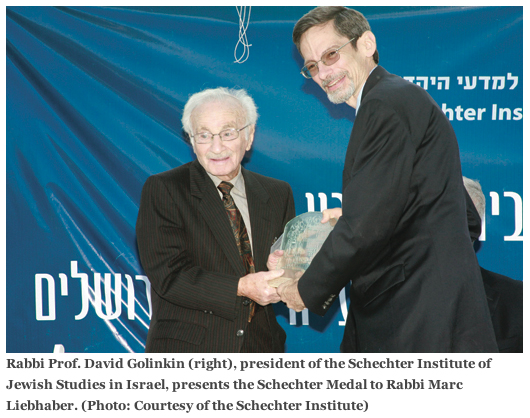 Liebhaber, a prominent supporter of Conservative/Masorti Judaism, has made a bequest to fund the Marc and Henia Liebhaber Center for Jewish Education on the new Schechter campus. Following the 2005 assassination of Israeli Prime Minister Yitzhak Rabin, Rabbi Liebhaber established the Marc and Henia Liebhaber Prize for the Promotion of Religious Tolerance and Cultural Pluralism in Israel, which is awarded annually at the Schechter commencement exercises.
There were three other recipients of the Schechter Medal: Robert S. Rifkind, Legacy Heritage Fund and the late William Davidson.
— Mordecai Specktor
(American Jewish World, 5.14.10)