For more than 30 years, the local Sephardi Minyan has conducted services and fostered a sense of community among those who trace their roots to Spain, Portugal and the Middle East
By ERIN ELLIOTT BRYAN / Community News Editor
For more than 30 years, there has been an organized group of Sephardi Jews in the Twin Cities. These Jews, who trace their familial roots to Spain, Portugal and countries of the Middle East, have retained many of their ancient traditions here in Minnesota, thanks to the volunteers of the Sephardi Minyan.
Founded by Lebanese immigrant David Khabie and former Minnesotan Abe Sclar, the minyan meets on the last Shabbat of each month in the Beit Midrash at Kenesseth Israel in St. Louis Park. According to Joe Israel, a native of Cairo, Egypt, who joined the group more than 10 years ago, the Sephardi Minyan is a way for Jews of all backgrounds to connect to unique Sephardi customs.
"You don't have to be Sephardi in order to be into the minyan," Israel told the AJW. "It's all done the traditional Orthodox way… But the whole idea is that we would like to make it so people remember when they sat next to their fathers and grandfathers, and maybe next to their moms and their grandmoms, and just remember those days, that's part of it also."
Israel said there is a core group of about 10 to 12 members who meet each month, and the group has welcomed 40 or 50 people for the High Holidays. Members and guests have hailed from many places, including Cuba, Iran, Syria, Lebanon, Egypt, Ireland and Israel.
The group is served by Hazzan Yossi Ben Harush, a native Israeli who traces his family — which included many rabbis and hazzanim — to Morocco.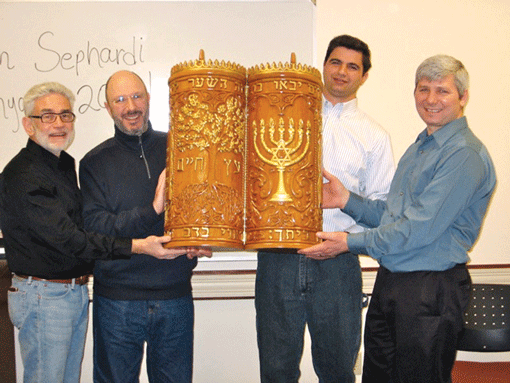 Artist Boris Morari (right) presents the new Torah case he created to members of the Sephardi Minyan, (l to r): Joe Israel, David Lynn and Yossi Ben Harush. (Photo: Courtesy of Joe Israel)

Israel noted that all services are conducted by volunteers — many of whom are members of other local synagogues — and there are no membership dues, though funds are solicited at Rosh Hashana. All eligible men receive an aliya and services are usually followed by a lunch, featuring traditional Sephardi foods, which helps to strengthen the local Sephardic community, including individuals, couples and families.
"We have a very elastic membership," Israel said. "We may not have spoken the original language together, but we share a common heritage and that's the Sephardi Minyan. We don't have to teach anybody anything, they basically come in and fit right in."
Among those who treasured the community created by the Sephardi Minyan was the late Reuven Rahamim, who was shot to death at his company, Accent Signage Systems, in Minneapolis in September (10-12-12 AJW). Rahamim was an active member of the group and often opened his home for lunches following monthly services.
Israel said Rahamim also enjoyed the minyan on holidays, particularly Selichot.
"There is a portion in Selichot that has the word rahamim in it and we essentially stopped and he sang it, so this was sort of his portion," Israel said. "He had a lot of heart and opened his home on occasion for us."
Israel was a neighbor of Rahamim's and the two would walk home together after the minyan. Following the shooting, nearly 50 people attended the Sephardi Minyan held in Rahamim's memory.
"He touched everyone in a very positive way," Israel said. "During the memorial at Beth El, I was not aware how important the Sephardi Minyan was to him… It was really overwhelming to hear that. Actually we are thinking about what we can do in order to honor his memory, but so far we haven't decided yet. It's something we want to work towards."
In the meantime, Israel and his fellow Sephardi Minyan members are working to build awareness of the group in the Twin Cities and possibly reach out to other Sephardi communities.
One connection that was made in the last several months was between Israel and local artist Boris Morari, a non-Jewish master carver who is a native of Moldova. Morari was among those who worked on Israel's kitchen remodeling project and expressed an interest in the Sephardi Minyan after learning of its "wobbly" aron kodesh, or holy ark.
Israel brought Morari, who he described as a "spiritual guy," to Kenesseth Israel, where he quickly fixed the ark, but was also fascinated by the wooden Torah case.
Unlike in Ashkenazi communities, which "robe" their Torahs in a fine fabric, Sephardic communities store their Torahs in a tik, a wooden case.
"He was intrigued and thought it was a great idea to do it and unbeknownst to me, he went ahead and measured and built one for us," Israel said. "He did the research on it."
The case is symbolically comprised of 12 panels, which represent the 12 Tribes of Israel, and three distinct motifs are carved on the exterior: the Ten Commandments, the Tree of Life and the Temple Candelabra. It is hand carved of solid cherry wood, and features gold-leaf accents on the outside and silver-leaf lining on the inside.
"He wasn't paid, so we're trying to get some funds in order for us to compensate him for his time. He just said, 'You take it, it's yours,'" Israel said. "And we use it, we use it every time we meet… It meant a great deal to us."
Israel said the Sephardi Minyan maintains a good relationship with Kenesseth Israel. The Orthodox shul has given the minyan a Torah scroll in trust and Rabbi Chaim Goldberger sometimes speaks during the holidays.
Israel allowed that the local Sephardi Minyan will not be the same as similar groups in New York or Seattle, but it does have long-term plans to grow and to continue to foster the sense of community, which Israel said is "uplifting in many ways."
"All we have is just a passion that people want to be able to relate to their history and culture," Israel said. "Our main objective is to remain and have a sustained presence… We're looking to preserve some piece of history."
***
The Sephardi Minyan will next meet 8:45 a.m. Saturday, Jan. 26 in the Beit Midrash at Kenesseth Israel, 4330 W. 28th St., St. Louis Park. For information, e-mail: sephardiminyan.mn@gmail.com.
(American Jewish World, 1.4.13)