By MORDECAI SPECKTOR
The financial wizard and global philanthropist George Soros is a polarizing figure, to say the least.
Pundits on the extreme right of the political spectrum tar him as a "Nazi collaborator" — or even a "demon." The latter characterization, of course, is freighted with anti-Semitic connotations about Jewish control of financial institutions and governments. But that doesn't stop the knuckleheads that crudely decry Soros and his humanitarian projects.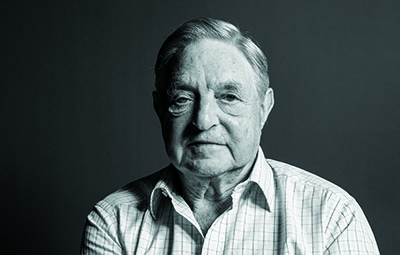 "Numerous right-wing pundits and activists are now alleging that Soros is funding the protests following the murder of George Floyd," the ADL recently wrote on its website. "Prominent among them is Candace Owens, who wrote [on Twitter, on May 28], 'As he did with Antifa, Democrat George Soros has these thugs on payroll. He is funding the chaos via his Open Society Foundation.' DeAnna Lorraine, the Republican candidate for Congress who ran unsuccessfully against Nancy Pelosi in March 2020, asked her 261K followers to 'bring attention to this very organized takeover' of the country by getting #sorosgate and #soros to trend on Twitter."
Several right-wing critics spouting such nonsense are briefly heard from in Soros, a new documentary directed by Jesse Dylan, a filmmaker who has worked with the Soros-funded Open Society Foundations and convinced Soros to cooperate with this biopic.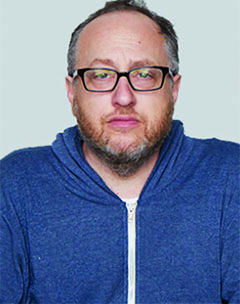 During a recent telephone interview with Dylan, who was in Los Angeles, the filmmaker discussed making Soros and some of the issues that are raised in the film.
In an early formal interview shown in the film, Dylan, 54, leads with a question about Soros' involvement in South Africa, in 1979, during the apartheid era.
Soros suggests a different approach to the interview, and offers a chronological account of his life, beginning with his birth in 1930, in Budapest, Hungary. He was born to a Jewish family, and his youth was disrupted by the Nazi occupation of his hometown, in 1944. While his father placed him with a gentile government employee and out of harm's way, the Jews of Budapest were decimated by the Nazis and by their Hungarian fascist henchmen, members of the Arrow Cross militia.
"That's kind of common when you're getting to know somebody," Dylan commented, regarding Soros redirecting the interview, "You let them speak for a long time, don't interrupt them and, after a while, you start to get your questions in."
Asked what it was like to interview Soros, who made billions of dollars in the hedge fund business, Dylan said, "I found him to be a very kind, very intelligent person…. I don't know what I expected, but that's what I found."
Dylan said Soros was reluctant to be the subject of a documentary. "It took a few years for him to be comfortable enough to let me make the movie. I kept shooting and shooting more stuff, and he finally gave me permission and I made the movie. I made it independent of him."
The film includes interviews with officials of the Open Society Foundations, and such luminaries as Nobel laureate Joseph Stiglitz, the late UN secretary-general Kofi Annan, Fox News host Tucker Carlson, and social justice activists Sherrilyn Ifill and Bryan Stevenson. It's actually a long list. Many dissident intellectuals, especially from the war-torn Balkans, and other Central and Eastern European countries, provide insights about Soros' efforts to protect women and minorities under the heel of authoritarian governments around the world.
Soros explains in the film that he was inspired early on by political philosopher Karl Popper's 1945 book The Open Society and Its Enemies. Soros draws a distinction between majoritarian democracy and an open society where minority rights are protected. The reach of the Soros-funded foundation is vast; an informant in the film suggests that he's a "sovereign," like his own nation.
Critics of the film have complained that it's an overly flattering portrait of Soros. A brief review in the New York Times said, "This isn't an objective portrait and doesn't aspire to be." Jesse Dylan told me that he still does work for the Open Society Foundations.
At the same time, the film is informative, full of topical ideas; and it can be seen as a corrective to the insane portrayals of Soros as a satanic figure.
Dylan also has directed numerous music videos, the films Kicking & Screaming, How High and American Wedding, the latter an American Pie sequel.
And I'll mention that I met Jesse Dylan a long time ago. It was in Durango, Mexico, New Year's Day 1973. I traveled with Larry Kegan, of blessed memory, from Minneapolis to Guadalajara. Larry had attended Herzl Camp with Dylan's father, the singer-songwriter and Nobel laureate Bob Dylan, and we stopped in Durango to visit Larry's old pal, who was acting in and contributing music ("Knockin' on Heaven's Door") to the Sam Peckinpah film Pat Garrett and Billy the Kid.
"We loved Larry," said Jesse Dylan. "He was a great guy."
***
Soros is showing in movie theaters and streaming. For information, go to: sorosfilm.com.