Israeli tour guide Noam Rumack led Shir Tikvah congregants on a tour of the Jewish state, then the shul brought him to Minnesota
By MORDECAI SPECKTOR
Many local groups have enjoyed guided tours of Israel. Israeli tour guides often are held in high regard for their knowledge of the Jewish state's history — ancient and modern — and varied cultures. Some of them even are charismatic.
Last summer, 36 congregants of Shir Tikvah, the reform shul in Minneapolis, toured Israel. Noam Rumack, an affable and engaging tour guide, led the group around the country.
Then Shir Tikvah sent Rumack airlines tickets and he traveled to Minnesota, in late January, to be the synagogue's scholar-in-residence.
Michael Adam Latz, Shir Tikvah's senior rabbi, explained that he came to Rumack by way of his mother-in-law's best friend, Miriam Rumack, Noam's grandmother.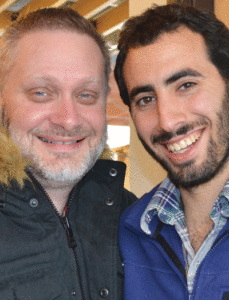 Latz had some initial trepidation, because Rumack was new to the guide business.
"How's this going to be?" Latz wondered. "We got connected, and he is one of the best educators in Israel that I've ever been with — and I've been there a lot and I know a lot of Israeli guides and teachers, and he is extraordinary."
Rumack and Rabbi Latz talked with the Jewish World last week. The conversation took place at Butter, a bakery and coffee shop in south Minneapolis.
Latz said that the Shir Tikvah group — which talked about Judaism, history, politics and culture with Rumack, from early morning through late into the evenings — bonded with their tour guide.
"The group decided that they weren't done with the conversation" with Rumack, Latz explained, "So they pooled their [frequent flyer] miles and raised money, and they flew him back to be our scholar for 10 days, so they could keep studying with him — which I've never heard of another shul doing with their Israeli guide."
In addition to seeing the local sites, Rumack spoke at Shir Tikvah's Tot Shabbat, and to the grade school age students; led a discussion of the Israeli-Palestinian conflict; delivered a lecture about Israeli master spy Eli Cohen; and spoke at a congregational potluck dinner.
Rumack, who's 27, is from a family that made aliya from Toronto, Canada, in 1981. His family settled in Karkur, a town about 15 miles south of Haifa.
Following his three-year stint in the Israel Defense Forces (IDF), Rumack spent three years traveling the world. At the end of his wanderings, he decided to return to Israel and impart his love of travel to others.
"For me, it's a big thing to travel," he commented. "It's more than just a job, it's my passion. I want to take people through an eye-opener, and down-to-earth, genuine experience of Israel. That's my goal. I want to show them the real Israel — not the copy-paste itineraries where you check out the regular sites."
Rumack creates his own custom itineraries for clients from the U.S., Canada, Australia and other places (noamrumack.com).
For larger groups that require more resources, Rumack works for agencies "as a freelancer." The Shir Tikvah group traveled in a bus, with a driver and Rumack as the guide. And the travel agency provided personnel at various sites visited in Israel.
"This was a very busy trip," Rumack commented, regarding the 2014 summer tour. "They packed five weeks in one week. And it was a combination of things: visiting archeological sites, visiting people, very short nature walks… having a Bedouin experience, climbing up to Masada at sunrise, Bar Mitzva on Masada."
Max Ferstan was the lucky guy who celebrated his Bar Mitzva atop Masada.
And Rabbi Latz mentioned that Rumack, to impart more of an ancient mood at Masada, garbed himself as Eleazar ben Ya'ir, the leader of the Sicarii, the Jewish zealots who made their last stand at the desert fortress.
"We had people following us around on Masada who weren't part of our group, who left their own tour to listen to Noam," recalled Latz.
"Did that happen?" asked Rumack, who seemed surprised.
Rumack stayed with Shir Tikvah congregants during his visit to the Twin Cities, and he looks forward to an even better Israel tour, when another Shir Tikvah group visits in 2017.
"I know what these people are looking for… I know where they're coming from," remarked Rumack. "I know them much better than I knew them before."
Barbara Bearman, of Minneapolis, helped out with Rumack's recent visit to Minnesota. At 79, she was the oldest member of the 2014 Shir Tikvah tour of Israel, which also included Bearman's granddaughter, Siona Kelly, 16. It was Bearman's first visit to Israel.
In a conversation with the AJW this week, Bearman was effusive in her praise of Rumack, citing his "energy, intelligence, sense of humor" and knowledge of Israel. "He runs very deep," she added.
Bearman recalled that toward the end of the tour, Rumack invited those on the bus to take the microphone and deliver some comments about their Israel trip.
For her turn, Bearman turned to the young tour guide and said, "Noam, I don't know if I can speak for the men, but I think I can speak for the women: we've all fallen in love with you."
Following her remarks, a male participant spoke: "The guys, too."
(American Jewish World, 2.13.15)