The award-winning American author aims to polish his legacy, while sidestepping a critical examination of his work
By MICHAEL FOX
Barely a minute into Philip Roth: Unmasked, an American Masters salute occasioned by the novelist's 80th birthday, he makes a familiar, albeit annoying, assertion.
"I'm not crazy about seeing myself described as an American Jewish writer," says Roth (see video clip below). "I don't write in Jewish. I write in American."
Roth proceeds to define himself as an American writer, which is — take your pick — a preemptive strike against further questions in this vein, a world-class act of denial (or evasion), or a declaration of post-assimilation liberation.
Documentary will air May 4 on TPT LIFE
The Jewish viewer without an established opinion of the writer isn't exactly given a range of perspectives and interpretations, for 90 percent of Philip Roth: Unmasked consists of Roth on Roth. A handful of friends and admirers, including Mia Farrow and Jonathan Franzen, offer flattering assessments of the man and his work that essentially serve as brief breaks in Roth's monotone monologue.
Fortunately, Roth is generally good company. Smart, droll and benignly charming, he downplays the sense of specialness and drive of ambition that propelled him out of Newark, N.J., to Bucknell College.
Old friends, however, attest to his preternatural self-confidence and sharpened wit. They're being complimentary, but they tip us off that Roth was one of those people who concludes at a young age that they're the smartest person in any room they enter. Suddenly, we can discern a slight whiff of condescension in Roth's demeanor, and we wonder just how willing he'll be to let the mask slip.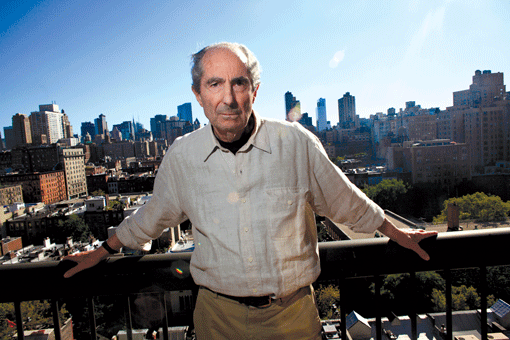 In 1958, in his mid-20s, Roth broke into the New Yorker with "Defender of the Faith." The short story generated controversy among Jews, got Roth noticed in publishing circles and paved the way for Goodbye Columbus the following year. But a failed marriage and a loss of confidence kept Roth from publishing for a large chunk of the '60s, and led him into psychoanalysis.
That experience gave him the structure and framework for the sex-obsessed Portnoy's Complaint, which sold 350,000 copies its first month. Roth was perfectly comfortable with that level of success and attention, yet wisely bought a house in rural Connecticut where he could be assured of writing in solitude.
It's entertaining to listen to Roth recall the early chapters of his career, but we miss contradictory or alternative viewpoints when he gets to the 1980s novels featuring his supposed alter ego, Nathan Zuckerman. The writer's argument, which isn't completely convincing no matter how he states it, is that it's a mistake for readers and critics to confuse characters with their creator.
So Roth brushes off the accusations of misogyny that have been levied against him over the years, and ignores the debate and self-examination that Goodbye Columbus and Portnoy's Complaint provoked in the Jewish community. For that matter, there's no discussion of how Roth's novels contributed to the perception and self-perception of American Jews in the second half of the 20th century.
William Karel and Livia Manera, who are credited as directors but do little except throw in a few vintage black-and-white still photos and snippets of contemporary footage of Roth at work in his isolated home or Manhattan apartment, fail to push or challenge their subject. Roth defends sex and adultery as worthwhile themes in fiction, but he's carefully circumspect in talking about his personal experiences.
Philip Roth: Unmasked suffers from the same impulse and dynamic that made the 2011 American Masters tribute to Woody Allen entertainingly trivial. In both cases, a major artist who eschewed in-depth interviews throughout his career agrees to sit for a spell in front of a camera. The filmmakers and PBS, thrilled with their "exclusive," allow the subject's voice and perspective to dominate.
Like Allen did, Roth astutely plays the part of the complicated and candid artist but his main aim is polishing his legacy. A learned, impassioned examination of the contradictions, ugly truths and significance of his oeuvre — a critical evaluation of his work, in other words — is tabled, presumably until he's shuffled off this mortal coil.
Roth is a deeply intelligent man who easily holds our attention, and there's a fascination in watching him expound on certain topics and deftly ignore others. But the next day, or even an hour later, very little that he says sticks.
***
Philip Roth: Unmasked airs on PBS' American Masters 9 p.m. Saturday, May 4 on TPT LIFE (check local listings).
In this clip from the documentary, Roth explains why he's "not crazy" about being described as an "American Jewish writer":