Reviewed by NEAL GENDLER
Readers of Paul Goldberg's first hit novel won't be surprised by his characterization of plastic surgeon Zbignew Wronski as "the butt god of Miami Beach."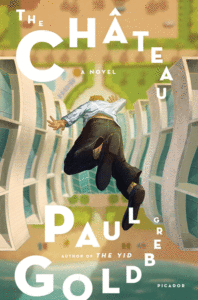 Zbig's specialty, giving women better behinds, has Goldberg describing him as "an exterior designer. A posterior designer."
Clever, irreverent wordsmithing, a feature of Goldberg's The Yid, returns in The Château, another madcap romp among Russians. But these Russians live in Château Sedan Neuve, a once elegant, now decaying south Florida high-rise condominium.
The 360-unit building is controlled by a conglomerate that fleeces the residents with assessments for projects that never get completed; one for $19 million is in the works. The condo's board of directors is made compliant through payoffs, most noticeably white Lexus sedans.
On a secondary but more-somber level, The Château also is the story of William (Bill) Katzenelenbogen, Zbig's college roommate. Born Ilya in Moscow, Bill was for decades an investigative science writer at the Washington Post, "one of the best of his generation … a serial finalist for the Pulitzer Prize." His specialty was exposing medical fraud.
Last of his generation at the Post, he was demoted to a beginner's job. He plugged away capably for six boring years, then was fired for alleged insubordination.
"Not being employed at 52, Bill accepts the overwhelming possibility of spending the rest of his life trying to land low-paying gigs," Goldberg writes, accurately characterizing the fate of uncounted numbers of older American workers in recent years.
The story lines converge when Bill is visited by a former colleague and one-night fling, Gwen — high-flying society columnist until the Post discovered that her astonishing scoops were invented. Fired, she wrote a hit book called Remorse that has her swimming in money.
She persuades Bill to seek similar fortune through a book revealing the story behind (pardon me) the butt god's fatal 43-story plunge through the glass-covered atrium of his high-end Florida condominium. Bill agrees, but broke — perhaps because of divorce — he must ask to stay at the Château with his father, Melsor, an expert in 20th century Russian poetry, five-year refusnik, and supporter of Trump, whom Bill considers nearly the end of civilization.
Melsor, self-involved, bullheaded, physically strong at 83, is fed up with the decay and corruption around him. He's is running for a board seat at the Château, to which he fled — ill-gained money in hand — after narrowly escaping conviction for Medicaid fraud.
"The elder Kazenelenbogen defrauded the public. The younger Katzenelenbogen defended the public from people who intended to defraud it," Goldberg says. Bill also blames his father for his mother's death from a quack cancer cure. They haven't spoken in 12 years.
Bill moves in. Residents suspect he's a government inspector, a mistake his father exploits.
Goldberg makes this the setting for vodka-saturated mayhem, where some of the craziest characters turn out to be the sanest, the crooked are called fascists, and many residents are linguistically challenged caricatures — boorish immigrants going figuratively to pot and literally to potbellies.
It's amusing to a born American. Jews from Russia might feel differently.
But Château is short on the charm of The Yid, in which a handful of aging Bolsheviks plot to kill Stalin while rehashing their roles in the revolution, recounting disappearances of friends during Stalin's great terrors and arguing over Russian writers, thinkers and poets. And Château is not for the prudish; the profanity of The Yid seems to have metastasized.
A length-padding annoyance is Goldberg's use of transliterated, then translated Russian. Some Russian words lack English counterparts, and Goldberg — who sometimes talks directly to the reader — uses and explains them. Perhaps transliterating conversations is done to attract younger people who can understand their elders' Russian but can't read it. For others, it's useless.
Whatever faults one might find, though, Goldberg captures speech delightfully, and perfectly expresses feelings of longtime journalists — and there are plenty of them — pushed out of newsrooms for the sin of failing to stay young.
"Being jettisoned by your profession," Bill says, "was the biggest betrayal in a life rife with them."
***
Neal Gendler is a Minneapolis writer and editor.