Blu Greenberg, an influential figure in Orthodox Judaism, will lead a Lunch and Learn 11:30 a.m. Friday, July 12 at Minneapolis Jewish Federation, 111 Cheshire Lane, Minnetonka.
The event is titled, "After 40 years of Orthodox Feminism, there are still captive wives?"
Greenberg also will speak at around 12:30 p.m. Saturday, July 13, following Shacharit services and a Kiddish luncheon at Darchei Noam, 2950 Joppa Ave. S. (at Minnetonka Boulevard), St. Louis Park. Services begin 9 a.m., followed by the luncheon at 11:15 a.m. There's no fee to attend, but reservations are required; contact: darcheinoamRSVP@gmail.com.
Later in the evening, following Mincha services at 8 p.m., Greenberg will be speak at a Seuda Shlishit. And 9 a.m. Sunday, July 14, following Shacharit services, Greenberg will have a wrap-up discussion titled "The Power of the Rabbanut."
Greenberg has long been active in Jewish feminism and is the founder of JOFA (Jewish Orthodox Feminist Alliance). She writes and lectures on matters of contemporary Jewish interest, serves on several Jewish communal boards, and has been involved in interfaith dialogue for four decades.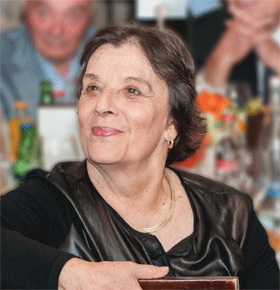 The July 2 event is sponsored by Women Repair the World, a project of Minneapolis Jewish Federation Women's Philanthropy and National Council of Jewish Women-Minnesota, providing impactful educational events for women and their allies.
Greenberg works with International Beit Din, a court that provides relief to "women facing gett abuse," according to its website. Under traditional Jewish law followed by Orthodox Jews, the gett is a document a wife must procure from her husband in order to divorce him.
Wives whose husbands refuse to give them a gett are called agunot — Hebrew for "chained."
(The 2014 film Gett: The Trial of Viviane Amsalem, described by its co-director as a "protest film," was previously reviewed in the American Jewish World.)
Greenberg has written several books including On Women and Judaism; How to Run a Traditional Jewish Household; Black Bread: Poems After the Holocaust; and a children's book, King Solomon and the Queen of Sheba.
Tickets are $18 in advance; $10 for students and Jewish professionals and $25 at the door. For more information, go to: bit.ly/2JnUwgi.