Reviewed by MORDECAI SPECKTOR
Dubbed an "Ordway Original," Smokey Joe's Cafe: The Songs of Leiber and Stoller , a musical revue that opened on Broadway in 1995, gets a bright and exciting renovation in the show now onstage through Sept. 22 at the Ordway Center for the Performing Arts in downtown St. Paul.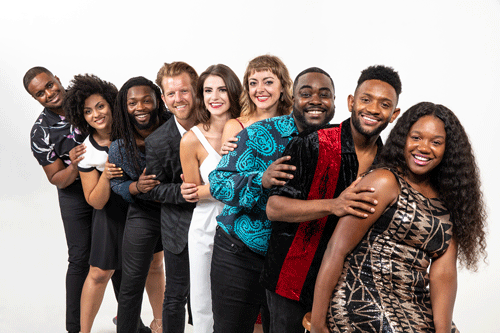 A talented singing and dancing cast and a top-notch, local band directed by Sanford Moore highlight this scintillating production, which is directed and choreographed by Joshua Bergasse.
The show, which runs for 95 minutes without intermission, features 40 of the greatest songs of the past century, including classics like "On Broadway," "Stand by Me," "Jailhouse Rock" and "Love Potion No. 9."
While all of the cast members shine in their solo turns, Rajané Katurah, in her Ordway debut, is simply astounding in "Fools Fall in Love Reprise," which comes toward the end of the show. Words can't describe the thrilling sounds that fill the theater when she lets loose.
The inventive set design, which features a towering jukebox-shaped bar and dozens of old-style radios, is the creation of Beowulf Boritt.
As noted in the September print edition of the Jewish World, Jerry Leiber and Mike Stoller, two Jewish kids from Los Angeles who loved black music, got together in 1950 and began a songwriting partnership that would shape the course of American popular music.
Their first hit was "Hound Dog," which was written for Willie Mae "Big Mama" Thornton. Elvis Presley covered the song a few years later and sold five million records. In the Ordway production, Rajané Katurah sings "Hound Dog" in the slow tempo, "Big Mama" Thornton style.
As it happened, the first national tour of Smokey Joe's Cafe opened in Minneapolis, in 1996. Mike Stoller was here for opening night. I was one year into my tenure at the AJW, and had the great good fortune to interview both Jerry Leiber and Mike Stoller for a story, which you can read HERE.
As I wrote about the renowned songwriting team: "If they didn't help shape the zeitgeist, they at least gave it a danceable soundtrack."
Jerry Leiber died in 2011 in Los Angeles.
For tickets, go to: ordway.org or call the Ordway ticketing office at 651-224-4222.