Reviewed by NEAL GENDLER
Bipolar disorder isn't funny — not for those afflicted by it nor for those around the person helplessly transformed by a malfunctioning brain.
And yet, Jeffrey Zuckerman, a Minneapolis freelance writer, cannot suppress his sense of absurdity and humor, even as we share — and some of us identify with — his anguish at the descent of his wife Leah into mental illness.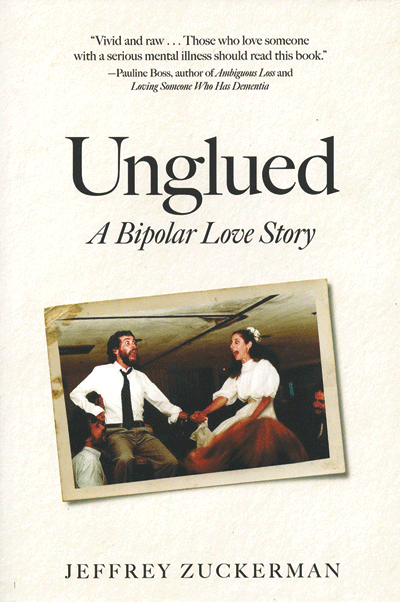 It can happen to anyone.
"We weren't Jay Gatsby," he begins in the absorbing Unglued: A Bipolar Love Story. "Leah and I were two middle-class Midwesteners who in the winter shoveled snow and in the summer grilled salmon over charcoal briquettes."
Nice weather brought walks along Cedar Lake, which they resumed during intermissions between Leah's mania and depression.
"Leah had flourished in long careers in social work and public health" but was laid off in a downsizing two years before her trouble began, he says.
In May 2015, in New York for their daughter's engagement blessing — from which Leah would fly to Israel and volunteer work in Tunisia — she became unusually testy. She returned from Tunisia with a "spiraling vituperation," spewing prolonged, loud, profanity-strewn rants about Zuckerman's newly revealed failings and how they were ruining her life.
Lord knows what the neighbors thought.
"Something insidious, something stark but still nameless, was corroding Leah's brain," Zuckerman says. "As she and our marriage became unglued, so did my grasp of reality and my mental and physical health." His celiac-afflicted stomach became a churning mess.
"Feeling trapped in a relationship with someone whose normal identity is being choked by a chronic illness" causes intense stress and pain, he says.
He fled her manic rages several times: camping in a tent, sleeping at a friend's place, even renting for a month.
"In time, I stopped trying to figure out why Leah's mental health began to unravel," he says. "Instead, I focused on surviving a soul-crushing threat to my own well-being — and the near collapse of our decades-long marriage."
But he kept trying to regain the woman he'd married in 1984, one sharing his wiseacre humor and love of the outdoors.
A huge problem was getting Leah to acknowledge that she, not he, was the problem. Bringing his boiling stomach to their longtime family practitioner, his sobbing account led "Dr. Woody" to conclude that she had become bipolar.
Leah's behavior while downtown alone one day landed her in psychiatric intensive care at Hennepin County Medical Center — the first of four hospitalized lockups over three years.
Calmed after three weeks, Leah was released for day treatment, and the two "began gluing back together her life" and their marriage. But in October 2015, side effects led to stopping Zyprexa — setting off the first of depressions in which she barely left bed, ignored hygiene and lost up to 20 pounds.
The manic-depressive cycle lasted more than four years, as depressed Leah said, "My brain is broken."
Unglued takes us merrily and sarcastically into the couple's whirl of changing psychiatrists, psychologists, marriage counselors, therapists and medications bringing brief spells of normal life.
Zuckerman likens psychopharmacology to "a game of Whac-A-Mole" — a drug to solve one problem often causing another.
He refused to give up, insurance and county programs covering much of the cost. In desperation for himself, he turned to a private therapist at $130 an hour.
He says he needed "months of therapy and years of support-group meetings." He endorses National Alliance on Mental Illness support groups and lists helpful books.
Mental-illness memoirs he read showed spouses "either as angels or as bit players in their husbands' and wives' dramas — which belied my experience," he says. Wanting a book to explain a spouse's experience, he wrote it.
Unglued is anything but dismal. Zuckerman's clear, compelling, self-revealing writing pulls you into his emotion and despair — laced with laughs.
A prim family therapist reminded him of Glinda the Good Witch of the North. He hoped that Glinda "could tell my wife was a few slices shy of a loaf." No luck.
Another counselor realizes that Leah has a mental-health problem, saying he needs a "safe space." Perhaps, he thinks, under her desk until Leah gets better.
And during a good spell, they dine at a fancy restaurant.
"It was a splurge," he says, "the kind of pretentious place for yuppies to shell out twenty bucks for a wilted arugula leaf."
Zuckerman's hopeful ending doesn't diminish our feeling for the depth of his despair and the overwhelming power of bipolar disorder. Unglued reads like a spellbinding novel. Anyone suspecting such a behavior change should consider it required reading.
***
Neal Gendler is a Minneapolis writer and editor.