The Yid, by Paul Goldberg, Picador, 320 pages, $26
Reviewed by NEAL GENDLER
If a plot by two aging Bolshevik fighters to save Soviet Jews by killing Stalin sounds crazy, just wait until you read this book!
The Yid is Paul Goldberg's sophisticated, multiform, madcap romp through the alternative Soviet universe of fantasy as reality set in February 1953, the time of the "Doctors' Plot." With the fabrication that Jewish physicians were scheming to kill Soviet leaders, Stalin began what was to be the roundup, deportation and death of the USSR's Jews.
Stalin's plan died with his apparently natural death, announced on March 5, 1953, but his demise in The Yid is far more colorful — and ridiculous, the costumed killers bickering while trying to follow a script for a sacrificial ritual.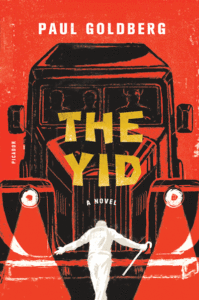 The Yid's unlikely conspirators are Solomon Levinson, a clownish actor in Solomon Mikhoels' defunct Moscow State Jewish Theater, once commander of a Russian civil-war machine-gun unit along the Trans-Siberian railroad; Aleksandr Kogan, one of his gunners, now a prominent surgeon who has been told he'll be arrested in a week; fearless Kima Yefimovna, seeking to avenge her commissar father's killing in 1938, during the Great Terror; Frederick Lewis, a black, Yiddish-speaking engineer who came to the USSR in 1931 as a welder for an American company; and Levinson's apartment neighbors: pharmacist Moisey Rabinovich, a muscular former Bundist and civil war anti-Bolshevik fighter, and Ol'ga Fyodorovna, who might be described as an aging, Christian courtier.
Improbable? Sure, but who cares? Despite its dark theme, gory incidents and profane language, The Yid is a rollicking delight that only a talented Russian could have written. It is rich with Russian cultural references, and the cynical humor and sense of the absurd with which Soviet citizens who didn't drink the Communist Kool-Aid (or did before seeing its transparency) coped with decades of deprivation, persecution and official nonsense.
Goldberg came to the United States when he was 14. At age 10, he'd been shocked by a Moscow version of the Jewish blood libel, which his parents explained. He has written two books about the Soviet human rights movement, co-authored an exposé of the U.S. health system, and is editor-publisher of The Cancer Letter, focused on the business and politics of cancer.
Despite his serious life, Goldberg has a masterful touch of the absurd, telling his story in narrative — sometimes speaking directly to the reader — and occasional script-like dialogue in English, transliterated and translated Russian, and transliterated and usually translated Yiddish.
His plot is too good to give away. The bare bones: When the "organs of state security" come for Levinson, he uses short swords and an acrobatic pirouette from his theater days to leave the three MGB soldiers dead in pools of their blood. Minutes later, his friend Lewis arrives, stepping into a mess for which he didn't bargain. Taking the soldiers' uniforms, they toss the bodies into their MGB truck, pick up Kogan and drive 40 miles to Kogan's dacha, which is empty like the neighboring summer homes.
Levinson and Kogan decide to kill Stalin, the rest of the group drifts in, and they devise a plan both audacious and — that word again — absurd. Levinson and Kogan trade insults in several languages, argue about writers, duel with wooden swords and leave sensible Lewis wondering what he's doing with these elderly lunatics.
Although enjoyment doesn't require knowledge of Yiddish or of Soviet history, possessing some heightens the pleasure, unlocking Goldberg's rich references and subtleties. Without a hint that he's teaching, he outlines much of the trauma — particularly for Jews — from the civil war to the Great Terror of the late 1930s and its reincarnation in the late 1940s.
The pervasiveness of those terrors is evident as the group converses, casually mentioning people who disappeared and when.
Yet The Yid is not at all morose but comedic in a particularly Jewish way. Goldberg's acknowledgements explain that characters and settings were drawn from real life.
So suspend disbelief, tolerate profanity and kvell seeing old Jews trump tyranny.
***
Neal Gendler is a Minneapolis writer and editor.
(American Jewish World, 2.12.16)