Our family Kabbalat Shabbat tradition includes candle lighting, of course, and then wishing everyone "Shabbat Shalom." I add, "May the peace of Shabbat be in our hearts, in our home and in the world."
The world. Again, it seems like a hell of a place.
Exactly six months after the massacre at Tree of Life synagogue in Pittsburgh that took the lives of 11 Jewish worshippers, another crazed gunman shot up Chabad of Poway, killing 60-year-old Lori Gilbert-Kaye and wounding three other people. The alleged murderer — may his name be blotted out — was a 19-year-old Jew hater who wrote a manifesto "echoing the same kind of white supremacist views as the shooters in the attacks in the synagogue in Pittsburgh and on mosques in Christchurch, New Zealand. The latest attack came one week after mass bombings at churches and hotels in Sri Lanka left hundreds dead," the New York Times reported.
Synagogue shootings in the United States are becoming too frequent. And the shooting at Chabad of Poway fits an emerging pattern of attacks on houses of worship — Jewish, Christian, Islamic and Sikh.
Our Jewish community is being terrorized and traumatized. In a story broadcast Monday on KARE-11 TV news, Rabbi Alexander Davis, of Beth El Synagogue, commented, "For the first time I heard something that I never imagined I would hear from an American Jew: Recently they told me they feel like they have to have an escape plan." Some of us go to services, pray and imagine how they will escape from the shul in the event of a shooting attack.
In respect to the trauma inflicted by gun violence, or worse, there is increasing recognition that this psychological disruption reverberates through generations.
Ofra Bloch, a Jerusalem native and director of the film Afterward, which was shown in the recent Minneapolis-St. Paul International Film Festival (MSPIFF), told an interviewer last year, "As a psychoanalyst with an interest in treating trauma, I've always been drawn to the idea that trauma can be passed down and transferred between generations. I used to be focused on the experience of second- and third-generation victims of the Holocaust, and never wondered about the effect of trauma on the [descendents] of victimizers."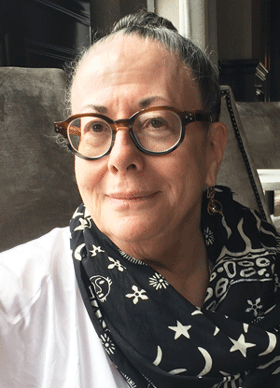 Afterward is a documentary that takes Bloch to Germany, where she investigates how the legacy of the Holocaust "informs contemporary daily life and shapes Germans' collective identity," and to Palestine, where she explores, in her words, "the identity-making narratives of the Nakba [the 1948 Palestinian exodus], violent and nonviolent resistance and the possibility of forgiveness."
I watched Afterward, a serious film that deserves a wide audience, and met Ofra Bloch, when she visited Minneapolis during MSPIFF. She conducted Q&A sessions after two screenings of her film. We talked for more than an hour at a hotel in downtown Minneapolis.
It should be mentioned that Bloch, who lives in New York City, is a psychoanalyst, and she brought her professional skills to the interviews that make up Afterward, which she hopes speaks to younger viewers trying to make sense of this confusing world.
"I'm trying to advocate for what I call active listening," she explained. "The idea behind it is to sit with 'the other' — the other that you don't know, that you hate, that is mysterious, that you fear — and just listen to them. Create a space where they can tell you their story, and you listen without judgment."
She continued, "I find that the act of listening and the act of talking about one's experience" can create a closeness where a dialogue can begin.
In Afterward, for example, Bloch talked with Ingo Hasselbach, a former violent neo-Nazi who has written books about his experiences among the extreme-right skinheads in Germany, and his process of leaving the fascist milieu. She also talks with Palestinians who variously justify violent resistance to the Israeli military occupation and affirm the morality of nonviolent resistance.
And Bloch suggested that active listening might provide a way out of the much-discussed, sharp partisan divide that characterizes American society now. "If people would start listening to each other, and not jump to what's right and what's wrong and to those rigid positions," there could be some movement toward bridging the political divide.
Looking at those shouting across the Israeli-Palestinian divide is instructive. In Afterward, Bloch interviews a prominent Palestinian psychiatrist, a devout Muslim woman. The first-time feature film director allowed that the interview, which took place in Ramallah, was difficult. "You could feel that she was angrier and allowed her anger to surface. Which is okay," commented Bloch.
The Palestinian woman more or less approved of violent resistance against the Israeli military occupation, a view that most American Jewish viewers would find highly problematic. Bloch agreed with my analysis, and said, "Absolutely, I was not endorsing that, I was just listening." At the same time, Bloch admitted she had "a difficult time at some moments" during the interview. The Palestinian psychiatrist alluded to terrorist attacks as "mistakes."
"I declared that I'm trying not to dehumanize the other," while the Palestinian doctor regarded "the symbols of the occupation" and seemed "to forget that they are human beings as well."
At the same time, Bloch allowed that Israel fought for its independence and "killed a few people." There were depredations committed during the War of Independence. Bloch remarked, "Despair pushes people to do awful stuff."
Some of the most wrenching scenes in Afterward depicted the shooting by an Israeli soldier of an incapacitated Palestinian who had perpetrated a knife attack on IDF soldiers. This is the case of IDF Sergeant Elor Azaria, who executed a wounded and motionless Palestinian, in March 2016. The film shows crowds of excited Israelis at a rally in support of Azaria, who became a hero in some quarters. Prime Minister Benjamin Netanyahu called for Azaria to be pardoned. Convicted in Jan. 17, 2017, Azaria was released after serving two-thirds of a 14-month sentence.
Later in our conversation, Bloch talked about the idea that a victim can become a perpetrator, and an individual's four responses to trauma: the feeling of being a victim, identifying with the savior, identifying with the bystander and identifying with the perpetrator. She offered the example of a child being subjected to violence who grows up to be a batterer. "Trauma leads to more trauma," she said.
In the Israeli context, there was a vow that Jews never again "would go like lambs to the slaughter," in the words of Abba Kovner, the resistance fighter from the Vilna Ghetto and poet. And in this emotionally fraught moment in America, there are suggestions that Jews once again are not safe, and we are casting about for solutions in the face of White Power violence.
There's more to say regarding my conversation with Ofra Bloch, and I hope that Jewish World readers have an opportunity to view Afterward, a documentary that grapples with the aftermath of repression, and the persistence of trauma rippling down through the generations.
— Mordecai Speckor / editor [at] ajwnews [dot] com