Administration fears sanctions bill could end negotiations with Iran over nuclear weapons
By RON KAMPEAS
WASHINGTON (JTA) — The Obama administration may be on a collision course with pro-Israel advocates over an intensified sanctions bill that the White House fears may scuttle negotiations to resolve the standoff over Iran's suspected nuclear weapons program.
The American Israel Public Affairs Committee, the Jewish Federations of North America and the Jewish Council for Public Affairs support a bill, passed in July by the House of Representatives, which would sanction entities facilitating Iranian money transfers and increase the burden on financial outfits to ensure they are not dealing in money that originated in Iran. Israel's leadership also favors enhanced sanctions.
But the Obama administration, while urging Congress to continue its saber rattling, believes the bill could derail talks that got underway in Geneva earlier this month and are due to resume in mid-November.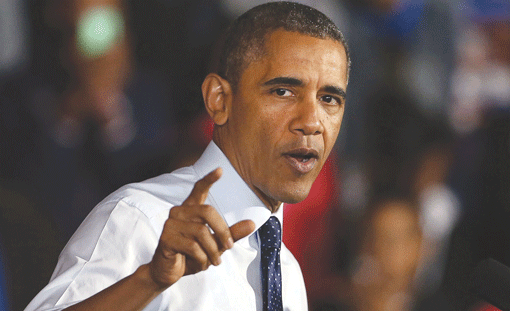 That was the takeaway from a closed session held Oct. 24 by the National Security Council for senior staffers in the House and Senate. Participants said that the NSC unveiled findings showing that threats from Congress to enhance sanctions are keeping Iran at the negotiating table. But the NSC also argued that actually advancing the bill could thwart progress toward a diplomatic resolution, according to participants.
About 25 staffers were present at the briefing. Participants, who spoke on the condition that they not be identified or quoted directly, declined to provide more detail on the findings or about which officials provided them; the briefing was classified.
On Tuesday, Oct. 29, the NSC invited on short notice top Jewish organizational leaders for a briefing on Iran — a signal of how it is parting ways on Iran strategy not just with Congress, but also with Israel and the pro-Israel community.
Sen. Mark Kirk, R-Ill., is leading efforts to advance the bill in the Senate. A source close to AIPAC said the lobbying group also wants to the bill advance "in the near future," as does the Jewish Federations. But those present at the meeting said the administration regards movement toward a Senate vote as the kind of action that would alienate Iran.
The fate of the bill is currently in the hands of Sen. Tim Johnson, D-S.D., chairman of the Senate Banking Committee. A committee official said last Friday that Johnson had yet to reach a decision on whether and when to bring the bill up for debate and a vote. But Johnson previously had told the Obama administration that he could not delay a committee vote beyond the end of October. Administration officials want it delayed at least until after the next set of talks in mid-November.
Caitlin Hayden, an NSC spokeswoman, described the meeting last week as a close consultation with Congress.
"Congress has been an important partner in our efforts thus far," Hayden said in an e-mail last Friday. "We will continue our close consultation, as we have in the past, so that any congressional action is aligned with our negotiating strategy as we move forward."
Participants said it was not clear after the meeting what the consensus was among the staffers, who advise lawmakers and play a critical role in advancing and shaping legislation. They described two competing narratives: one in which increased sanctions would help keep Iran at the negotiating table and the other in which they drive Iran away.
The differences did not divide along partisan lines, participants said, with some of the fiercest resistance to putting a hold on new sanctions coming from staffers for Democrats. Those who want to enhance sanctions emphasized that Iran continues to enrich uranium and ignore other U.N. Security Council demands.
"We think that this is a time for a pause to see if negotiations can gain traction," Wendy Sherman, the third-highest-ranked official at the State Department, who is leading talks with Iran, told the Voice of America.
Sherman's pleas, which she made in a meeting with House members last week and will repeat in a Senate meeting this week, seem to have had an effect.
Rep. Eliot Engel, D-N.Y., the top Democrat on the House Foreign Affairs Committee, told a Jewish audience last week that he would be open to freezing sanctions action for a period of time.
"I would be open to freezing further legislative action on this new sanctions bill if Iran quickly takes a number of concrete and fully verifiable steps," he said at an event organized by the Jewish Community Relations Council of Greater Washington.
"First, Iran must freeze all enrichment, as demanded repeatedly by the U.N. Security Council. It must stop the installation of new centrifuges and halt construction of the Arak heavy water reactor, which could produce plutonium. It must agree to remove all of its 20 percent enriched uranium from the country. Finally, it must allow comprehensive nuclear inspections."
Israeli Prime Minister Benjamin Netanyahu favors enhanced sanctions, something his strategic affairs minister, Yuval Steinitz, emphasized in meetings with officials on Oct. 23, when he led the Israeli team in the semi-annual U.S.-Israel strategic dialogue.
"The more you increase the pressure, the greater the chances," Steinitz told reporters. "The Iranians are on the boards — why relieve pressure now?"