By DORIS RUBENSTEIN
You've seen him on MSNBC and on PBS. You've read his opinion pieces in the Star Tribune, the New York Times and other publications. You may or may not agree with what he has to say. But there's something intrinsically "Minnesota nice" about Norman "Norm" Ornstein that makes you pay attention to his words.
Ornstein was born in Grand Rapids, and spent his very early years in St. Louis Park and Richfield. His father, Joseph, a native Canadian and a traveling salesman, took his wife Dorothy (Latz, of the widespread and notable Latz clan) and the rest of the family with him to Toronto, where his cousin had a furniture business.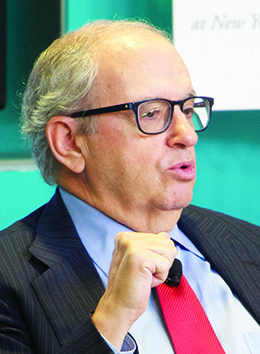 That did not work out and they went from Toronto to Moncton in New Brunswick, and then to Winnipeg. Moving around didn't hurt Ornstein's academic record; he graduated from high school there at age 14.
The family returned to St. Louis Park in 1965, when Ornstein entered the University of Minnesota at the age of 15, graduating with his B.A. in 1967. His graduate degrees are from the University of Michigan.
Throughout this nomadic period, Ornstein and his family still had Judaism as a point for stability.
"I was actually Bar Mitzva-ed in an Orthodox shul in Moncton, but I was not ever Orthodox myself (it was the only option in the province!). No Jewish camp, but I participated in AZA in Moncton," Ornstein recalls of those years.
He had some Jewish cultural experiences once back in St. Louis Park: "I worked at the Lincoln Del behind the counter, and then at Hal's Sportswear downtown, for $1.25 an hour, and was able to pay for my tuition and books."
Ornstein now belongs to Temple Sinai, a Reform congregation in Washington, D.C.
Norm's Minnesota connections helped get him off to what has been a long career as a political analyst and commentator. He started with a congressional fellowship from the American Political Science Association. He spent part of it in the office of then-U.S. Rep. Don Fraser. He credits Frank Sorauf —the late head of the University of Minnesota's political science department and dean of the College of Liberal Arts — for his first paying job, teaching at Johns Hopkins School of Advanced International Studies in Bologna, Italy, in 1971-72.
"I had great mentors at [the U of M], including David RePass, Frank Sorauf, Tom Scott, Gene Eidenberg, Bill Flanigan. I was also influenced greatly by my family's labor tradition… and public service, and by Humphrey, Mondale, the Frasers, and other great public servants," he said.
With such strong liberal roots, it might seem odd that Norm would become a part of the American Enterprise Institute (AEI), a right-leaning think tank. He went to AEI part-time in 1978 for a project to study Congress, eventually becoming full-time in 1984-85; he is now an AEI emeritus scholar.
"I've had complete freedom there… and it has been a very comfortable place to spend my career, even if I am and have been a fair outlier there," he commented.
Recounting Ornstein's professional accomplishments would take up an entire issue of the Jewish World. At AEI he also led a working group of scholars and practitioners that helped shape the McCain-Feingold bill for reforming campaign finance.
Other career highlights include writing a weekly column for Roll Call and being an election-eve analyst for CBS News. All Americans can thank him for his service as a senior counselor to the Continuity of Government Commission, working to ensure that our institutions of government can be maintained in the event of a terrorist attack on Washington, now back in action to deal with the challenges of a pandemic.
Ornstein co-directed a multi-year effort called the Transition to Governing Project to create a better climate for governing in the era of the permanent campaign, and is currently chairman of the Campaign Legal Center, while serving on many other nonprofit boards. He was also elected as a fellow of the American Academy of Arts and Sciences in 2004.
In 2012, Foreign Policy Magazine named him one of the top 100 global thinkers; this March, Washington Magazine named him one of the 250 most influential people in Washington.
As if he's not busy enough, Ornstein has managed to find time to write many books, including The Broken Branch: How Congress Is Failing America and How to Get It Back on Track, which was co-written with Thomas E. Mann and named one of the best books of 2006 by the Washington Post and dubbed "a classic" by The Economist.
If that title reminds you of the long titles of books by Minnesota's own Al Franken, it's not a coincidence. The two Jewish guys from St. Louis Park have been friends for years.
"Al remains my dearest friend, and I presided over his daughter's wedding and first grandson's baby naming. We met in 1988 [and] … became fast friends when I joined him in the first Comedy Central political coverage in 1992, where I became his sidekick and the first Comedy Central pollster," Norm says. He has also done comedy with satirist Mark Russell.
Through it all, Judaism has played an important role in both his personal and professional lives. "Judaism is central to my world view. I believe in tikkun olam, repairing the world, and in social justice as a value. When my son Matthew died in 2015, Judaism was important in my family's determination to turn grief to purpose, to try to save others' lives," he explains.
Norm and wife Judith Harris and son Danny visit the Twin Cities regularly. He has lots of mishpacha (family) here.