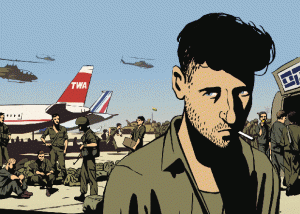 By MORDECAI SPECKTOR
Israeli director Ari Folman gazes out the windows of the Nicollet Island Inn at the snow-shrouded beauty of the wooded preserve in the Mississippi River.
Folman is the director of the brilliant, critically acclaimed animated documentary Waltz with Bashir. The innovative film is a memoir of the director's role in Israel's 1982 Lebanon War. Folman had blotted out memories of his wartime experience. In one of the film's early scenes, he is prodded to recall what happened during the war by an army buddy who has been having a recurring dream about being chased through the streets of Tel Aviv by a pack of 26 wild dogs.
Folman seeks out fellow soldiers from his military service to help him fill in the gaps in his memory. Their stories form the narrative arc of Waltz with Bashir, which culminates in the massacre of Palestinians in the Sabra and Shatila refugee camps by Christian Phalangist militiamen. The film is a powerful and sobering statement on the brutality of war.
Waltz with Bashir opens Jan. 30 at the Uptown Theatre in Minneapolis.
But Folman has a lot of questions about the snow and Minnesota's frosty climate.
"Can you predict the snow here, like it's snowing every year?" Folman asks.
He knows that the Coen brothers are from a Minneapolis suburb. He asks about their film Fargo, which was shot in the Twin Cities: "Did they have snow?"
Informed that temperatures and snowfall vary from winter to winter, Folman muses, "You can't count on the snow here."
The Israeli director was in the midst of an 18-day publicity junket, during his December visit to the Twin Cities. Since his interview with the AJW, Waltz with Bashir has won the Golden Globe for best picture, and has been nominated for an Oscar as best foreign language film.
Turning the conversation from snow to the Mideast conflict rendered in his film, I mention that during a recent press screening the handful of local film critics were totally transfixed by the story told by Roni Dayg, who was a tank loader in the IDF. Dayg is left stranded on a Lebanese beach after his tank is rocketed.
"He's the perfect anti-hero — antiwar hero — because he represents the truth in many ways, in my eyes," say Folman. "There's no bravery in him, nothing; he just wants to go back home. He misses his mother. And he's left alone — everyone's dead — and he swims back home. And then he has all those guilt feelings, that he stayed alive while all the others died."
Seven of the nine fellow soldiers who tell their stories in Waltz with Bashir consented to have their faces and voices used in the film. Boaz, Folman's friend who has the dream about the wild dogs, and Carmi, who has moved to Holland and become wealthy in the felafel business, are portrayed by actors; their testimonies are real, according to Folman.
Waltz with Bashir — which took four years to research, write, shoot and animate — opened in Israel last summer.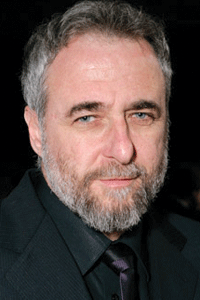 "The reaction was very good," recalls the tall, lean handsome director, his neatly trimmed beard flecked with gray. "It was very well received — better than I expected. I thought there would be a political debate over the film, but there wasn't. They took it as a very personal story, just as I meant it be, which is good."
The 46-year-old director, who lives in Tel Aviv, with his wife and three young children, has produced other documentary and fictional films and was the writer for BeTipul (In Treatment), the hit Israeli TV series that was adapted by HBO. He also was a writer for the popular and controversial TV series Parashat Hashuva (Chapter of the Week). Folman has won Israeli Academy Awards for his previous films, The Material That Love Is Made Of, Made in Israel, and Saint Clara.
Waltz with Bashir will cement Folman's credentials as a singular artist. It is an amazing account of young soldiers thrust into a hellish situation. The decision to animate the war and the interviews allows for a seamless storytelling that entwines the violence with combatants' hallucinatory dreams. Original music by Max Richter complements David Polonsky's masterful art direction and evocative illustrations. Pop songs also underline the fact that wars are fought by the young. Warfare in the film is punctuated by songs like "Boker Tov, Livanon (Good Morning, Lebanon)," written by a friend of the director; and "I Bombed Beirut," which is based on Cake's song, "I Bombed Korea."
In recent weeks, during Israel's war in Gaza, I have thought about Folman and wondered what he was thinking.
During our interview, I asked him what he thought about the Second Lebanon War — a war fought by many Israeli soldiers who were born after the 1982 war.
"I was full of anger," he recalled. "I couldn't handle it, so we took the family and traveled to a Greek island until it was over. Because you could see that nothing was learned, and the same mistakes were made all over again. And people died there for nothing. It was terrible."
Perhaps the Folmans packed up and went to Greece again.
***
Waltz with Bashir opens Jan. 30 at the Uptown Theatre in Minneapolis. For showtimes, call 612-825-6006; advance tickets can be purchased online at: http://www.landmarktheatres.com/Market/Minneapolis/UptownTheatre.htm.
(American Jewish World, 1.30.09)