The St. Paul Saints hosted the first annual Jewish Community Day at Midway Stadium on Sunday. Several hundred Jews of all persuasions were part of the 5,015 baseball fans in attendance.
Sholom volunteers greeted fans outside of the ballpark with delicious knishes and other refreshments for sale.
The walkways of Midway Stadium were adorned with leaflets documenting the history of Jews in baseball; the event explicitly honored the 100th anniversary of Hall of Famer Hank Greenberg's birth, and other great Jewish athletes.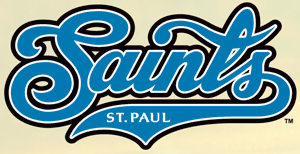 As the Saints do for every game, there were contests and quizzes between innings, many with a Jewish theme. A contestant had to guess whether certain fish, their images projected on the scoreboard's video screen, were kosher or not.
One of the physical skill contests involved a race that had the competitors running to two stations, where each contestant had to drain a cup of Mogen David wine, then eat a piece of gefilte fish before dashing to the finish line.
Kids were invited to an "afikomen" hunt — with two winners awarded boxes of matzos.
The Saints are renowned for their potbelly ball pig (this year's ursine employee is named "Justin Bieboar"), which brings the balls out to the home plate umpire between innings; but, taking consideration of Jewish sensibilities, Jewish Community Day featured Sheldon the Kosher Goat doing some of the ball toting chores.
A climactic moment Sunday came after the fifth inning, when Seigo Masubuchi, a native of Japan and the Saints director of international development, sang a karaoke version of "If I Were a Rich Man" from Fiddler. Colorfully dressed in a shiny tuxedo, Masubuchi also passed out coupons for free Taco Bell chalupas after the game in honor of the home team's win.
During the seventh inning stretch, Marty Dworkin, Ph.D., University of Minnesota professor of microbiology, sang the Yiddish version of "Take Me Out to the Ballgame (Nem Mikh mit Tsu Der Ball Geym)."
Oh, and there was a baseball game, with the Saints edging the Gary SouthShore RailCats, 3-2, in a game that came down to a tense top of the ninth, with plenty of spectacular defense to help closer Robert Manuel hold the lead. — Mordecai Specktor