Disaster response teams are working together to help families recover as soon as possible
AJW Staff Report
Over the past two weeks, parts of the Upper Midwest have seen extreme rainfall and severe weather, including mudslides, hail, tornadoes and high winds. The rain has been particularly heavy in Minnesota and neighboring Iowa, where the Rock, Big Sioux, Missouri and Rainy rivers rose fast causing extensive flooding and damage to homes and businesses.
As water levels crested late last week, assistance from St. Louis Park-based NECHAMA: Jewish Response to Disaster was requested in two Rock River adjacent cities: Luverne, Minn., and Rock Rapids, Iowa. NECHAMA's response team answered the call and have begun cleanup operations in both locations, according to an e-mail sent to supporters.
In Luverne, NECHAMA is working alongside other organizations to muck out flooded homes and basements. Many displaced residents are elderly and unable to complete this work themselves.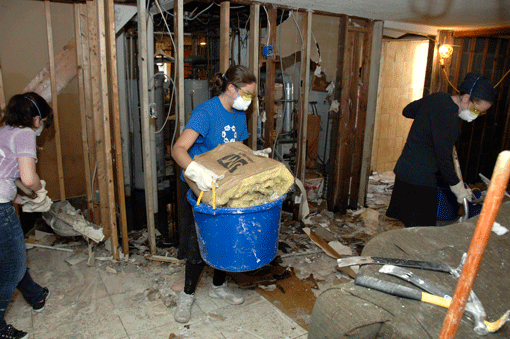 By teaming up with other response groups, including Catholic United Response and the local Office of Emergency Management, NECHAMA volunteers hope to ensure that these homes are clean and safe as quickly as possible.
Just down the river in Rock Rapids, more than 60 residences have been heavily damaged by the flooding, with waist-deep water in many of them. As of Sunday, NECHAMA volunteers were cleaning up debris, pulling out damaged walls, and drying out homes so families can begin to recover.
With the extent of severe weather across the region, NECHAMA will continue to monitor other areas in Minnesota, Iowa, and South Dakota that may need assistance with sandbagging and flood cleanup.
For information, visit: www.nechama.org.