By MORDECAI SPECKTOR
Apparently, I conducted a phone interview with musician David Bromberg on March 11, 2020. I barely recall our conversation, apart from my initial question about his appearance on a WCCO-TV Saturday midnight show (perhaps hosted by Bill Carlson).
Bromberg sang a song about a stripper who slid across the stage on her tuches (derriere). I happened to be watching the show with my father, alav ha'shalom (peace be upon him), and he laughed at the Yiddish usage.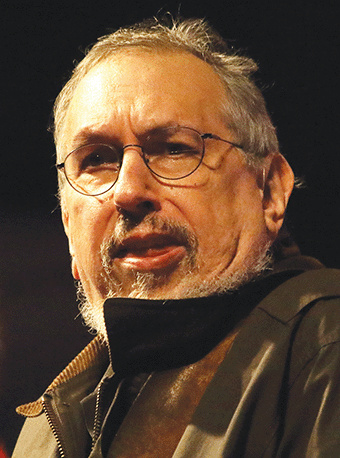 "It was probably 'Sharon' — the name of the song," Bromberg suggested, during our phone chat.
"As a matter of fact, in Minneapolis during that time, 'Sharon' was No. 1 on the AM radio," he recalled. "And the promotion guy who was responsible for doing that was fired for doing that."
Bromberg explained that the Columbia Records promo guy for "Minneapolis, Kansas City, Fargo and I forget where else" liked the song "Sharon" and promoted it ahead of the song that the Columbia higher-ups designated as the top song to promote to local pop stations. "So, they fired him."
My 2020 interview with Bromberg was intended for a story ahead of his May gig at the Dakota in Minneapolis. Then the COVID-19 pandemic hit and the gig was canceled, as every performing musician in the world was suddenly out of work.
However, we have come to the end of the beginning of the pandemic, and live music is back. And Bromberg, who's 76, will travel to the Dakota for shows on April 5 and 6, nearly two years after his original dates were scrubbed. Bromberg's self-titled debut album came out in 1971, so he's celebrating 50 years in music.
A recent story on the music site Relix (relix.com) concerned Bromberg's Jan. 28 show at The Capitol Theatre in Port Chester, N.Y., which celebrated his golden anniversary as a performing musician "with an incredible lineup of special guests."
The article noted that Bromberg, a wizard on a variety of string instruments, was soon in demand for recording sessions with "artists like Bob Dylan, Jerry Jeff Walker, John Hartford, George Harrison, the Grateful Dead, Emmylou Harris and Bonnie Raitt." Joining him onstage at the Jan. 28 show were Steve Earle, Larry Campbell, Betty LaVette, Teresa Williams and John McEuen. You can find some videos of the show on YouTube.
Bromberg's most recent recording, 2020's Big Road, a pre-pandemic release, showcases the singer-songwriter's brand of Americana, a mélange of blues, bluegrass, gospel and folk tunes produced by Grammy Award winner Larry Campbell, who also plays mandolin and pedal steel on the record.
When Campbell was touring with Bob Dylan, he would occasionally jam with Bromberg before shows, usually in Chicago where Bromberg was living. And Bromberg mentioned that he played on "four or five records" released by the Bard of Hibbing, one of Minnesota's Nobel laureates.
A seminal influence in Bromberg's musical life was studying with the Rev. Gary Davis (1896-1972), the legendary blues and gospel singer from the Carolinas.
"At the beginning, I paid him for the lessons; but after a while he asked me, if instead of paying him, if I could [drive] him around to gigs and to church," commented Bromberg, who started playing guitar at 13, after playing some other instruments. Early on he played "whatever was on the radio, mostly rock and roll in the '50s." In the late 1950s, early '60s, Bromberg played in a "folk music ensemble." He remembered that his parents had the album The Weavers at Carnegie Hall — "which I loved and so that was pretty much the start."
Finding that the life of a touring musician can be exhausting, Bromberg left the road some years ago and opened a violin shop in Wilmington, Del.: David Bromberg and Associates Fine Violins. Last December, Bromberg announced that he and his wife, Nancy Josephson, had sold the violin sales and repair shop.
I was fortunate to see Bromberg and his band play the Cedar several years ago. He puts on a lively, entertaining show, and his upcoming performances at the Dakota likely will bring out his loyal local fan base, including folks who remember "Sharon."
"It's the only place in the United States I had a hit record, aside from Fargo and Kansas City," Bromberg mused, regarding his return to Minneapolis.
And he recalled visiting here decades ago, not knowing that "Sharon" was a hit on AM radio. He was renting a car and heard his song on the radio. He asked the car rental clerk if the song was getting played often.
"All the time," she replied. "I'm sick of it."
***
David Bromberg will perform in concert 7 p.m. Tuesday, April 5, and Wednesday, April 6, at the Dakota, 1010 Nicollet Mall, Minneapolis. For tickets, go to: dakotacooks.com or call 612-332-5299.
Also coming to the Dakota is Michael Feinstein, renowned ambassador of the Great American Songbook, who will perform four shows, April 2 and 3.
(American Jewish World, March 2022)