A new variation on an old love story is brought to life through Jason Robert Brown's music and lyrics for Minnesota Jewish Theatre Company's latest offering
By DORIS RUBENSTEIN
The Last Five Years, currently playing at the Minnesota Jewish Theatre Company, is somewhat misrepresented. This reporter would give it a new title, Disillusion, because that's what it's really about, and reclassify it from a drama to an opera — or even better, a series of arias.
When The Last Five Years premiered in 2000, it was cited as one of Time Magazine's "10 Best" and won Drama Desk Awards for Best Music and Best Lyrics. These kudos are richly deserved; the music carries the show. The lyrics carry the story, but the story itself is weak.
The story has been told with dozens of variations over the history of theater: falling in love with who you think your beloved is, and then falling out of it when you realize that the beloved's qualities were just an illusion.
This variation — a "he said/she said" format in song — is the story of an East Coast Jewish young man, Jamie. He's done his best to please his parents by dating every girl, it seems, in the JCC's youth program directory; his recitation of his social history brought some laughter of recognition for the MJTC audience.
We meet him as he finds his first professional success by publishing a book while still in his senior year at Columbia University. He meets his "shiksa goddess" dream girl and leaves the yiddishe maidlach behind.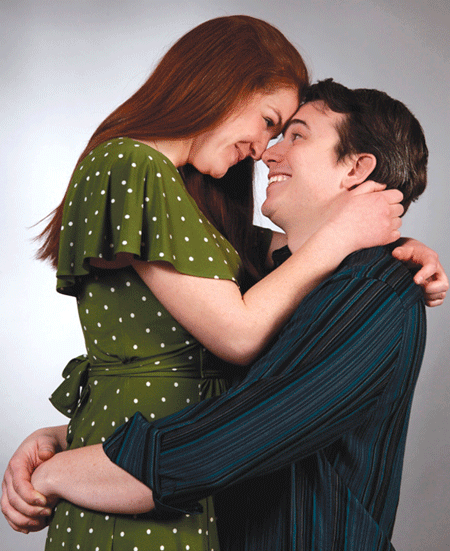 His shiksa goddess is Cathy, an aspiring actress who is itching to escape from a nowhere town "40 miles east of Cincinnati." Captivated after reading Jamie's book back in Ohio, she cannot believe she has the good luck to meet the wunderkind himself once she arrives in New York.
The script tells us that they fall in love, but the format of the play makes it difficult for the audience to understand how that happens, since they are seldom on the stage at the same time.
This device serves well to underline the effectiveness of the "dueling arias" method for the characters to tell their separate stories. It doesn't, however, serve well when it prevents the audience from feeling whatever chemistry might have been between them and hence prevents us from developing much chemistry or sympathy with the characters.
This is not to say that the actors in this two-person show, Matt Rein as Jamie and Sarah Shervey as Cathy, aren't doing their darnedest to do justice to their roles.
Rein has appeared in MJTC productions before, most recently in the wildly popular My Mother's Lesbian Jewish Wiccan Wedding and Compulsion or the House Behind. His likeable personality shines through all his roles, and his pleasant voice carries well throughout the Hillcrest Theater's cozy auditorium.
Shervey is a recent graduate of the University of Wisconsin–LaCrosse and so is well cast as a small-town girl determined to make it in the big city. My observation that her voice unfortunately lacks power was confirmed by others during lobby talk after the show.
While I missed some of the lyrics sung by the Cathy character, she had some amazing competition for the audience's ear. The Last Five Years has something you rarely see or hear in small theaters, or even in larger local productions for that matter: a live "orchestra." In this case, it was Jon McDuffie on cello and guitar; Kellie Nitz on bass; Joel Thielman at the piano; and Kristen Weeks playing violin. They're given great material to work with. Perhaps they get carried away with it and that's why we don't hear Cathy as well as we might.
Composer Jason Robert Brown's score includes a wide, wide range of styles and genres; I could identify waltz, klezmer, pop, jazz and even music hall. I left the theater wishing I could've had an encore with them after the play was over. They're part of the play, constantly onstage behind a well-conceived and -executed opaque wall created by scenic designer Dan Wold. Wold also is a MJTC regular and knows how to make the most of the audience's imagination with less.
For young adults, the emotional pull and the professional struggles of the two characters in The Last Five Years will be something that they will identify with: they're hoping to find life partners and meaningful, lucrative employment. Older adults will watch the play with nostalgia and head-nodding, remembering those early years after leaving the security and influence of their parents' home, glad that they've passed that time long ago.
So, warm up a weekend with some great music and a new take on an old story, and enjoy it for what it is: entertainment. The Minnesota Jewish Theatre Company is good at that.
***
Minnesota Jewish Theatre Company's The Last Five Years will be performed Saturdays and Sundays through March 2 at the Hillcrest Center Theatre, 1978 Ford Pkwy., St. Paul. For tickets and information, call 651-647-4315 or visit: www.mnjewishtheatre.org.
(American Jewish World, 2.14.14)