Reviewed by NEAL GENDLER
Unfortunately, when private investigator Nils Shapiro takes a murder case, dead people keep accumulating.
In Broken Ice, Minnesotans were shot dead with arrows. In The Shallows, well-liked, well-off downtown Minneapolis attorney Todd Rabinowitz is found floating dead near the shore of Christmas Lake, tied to a dock by a cord leading to a fish stringer hooked through his lower jaw.
If widow Robin Rabinowitz suffers grief, she keeps it well hidden, hiring Nils to find the killer and clear two obvious suspects: herself and her metal-sculptor lover, Arndt Kjellgren.
Solving crimes usually is the job of the police, but if author Matt Goldman let that happen, he'd have no way for Shapiro to outperform the chief-less, none-too-competent Greater Lake Minnetonka Police Department and even the FBI.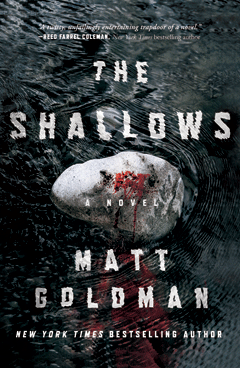 The genre of the private eye solving problems that elude police may be older than Sherlock Holmes, but it's not entirely unreasonable: Nils isn't sidetracked by other work and, like Holmes, his exceptionally sharp mind sees connections invisible to others among small, seemingly unrelated facts.
So Goldman sends wisecracking Nils – who of course has troubles of his own – on a journey of surprises and nearly enough Jews for a minyan.
Meeting glamorous Robin, Nils electronically deposits her $5,000 PayPal retainer. She'd planned to leave her husband of 10 years soon.
She says she's sure Todd's death was connected to his law firm, Halferin Silver, but doesn't say why. Nils realizes he has to penetrate the firm and makes a show in front of police of pretending he's turned down the job.
Nils, now 40, seems more prosperous since Broken Ice. He and his partner, a calm family man and Minneapolis police cadet named Anders Ellegaard, work from an office by the Mississippi River, calling themselves Stone Arch Investigations.
Anders mostly runs the business, Nils does most of the investigating, and they have a savvy junior investigator, Annika Brydolf, a mother of three divorced from an abusive husband.
Nils tells Annika to pretend she's quit Stone Arch and try to get hired by Halferin Silver so she can investigate it from the inside.
In the meantime, Ian Halferin tries to hire him. He recommends Annika, saying she'll occasionally consult with him.
That's just the start of this swirl. By mid-book, Nils, too, has been hired by Halferin Silver, putting him in the ethically precarious position of representing Todd's widow and the company she blames for his death. Eventually, he's also hired temporarily by the Greater Lake Minnetonka police. He turns down a hiring request from Robin's lover Kjellgren.
Goldman's fertile mind, which includes a sense of the absurd, creates a rapid-reading romp through Minneapolis-area geography — so engagingly you hardly can stop turning the pages.
The author, evidently delighting in the genre, gives Nils some good lines.
For example, Minnetonka detective Mike Norton "had light brown hair and a forehead so big you could rent it out as a billboard."
A Minnetonka bar "had more TVs than a Best Buy and served more summer rum drinks than a pirate ship."
Other characters include Nils' ex-wife, Micaela Stahl, with whom he's been sleeping and now is pregnant, Halferin partner Susan Silver, and Karin Tressler, a super-rich, very right-wing and widely disliked candidate for Congress. She also tries to hire Nils.
"Excuse my language, but holy [deleted]," Nils replies. "I've had more job offers in the last week than I've had in the previous 40 years."
I don't want to give away the guts of this plot, which has more twists than a small intestine, but Nils soon also is investigating Kjellgren's escape from jail and a murder-suicide. Then he's briefly kidnapped from a bar after noticing something being slipped into his drink.
The kidnappers think he's drugged, but, of course, he'd fed the drink to a potted plant on the way to the men's room. The kidnappers' conversation gives him the biggest break in the case, which because of a bomb at Halferin Silver during a Tressler visit, now includes the FBI. The agency overcomes its distaste and hires Nils as a confidential investigator.
Shapiro gets help from a third cadet pal, Minneapolis Police Inspector Gabriella Núñez, and juggles all this to solve at least six related crimes.
Goldman's wrap-up isn't perfectly tidy; a few personal threads remain to nag Nils in the next book.
***
Neal Gendler is a Minneapolis writer and editor.