Annual Yom HaMorim dinner, which is open to the public, will recognize long service of Rabbi Avraham Ettedgui and Mary Baumgarten
By ERIN ELLIOTT BRYAN / Community News Editor
[You must] appoint teachers in each and every city, and a city that does not have a teacher is to be excommunicated until it appoints a teacher. — Shulchan Aruch
The Talmud Torah of Minneapolis hosts the annual Yom HaMorim dinner to celebrate its teachers and mark the significant milestones reached by individual educators. It's the highlight of the year for the teachers, according to Head of School Susie Chalom.
The event, sponsored by the Rabbi Marc and Dr. Henia Liebhaber Family Yom HaMorim Fund, will honor Rabbi Avraham Ettedgui for 50 years and Mary Baumgarten for 40 years of service to the school and its students. The fund was established in the 1970s, and endowed several years later, by former AJW publisher Rabbi Liebhaber, who started his career in Minneapolis as a teacher at the Talmud Torah.
"This year, because it's Rabbi Ettedgui's 50th year, which is so unique, and Mary Baumgarten's 40th, we decided to open up the dinner to the community," Chalom told the AJW. "It's somewhat of a small fundraiser that will go towards teacher recognition and teacher enrichment at the school."
The dinner and program will take place at 5:30 p.m. on Wednesday, June 12 at Beth El Synagogue in St. Louis Park. All are welcome to attend or send a tribute to Ettedgui and Baumgarten.
"I know the impact that they have had on the lives of so many people in this community," Chalom said. "When you have a teacher who has been very impactful on your life, and you feel thankful and you feel gratitude toward them, you don't always get a chance to express it."
When Chalom first came to the Talmud Torah in 1970, she was instructed to sit in on Ettedgui's class. She calls him an "outstanding master teacher" who has "a good rapport with all ages."
Chalom also noted that Ettedgui was passionate about reaching young Jews in outlying and rural areas, recording lessons that he sent to their homes and organizing retreats for them to study at Talmud Torah during the summer.
Ettedgui is a native of Morocco and joined the faculty of the Talmud Torah in 1963. At the time, the school was located in the building of the former Adath Jeshurun Congregation at 34th and Dupont in North South Minneapolis.
In 1974, Ettedgui was named executive director and served in that position until 1999. Since then, he has been a part-time teacher for the older students and is currently the director of the Talmud Torah Foundation.
He is also the spiritual leader of Sharei Chesed Congregation in Minnetonka.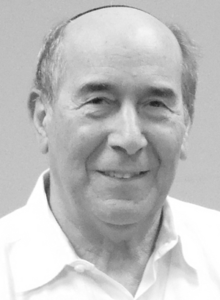 "I'm one of the few people who stayed with the school all those years. I don't know anyone else who spent 50 years with the same school, at least with Talmud Torah," Ettedgui said. "It has been a very rewarding and enjoyable experience because over the years I've not only worked with kids, but at some point these people became the parents of children that I continued to work with, so there are several generations of students that I worked with in Jewish education."
Ettedgui has enjoyed a long friendship with Liebhaber and also credits past Talmud Torah educators Lawrence Kaiser, Dr. Samuel Mahshon and Max Weitz with having a strong influence on his own career.
Ettedgui pointed out that in its more than 115-year history, the Talmud Torah of Minneapolis has been a unique school that has made significant contributions to the greater Twin Cities Jewish community. Talmud Torah initiated what is now the Amos and Celia Heilicher Minneapolis Jewish Day School (HMJDS); was instrumental in creating a center for Minnesota Jewish educators; and nurtured lasting partnerships with the Sabes JCC and Herzl Camp.
"All these years, it was a community school that provided Jewish education to children of the entire community and did not ask what affiliation the kids came with, whether they were Orthodox, Reform or Conservative. It is unique because there aren't many schools left like this throughout the country," he said. "To have people who have stayed all those years with the same institution speaks well of the institution."
Ettedgui is married to Linda Brody Ettedgui. He has five children, Rabbi Daniel, a former Talmud Torah teacher who now works at HMJDS, Richard, Nancy, Marcy and Caryn, and Brody Ettedgui has two children, Dr. Jason and Alyssa; together they have 15 grandchildren.
Chalom describes Baumgarten as a "utility teacher" who can "teach anything to any age." She said Baumgarten "exudes patience and serenity" and has a unique and positive effect on the kids in her class.
Baumgarten came to the Talmud Torah from the East Coast, after finishing her master's degree at Temple University in Philadelphia. After returning from Israel in 1973, she moved to Minnesota with her new husband, Jack, who grew up in St. Paul.
Her father-in-law, Ben Baumgarten, was a teacher at the Talmud Torah, as well as a cantor.
Throughout her time at the school, Baumgarten has taught at different grade levels — specializing in fifth and seventh grades, and high school — and filled in wherever there was a need. She has served as a team leader and curriculum coordinator, and also currently serves as the education director at Beth El Synagogue.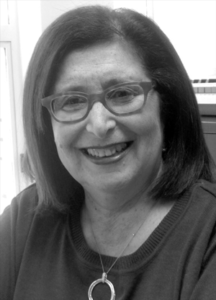 "I feel like I'm a fixture at the Talmud Torah. And I'm still as passionate about what I do as I was 40 years ago," Baumgarten said. "I like to think that I've been some type of an influence for the [students] in their lives and I'm proud of my work at the Talmud Torah. I've always been very proud of being a faculty member at the Talmud Torah. I think we do important work and I don't take it lightly. I think it's a big responsibility to do what we do. The Jewish future depends a lot on what happens with a kid's education."
Ten years ago, when Baumgarten was recognized for 30 years at the school, a generous donor came forward to subsidize a trip to Washington, D.C., for the eighth grade class in Baumgarten's honor. Each year, Baumgarten, whose parents are both Holocaust survivors, coordinates the students' visit to the U.S. Holocaust Memorial Museum and other historical sites; 34 students went on the trip in April.
"The kids study about the Holocaust prior to going and then we spend a good bit of time in the museum. And we debrief with them after the visit for a couple of hours and it is an amazing session," she said. "They get to verbalize some of the things they felt as they were going through the museum, ask some of the questions that they may have, or synthesize some of the things that they learned prior and what they saw… I'm very honored that the trip was in my honor and that's it's gone on for 10 years and that so many kids have had the opportunity to benefit."
Baumgarten also coordinates Talmud Torah's "Living Museum" exhibition that includes a variety of family artifacts from the fifth-grade students. Baumgarten works closely with the Jewish Historical Society of the Upper Midwest, which helps the students identify an artifact and write a proper description in advance of it being displayed.
Baumgarten noted that many of the current leaders in the Twin Cities Jewish community are products of the Talmud Torah and believes strongly that the school begins "breeding our leaders" at a young age.
"I hope that the community does not underestimate the contribution that the Talmud Torah has made in the 100-plus years that it's been in existence and still has the potential to make. I worry, I do worry, about the Jewish future and I think that a strong Talmud Torah, a Talmud Torah that is supported by the community and the synagogues is critical," she said. "I don't want anyone to underestimate the role of the Talmud Torah in educating the future generation."
Baumgarten and her husband have two children, Zachary and Shanna, both of whom are graduates of the Talmud Torah's Beit Midrash, and four grandchildren.
Chalom encourages everyone to help Talmud Torah honor the contributions of Ettedgui and Baumgarten.
"It's a Jewish value of respecting our parents and our teachers," Chalom said, "because they have impacted our life in the world to come."
***
The Talmud Torah of Minneapolis' Yom HaMorim dinner will take place 5:30 p.m. Wednesday, June 12 at Beth El Synagogue, 5224 W. 26th St., St. Louis Park. For tickets and information, call 952-381-3300, e-mail: administration@talmudtorahmpls.org, or visit: www.talmudtorahmpls.org.
(American Jewish World, 5.24.13)