AJW Staff Report
Gasthof Zur Gemutlichkeit, a popular German restaurant in northeast Minneapolis, hosted a Christmas party for a group of World War II re-enactors, which included persons dressed as SS officers and Nazi flags hung on the walls.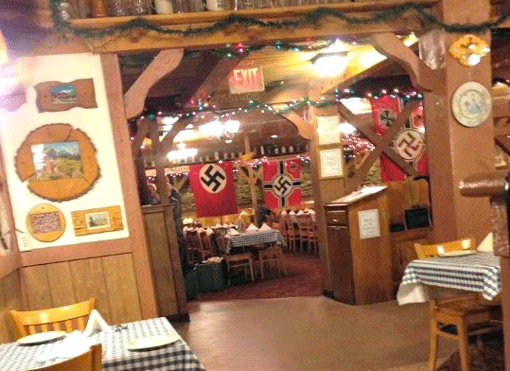 The weekly City Pages posted an online story yesterday, which included a photo of the scene, with pixelated faces of attendees in SS uniform.
Today, the newspaper posted more photos from the Dec. 2013  Jan. 19 20 party: HERE
The original City Pages story quoted Jon Boorom, a member of WWII Historical Re-enactment Society Inc. and owner of the Lakeville Barbers, who was at the December January event depicted in the photos, which he likened to "a Star Trek convention but for WWII enthusiasts."
"All of the German [re-enactment] groups in Minnesota have a Christmas party because we don't typically have events going on in the winter," Boorom told City Pages. "It's just like any club that has a party. Because they dress up like Germans from World War II, it's cool to go to a German restaurant, eat German food, and drink German beer."
On Tuesday, the Jewish Community Relations Council of Minnesota and the Dakotas (JCRC) and the Minnesota Rabbinical Association (MRA) expressed concern about the party with Nazi paraphernalia.
In a letter sent to Mario Pierzchalski, owner of Gasthof Zur Gemutlichkeit, JCRC Executive Director Steve Hunegs said: "Glorification and/or celebration of Nazi Germany and its military would appear to be incongruous with the nature of a family restaurant and its surrounding neighborhood."
A press release sent to the AJW today stated that the JCRC, "in conjunction with the MRA, is looking to assist the restaurant in finding a way forward and honoring Minnesota's World War II veterans and Holocaust survivors by not associating with German military re-enactors.  As leaders in the Jewish community, we must convey the horror that this re-enactment conjures for Holocaust survivors and veterans alike, to the owner of the restaurant."
You can read the full text of the JCRC letter: HERE
The City Pages story has received national attention, and Haaretz, the Israeli daily, also picked up the story.
Last year, the Associated Press reported that Michael Karkoc, 94, an alleged Nazi war criminal, was living in northeast Minneapolis. Karkoc hid his past as the leader of a Ukrainian military unit under Nazi command during World War II, when he applied for U.S. citizenship, according to the AP story.

Update
In a story posted yesterday, City Pages noted that Scott Steben, an organizer of the Nazi-themed party at the Gasthof, apparently is fond of things Nazi-related.
City Pages reports:
Scott Steben, the organizer of the Nazi-themed dinner held at Gasthof's on MLK Day, has tattoos of Nazi SS bolts and the official SS skull on his right arm.
The photo featuring the tattoos was posted publicly on Steben's Facebook. In the same picture, Steben wears a jean vest adorned with an Iron Cross, eagle-and-swastika, and an epaulet with a silver button.

Just a day earlier, Nazi aficionado Steben issued an apology for the party, according to a story in the Star Tribune.
The newspaper published Steben's apology in its entirety:
Statement CONCERNING WWII Reenactment Dinner
On behalf of everyone who participated in a World War II reenactment dinner last January, I apologize. We understand that some of the items we displayed at the dinner have made people feel uncomfortable. That was not our intent.
We are a historical reenactment and professional actor society dedicated to promoting understanding of World War II. In no way are we or any of our members affiliated with groups that promote the subjugation of anyone. All our members value education, equal rights and the complex relationship between good versus evil. These values shine through during our frequent public, Re-enactment Society-sanctioned reenactments of historic WWII battles and events and nationally released movie, Memorial Day. Sadly, these values were not captured in the photographs taken of us during the private dinner.
We are currently reviewing our practices so that in the future our members will be more mindful of the unintended effects of the materials we display.