Reviewed by NEAL GENDLER
How much repentance is enough, and how does one compensate when profits from dishonesty were used benevolently?
If you care to think about them, such hard questions lie at the heart of the delightful kaddish.com, a lighthearted, typically offbeat romp from the fertile imagination of novelist Nathan Englander.
The story opens with Larry, a secular success in New York, scornfully chafing at the Orthodox rituals of shiva for his father, barely tolerating a week with sister Dina and her Memphis community.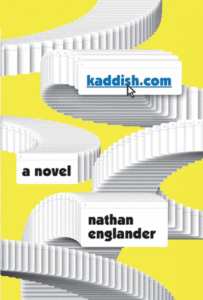 Their righteous and loving father had accepted Larry's success, but always made clear that "none of it was Larry's real life," that he'd eventually return to his people and faith.
Near shiva's end, Larry is confronted by Dina, reinforced by the scrawny, bearded rabbi and the overweight head of the chevra kadisha (burial society). As the only son, she says, it's Larry's responsibility to say Kaddish for their father — morning, noon and night for 11 months — to assure their father's soul a proper place in heaven.
Trapped, Larry promises. Dina knows he won't keep his promise and an increasingly ugly scene begins, with Larry telling the rabbi that he should fix his antiquated religion so women can fulfill the obligation.
Finally, the rabbi proposes a legal solution: Larry can hire a shaliach mitzva, someone to do the good deed for him, saying Kaddish in his place.
Searching the internet, Larry finds kaddish.com, fills out a form about his father, and awaits an Israeli yeshiva boy's agreement to fulfill the obligation.
Next day, he receives a reply: "Know that as you are his son, so, for the next 11 months, am I. Sincerely, Chemi." Attached is a photo of a youngster studying in a yeshiva. A link takes him to a contract.
As with other Englander stories, enjoyment of kaddish.com — officially out March 26 — requires a worthwhile suspension of disbelief to allow in the improbable.
Nathan Englander is a Pulitzer Prize finalist, distinguished writer in residence at New York University, and author of the hit short-story collection For the Relief of Unbearable Urges and novels Dinner at the Center of the Earth and The Ministry of Special Cases.
His wry writing is economical, appropriately injecting Yiddish and, a bit too often, Hebrew in a milieu instantly recognizable to involved Jews and to those who've visited Israel. It's also a bit not for prudes.
Kaddish.com quickly leaps ahead 20 years to Larry transformed: Bearded, black hatted, back in Brooklyn and religious, he is Shaul — which he lightened to Shuli — a poorly paid yeshiva teacher living mostly on the proceeds from selling his upscale Clinton Hill apartment.
Loving, perceptive wife Miri, acknowledged the superior intellect, has left her teaching career to study in a women's kollel.
Shuli, devoted husband and father of two, takes under his wing troubled student Gavriel, who, like Shuli, is fatherless.
An event at a wedding Shuli officiates shocks him into thinking that his decades of righteous living have done nothing for his father, that in his pre-religious contempt for tradition, hiring Chemi to say Kaddish, was rejecting his birthright, as Esau did for a bowl of lentils.
Shuli concludes that he must find Chemi and get his birthright back.
His emails to kaddish.com unanswered, Shuli engages computer-savvy Gavriel to find its location, dishonestly inventing a fictional dead father. Eventually, Gavriel traces the website to a neighborhood in Jerusalem and draws Shuli a map.
Miri, a candidate for sainthood if only we had saints, takes from a bible their emergency cash so Shuli can go to Israel to find Chemi.
All of this is a delight. Revealing more would deprive readers of joy and astonishment at how Shuli answers both of this book's hard questions through twists and coincidences only Englander could invent.
***
Neal Gendler is a Minneapolis writer and editor.
(American Jewish World, March 2019)