Mount Zion Temple will host a chef-in-residence weekend with bestselling cookbook author Tina Wasserman on Friday, Nov. 20 and Saturday, Nov. 21 at the synagogue, 1300 Summit Ave., St. Paul. The events are titled "Beyond Brisket and Bagels: What Really Makes Food Jewish?"
Wasserman is a respected and well-known cooking instructor whose hands-on approach to all facets of food — that also happens to be kosher — and its preparation have appealed equally to her non-Jewish and Jewish students for 40 years.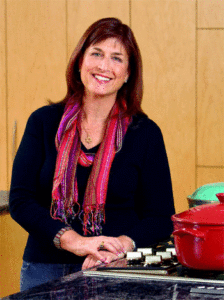 On Friday, during 7:30 p.m. Shabbat services, Wasserman will speak on "Beyond Brisket and Bagels: 1492 and its Impact on World Cuisine." After services, the oneg will includes desserts from her talk.
On Saturday, Wasserman will lead presentations and hands-on activities. Beginning at 1 p.m., she will lead a talk and hands-on activity titled "What Makes Food Jewish? The Stories Behind the Recipes and the Recipes Behind the Stories."
At 7 p.m., Wasserman will lead a cooking demonstration titled "Getting Ready for the Holidays, Delving into our Tradition: A Hands-On Evening of Cooking, Eating and Camaraderie" at Cooks of Crocus Hill, 877 Grand Ave., St. Paul. Pricing and registration can be found at: www.mzion.org.
Wasserman is the author of Entrée to Judaism: A Culinary Exploration of the Jewish Diaspora and Entrée to Judaism for Families: Jewish Cooking and Kitchen Conversations with Children. She was elected to Les Dames d'Escoffier in 1994, an international honor society for women in the food and wine industry, and is one of only five women in the country honored who specialize in Jewish cuisine.