The Mount Sinai Community Foundation will kick off its annual Giving Circle with an exhibit celebrating Mount Sinai Hospital and its auxiliary
By ERIN ELLIOTT BRYAN / Community News Editor
In February 1951, within a climate of local anti-Semitism, Mount Sinai Hospital opened its doors at the corner of Chicago Avenue and 22nd Street in Minneapolis. The hospital — described in the AJW as "a house of healing for all mankind" — was a gift from the Twin Cities Jewish community to serve and employ, among others, those not accepted elsewhere because of their race or religion.
Mount Sinai Hospital provided Jewish physicians, who were unable to secure privileges at other private facilities (this was not the case at the University of Minnesota hospitals or the city General Hospital), a place to practice medicine. But the hospital remained secular, with a vision of access, healing, research and treatment to all patients and medical professionals, and served a critical need by addressing the shortage of hospital beds in Minneapolis at the time.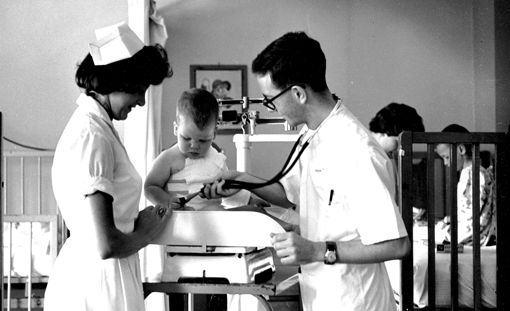 A vital extension of the hospital was the Mount Sinai Women's Auxiliary, which combatted social and cultural inequalities of that era, and provided financial and programming support.
Though the hospital closed in 1981, the auxiliary continues on today as the Mount Sinai Community Foundation (MSCF) — providing grants to local nonprofit organizations that work to improve the health and well-being of Minnesotans.
On Nov. 13, the Mount Sinai Community Foundation will kick off its annual Giving Circle funding cycle with a special event and the opening of a new multimedia exhibit, Mount Sinai: Looking Back, Moving Forward, in the Tychman Shapiro Gallery at the Sabes JCC in St. Louis Park.
Tickets are $36 for the exhibit's dedication and preview reception, beginning at 5:30 p.m. The general public is invited to the MSCF annual Giving Circle's program, titled "My Mount Sinai," at 7 p.m., followed by admission to the exhibit; tickets are $10.
The exhibit, presented by the Mount Sinai Community Foundation in partnership with the Jewish Historical Society of the Upper Midwest (JHSUM), will be on display through Dec. 1. After Nov. 13, it can be viewed free of charge at the Sabes JCC.
"Mount Sinai's approach to health care, research and education left a palpable impact on the entire region," Linda Stone, MSCF Giving Circle chair, said in a press release. "Even after it closed, its foundation has continued to personify the Jewish values that were engrained in the hospital and auxiliary. The foundation's exhibit and opening event will capture this remarkable spirit, which is bettering our communities to this day."
In 2014, the Mount Sinai Community Foundation granted more than $48,000 to organizations funding innovative initiatives, including Can Do Canines, to help launch its Prison Puppy Training Program at the Duluth Federal Prison Camp; Anaphylaxis and Food Allergy Association of Minnesota, to provide non-English speakers access to information about life-threatening food allergies; and Health Finders Collaborative, Inc., to provide dental equipment to help establish a low-cost, high-impact community dental program.
MSCF's Giving Circle model was established in 2012 and is intended to strengthen the foundation's long-term viability and allow more people to engage with its grant-making process (11-9-12 AJW). Its endowment fund is located at the Minneapolis Jewish Federation's Jewish Community Foundation.
Voting members contribute $200 per year; $100 is used to sustain the existing endowment, and $100 is added to the interest generated from the endowment and available for annual allocation. Under this model, one person's initial contribution can be leveraged and turned into multiple larger grants.
Members have the opportunity to read grant proposals and hear presentations from applying organizations — ultimately deciding which proposals will be funded and how much they will receive. Stone told the AJW that this collaborative and hands-on model, which includes lots of discussion and live voting, is "unique, fun and very effective."
"The hospital was founded on Jewish values and those are the same values that we're carrying on to fund these organizations to meet the needs of the community," Stone said.
Indeed, Jay Phillips, president of the Mount Sinai Hospital Foundation, reflected on those Jewish values when he wrote in the Feb. 16, 1951, edition of the AJW — which dedicated the first 16 pages and nearly all of the advertising space of its 40-page edition to the hospital's opening.
"With what has gone before serving as a living testimonial of our accomplishment, we now turn to the future with unflinching determination to fulfill the pledge of our co-religionists to all the people of our community," Phillips wrote, "that Mount Sinai Hospital shall be dedicated to the highest standards of medical treatment, research and education; that its healing hands shall be extended to everyone, in keeping with our belief in tolerance, love and compassion for all mankind."
In the same edition of the newspaper, Sen. Hubert H. Humphrey noted that the hospital "will serve as a beacon light for democratic human relations in our community. The fact that it will serve the entire community, regardless of race, color or creed, is an embodiment of the very essence of the Judaic teachings."
An AJW article remarked that hospital administrator Dr. B.W. Mandelstam was "combing the Upper Midwest and the entire country for top-notch medical and nursing talent." The Mount Sinai Hospital Foundation, led by Phillips and his officers, oversaw an elected board of governors and board of trustees.
Many of the first members of the Mount Sinai Auxiliary were elected — most by their husbands — but the organization gained its autonomy within a few years. Stone noted that the vast number of these women were college educated, though they did not work outside of the home.
"The auxiliary was a full-time job and an opportunity to practice their skills," Stone said.
Stone said that the auxiliary also managed the hospital's public relations. Its professional newsletter detailed the nature of business for both the auxiliary and the hospital, and much of that information was used for the Mount Sinai: Looking Back, Moving Forward exhibit.
Other items included in the exhibit were taken from the Nathan and Theresa Berman Upper Midwest Jewish Archives (UMJA) at the University of Minnesota's Elmer L. Andersen Library, including photos, letters and even gowns from the auxiliary's annual fundraising galas.
"This is also a theme that you'll find in the exhibit, the work of the auxiliary," Stone said. "They were really a powerhouse and instrumental to the hospital's functioning — and the envy of all the other hospitals because of their ability to fundraise. And it wasn't just for programs. They were responsible for raising the funds for much of the bricks and mortar of the hospital."
Stone said the Nov. 13 event and the work of the Mount Sinai Community Foundation is a great way to share the history of Mount Sinai Hospital and engage others in helping to carry on its legacy.
"Some of us aren't even from the Twin Cities originally or connected to the hospital, and some of us are… but once we were exposed to the organization and learned of the work of the auxiliary, it came to mean so much and we wanted to share that with the community and bring a greater awareness of who are and the work that we're doing," Stone said. "Pulling together this exhibit has helped crystallize what we are trying to do."
***
The Mount Sinai Community Foundation will kick off its annual Giving Circle funding cycle with a special event and the opening of a new multimedia exhibit, Mount Sinai: Looking Back, Moving Forward, on Thursday, Nov. 13 in the Tychman Shapiro Gallery at the Sabes JCC, 4330 Cedar Lake Rd. S., St. Louis Park.
Tickets are $36 for the exhibit's dedication and preview reception, beginning at 5:30 p.m. The general public is invited to the MSCF annual Giving Circle's program, titled "My Mount Sinai," at 7 p.m., followed by admission to the exhibit; tickets are $10.
To order tickets, visit: www.brownpapertickets.com and enter "Mount Sinai" in the search box, or call 952-381-3499.
The exhibit will be on view through Dec. 1.
(American Jewish World, 11.7.14)