By MORDECAI SPECKTOR
On June 30, Rabbi Morris J. Allen will lead Shabbat services at Beth Jacob Congregation for the last time before beginning his sabbatical year. The spiritual leader of the shul that formed from the merger of Sons of Jacob Congregation in St. Paul and the New Conservative Congregation, in 1985, will step down after 32 years in the pulpit of the Mendota Heights synagogue.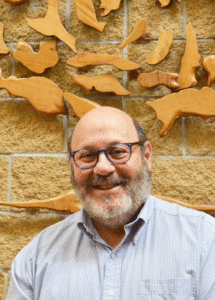 Rabbi Allen talked to the Jewish World last week, in the library of Beth Jacob.
Allen, 63, is originally from Denver, Colo., and moved with his family to Lincoln, Neb., in 1967. His late father was a university administrator; his mother, who's 97, lives in Jerusalem. Allen is the youngest of four children.
Asked about his calling to the rabbinate, Morris replied, "I told this story last Shabbos in shul: a new rabbi came to Lincoln, in 1967, a guy named Morty Waldman, alav ha'shalom, he died way too young."
The newly ordained rabbi in his mid-20s was determined "to shake things up" and sent 14 kids from Lincoln to Camp Ramah in the summer of 1968.
"That was his passion; and that was my first summer at Ramah, after a summer at Herzl in 1967. Ramah really shaped and transformed my life. Other than my parents, probably the most significant framing of Jewish life came from Camp Ramah."
Also, in 1968, Allen's interest in politics was sharpened by his parents' involvement in Minnesota Senator Eugene McCarthy's presidential campaign. Allen worked on the campaign, too. "My passion for electoral politics was sort of born at that point," he recalled.
Allen attended the University of Wisconsin-Madison, where he earned both a bachelor's degree and a master's in social work, in four years.
His first social work job was in Boston, where he worked at a chronic care hospital for a year. However, at the age of 19, Allen had decided to enter the rabbinate. "I was moved by rabbis in my life."
Allen enrolled at Jewish Theological Seminary, the Conservative movement's flagship rabbinical school, and spent his first year in Israel, which was highly unusual. His then-fiancée, Phyllis Gorin — whom Allen met at Camp Ramah in 1969 — was starting medical school. A wedding was planned for the following year, 1979. The couple moved to Chicago, in 1978, where Gorin was in her second year of medical school, and Allen, on leave from JTS, served as the director of Hillel at the University of Illinois-Chicago Circle campus. He returned to JTS in New York City, and graduated in 1984.
While his wife was finishing her pediatric residency, Allen worked for two years as director of recruitment for JTS. "And then we moved here."
Allen weighed several job options, but commented that he was "intrigued" by the letter about the new shul in St. Paul. Allen, Gorin and their newborn son, Avi, moved to St. Paul in the spring of 1986. He said that they decided "to give it two of three years… 32 years later, I'm finally making the decision to leave."
He added: "It has been a blessed and a great run. I am grateful for the people whose lives I've been privileged to touch, and really privileged to work inside a great community…. The Twin Cities Jewish community is a treasure that few people outside of Minnesota really appreciate."
Allen also expressed his appreciation for the professional staff and lay leaders at Beth Jacob, and the shul's former assistant rabbi, Emma Kippley-Ogman, and Tamar Grimm, the current assistant rabbi. He also expressed his gratitude for his rabbinic colleagues in Minnesota — "the best rabbis I've met."
In addition to their son, Avi, who's married and lives in Chicago, Gorin and Allen have two daughters— Leora, 29, a medical student in Israel, and Adina, 26, an assistant director at Camp Ramah.
Over his tenure at Beth Jacob, the congregation built a synagogue in Mendota Heights, which was dedicated in 1988. The congregation has grown from about 60 households at its founding to 375 households today. Allen mentioned that Shabbat services are a central part of many congregants' lives; and the shul has the "best morning minyan I've ever attended."
The Beth Jacob morning minyan started in 1990, in order to recite the Jewish Prayer for Peace during the First Gulf War, and it just kept going. Allen brought out a pile of legal pads that the late Bud Sweet created to record attendance at minyanim over the years.
While he is leaving Beth Jacob, Allen will still lead a congregational trip to Israel in December: "It's going to be a really fascinating trip to Israel. We're going to focus mostly on aspects of Israeli society that cause tension: religious pluralism, the Israeli-Palestinian divide. We're going to spend time in the West Bank; we're going to spend time with people in the Masorti movement… with people who are engaged in protecting civil rights inside of Israel; and we're going to also see all of the really wonderful accomplishments" of the Jewish state.
Regarding the trip to Israel, Allen noted that we live in a polarized time, "and we need to engage and talk to one another and find where there's commonality amidst our differences."
As far as social involvement, Rabbi Allen said, "I think my rabbinate in many ways has been defined by immigrant rights issues, and I don't see that we've made any progress."
Allen mentioned that, in the late 1990s, Beth Jacob congregrants got involved in the issue of driver's licenses for undocumented Minnesota residents, activism that was spearheaded by Jewish Community Action (JCA).
In 2006, following the Forward's expose of labor abuses at Agriprocessors, the kosher slaughterhouse in Postville, Iowa, Allen traveled to the meat-packing plant with Vic Rosenthal, then the JCA director. On May 12, 2008, the Immigration and Customs Enforcement (ICE) division of the Department of Home Security led a raid on the plant and arrested some 400 workers, mainly Central Americans, who were subsequently charged with document fraud, use of stolen Social Security numbers and other offenses. It was the largest ever immigration raid at that point in U.S. history.
Owners and managers of Agriprocessors also were charged with a variety of crimes, and Sholom Rubashkin, son of plant owner Aaron Rubashkin, was convicted in federal court on 86 charges of financial fraud. In 2010, he was sentenced to 27 years in prison. After he had served eight years, Rubashkin's sentence was commuted by President Trump, Dec. 20, 2017.
The recent outcry over migrant children being separated from their parents and put in cages on the southern border is the latest manifestation of our nation's broken immigration system. In addition to his local activism, Rabbi Allen was one of the speakers at the national March for America rally, a mass demonstration for immigrant rights, held in Washington, D.C., March 21, 2010.
And partly from what he saw in Postville, in 2011, Allen initiated a program called Magen Tzedek, which would provide an ethical certification to food products, evaluating companies for their labor and environmental practices, apart from adherence to kashrut. The proposal attracted national attention; but Allen allowed that the Magen Tzedek concept did not catch on — no food companies signed up for the ethical certification. He reflected, "We have not given up on the idea."
And Allen has an immediate plan after leaving Beth Jacob. He quoted his father's advice: "Keep kosher, love Israel and vote Democratic."
Heeding the latter point, Allen said that he always wanted to learn the ins and outs of a political campaign, and he will work for DFLer Angie Craig's 2018 campaign for Minnesota's Second District seat in Congress.
***
Beth Jacob Congregation and the Twin Cities Conservative rabbis will hold a dinner and celebration for Rabbi Morris J. Allen 5 p.m. Sunday, Oct. 28 at Adath Jeshurun Congregation. Details will follow in July, regarding a special Shabbat celebration on Oct. 27.
(American Jewish World, 6.29.18)