By DORIS RUBENSTEIN
Having been intimately involved in a one-woman play last year (Deborah Yarchun's A Pickle starring the amazing Angela Timberman), my admiration for actors who take on such a challenge is tremendous. Also, as an official senior citizen, remembering to tie my shoes is no longer something I take for granted. Hence, Kim Kivens' performance in Alice Eve Cohen's one-woman show, What I Thought I Knew, which premiered at the Minnesota Jewish Theatre Company on August 18, is something that attracted my attention. It should attract yours as well.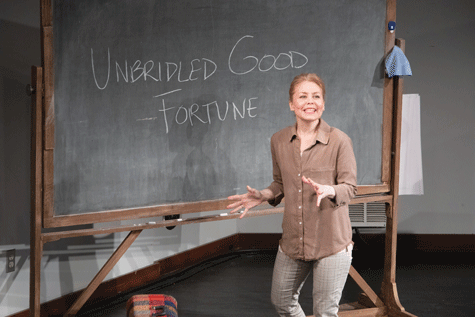 The play is based on the autobiographical book and experience of Alice Eve Cohen, who is obviously a member of our tribe. Kim Kivens' life and career have prepared her well for the role of Alice since she too is an MOT (and a member of Beth El Synagogue). She's also an adoptive mom, like her character in this play. What those experiences didn't prepare her for was the array of nearly 40 other characters that she is demanded to interpret as well in What I Thought I Knew. For that, she needed broad theatrical training and experience. And those have served her well here.
Kivens has been a regular in numerous theaters in the Twin Cities for years and recently has concentrated her work at the MJTC. She's clearly comfortable with Jewish roles and the heavily Jewish audiences there. But, with many characters and theater choices across town, why did she decide to take on this show where she has to morph into some 40 characters in a play that is over 90 minutes long?
"It is a challenge," Kivens admits, "but so much fun. I love a good back-story and to give these characters in the play that only show up once or have one line or two the same attention to those who are showing up throughout, is so important. It helps me to marry their physicality and voice."
The primary voice in What I Thought I Knew is that of the playwright, who adapted the play from her book. Instead of separate acts, changes in scene or topic are shown to us on a blackboard as chapter titles.
In the play, which takes place in 1999, Alice finds herself living with her non-Jewish fiancé and her adoptive daughter from a previous marriage on Manhattan's rapidly gentrifying Upper West Side. She writes and teaches acting to a diverse collection of amusing students. Early in the play, she declares that life has never been better for her.
Her discovery that she is pregnant at age 44 is the dramatic point on which the rest of the play turns. Everyone has something to say or do regarding this condition, particularly an array of doctors and others in the medical field displaying an equal array of specialties. There are wide differences in terms of their respect and understanding of middle-aged women. This combination exposes the real-life feminist experience of being dismissed by people in power, be it in medicine or politics or business.
While Alice admits to being a "Twice-a-Year Jew," someone she doesn't consult is a rabbi. She's Jewish. She slings around Yiddishisms and references to holidays, customs and rituals with comfort. Alice knows the Jewish attitude toward her choices but is shocked to learn that her fiancé is sticking with his Southern Fundamentalist upbringing when it comes to birthing babies.  Shouldn't this have been discussed before they became engaged, even as a normal conversation about a controversial subject that has been in the news for decades?
Kivens has her job cut out for her to play Alice and all of these characters addressing serious subjects with a healthy slice of humor to keep the subject from dragging the play into the drama that it might be. Alice, in reality, is quite a drama queen, and not everyone appreciates that personality type.
Kivens and the play itself get a boost from an offstage helper. Yes, this is still a one-woman play. The helper is Anita Kelling, who did the sound design. Snippets of music mostly associated with old melodramas are sprinkled liberally throughout the play at appropriate moments, adding more humor each time Alice discovers herself in another crisis. Other sound effects broaden what we see of the extremely spare set.
The MJTC has had good luck with one-woman plays in the past:Woman in a Mirror and Rose both drew large audiences. There's no reason to think that What I Thought I Knew won't do the same.
***
What I Thought I Knew plays through Aug. 30 at Highland Park Community Center, 1978 Ford Pkwy., St. Paul. For information and tickets visit mnjewishtheatre.org.