By DORIS RUBENSTEIN
With the rise of cellphones, the West Metro White Pages directory has been shrinking for years. My most current issue (from 2016) lists only nine people named Schwartz. Could this be a hint as to the plot of the Minnesota Jewish Theatre Company's current production, The Last Schwartz?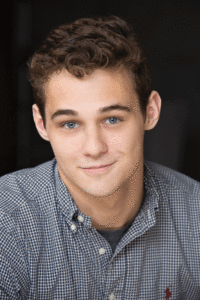 The plot of The Last Schwartz pivots on the events of three brothers and their sister who, on the anniversary of their father's death, return to the family home for the monument unveiling service. Their collective and individual paths have been painful and the playwright explores the family dynamic that combines drama with comedy, questioning Jewish identity's role in the cultural continuity of their family.
MJTC could have chosen the cast from a plethora of talented Jewish actors in the Twin Cities. Instead, none of the cast members are Jewish! Could this play and its company, then, be reflecting the dwindling Jewish population in the U.S.?
Damian Leverett, as brother Gene, is making his MJTC debut. His resume is stellar, including a BFA from the U of MN/Guthrie Actor Training Program. It was this program that attracted him to the Twin Cities from Virginia. Leverett is not Jewish, but — proving the cliché to be true — he says, "I had a lot of Jewish friends growing up. I went to Bar and Bat Mitzvas and enjoyed Passover Seders. Even my step-mother is Jewish!"
Does this qualify Leverett as an honorary member of the tribe?
Perhaps, but still he has a way to go still, and admits that he "… had to look up some terms and their cultural context, like yahrtzeit and mezuza." Leverett's need to explore Jewish customs and rituals is very close to his character, Gene, though. He says, "My character has often forgotten the meaning of events of the play as they relate to the other Jewish members of the family. He has distanced himself from Judaism. He's not hiding it, though."
Someone who has had a long, long relationship with the MJTC and, again, is not Jewish is Director Warren C. Bowles. Bowles brought a substantial amount of yichus to the MJTC when he received an Ivey Award for his outstanding direction of MJTC's The Tale of the Allergist's Wife in 2016. Other MJTC productions where he's played a vital role were DAI (Enough), Jericho, and Photograph 51 as director; and performed in The Whipping Man. Is Bowles, then, a candidate for the honorary title, helping to save the legacy of the last Schwartzes — or American Jews?
Bowles speaks for many MJTC audience members when he says, "What I really love about MJTC is the fact that you don't have to be Jewish to enjoy this theater. It is a celebration of Jewish culture without isolation … nowadays, our society separates more than unites … and this is something the MJTC does not do, and it's why I keep returning. This story [The Last Schwartz] is grounded in the clear, believable dysfunctionality of a family. Yet, the playwright is very clear that she wants this play to be funny. Ultimately, the play is about searching for the truth in family and how we form history and celebrate history."
So, who is Jewish in the world of The Last Schwartz? Its creator: Deborah Zoe Laufer. Is she the last Schwartz … er, Jewish playwright?
Laufer was born and raised literally in the buckle of the Catskill "Borscht Belt", Liberty, New York. Absorbing a Jewish ethos there is as easy as breathing in the clear mountain air. It's also the setting for The Last Schwartz.
Laufer earned her credentials as a playwright from the prestigious Juilliard School, and this play has its artistic origins there. She remembers, "It's my very-early-playwright obligatory family play. It's not really my family, but there are certainly Laufer-ish flourishes."
Coming from such a background, Laufer explains that in many of her plays, "The characters are not explicitly Jewish, but the dialogue is peppered with words like nebbish and schlemiel … But almost all of my plays wrestle with faith, and often with faith and science, and where faith and science rub up against each other uncomfortably."
Is it impolite (especially for Minnesota-Nice Jews) to ask how Jewish is the playwright? She tells us, "I'm Jewish. My grandparents were Orthodox. I'm an atheist. But, as my father always said, 'When they come breaking down doors, looking for Jews, you better believe they'll be at your door.' I'm Jewish."
She understands the danger of being the last Schwartz, of being among the small group of contemporary Jewish playwrights to confront the challenges of being Jewish in our modern society. Don't be the last person to buy a ticket for The Last Schwartz.
***
The Last Schwartz plays Oct. 20 – Nov. 11 at the Highland Park Community Center, 1978 Ford Parkway, St. Paul. For information visit mnjewishtheatre.org.