With psalms and prayers,
the fine nets our people have woven,
we will recapture our dreams.
—from "Wingless," by Ruth F. Brin
By MORDECAI SPECKTOR
Ruth F. Brin's review of American Prophet, Bruce Feiler's new book about the influence of Moses on American history and culture, appeared in the previous edition of the AJW. Unfortunately, Ruth did not see her review in print; she died of cardiac arrest on Wednesday morning, Sept. 30. She was 88.
We are coming to terms with the sudden loss of Ruth Firestone Brin, an intellectual and literary pillar of Minnesota's Jewish community. Perhaps Ruth's influence, which extended far beyond our state, wasn't widely known in our local Jewish community; but she was truly a pathfinder in reinterpreting the ancient Jewish sources and traditions for modern Jews. She was courageous in wrestling with the problematic texts that have been transmitted to us through the generations; she was both an upholder of tradition and an innovator who maintained a young spirit through her later years.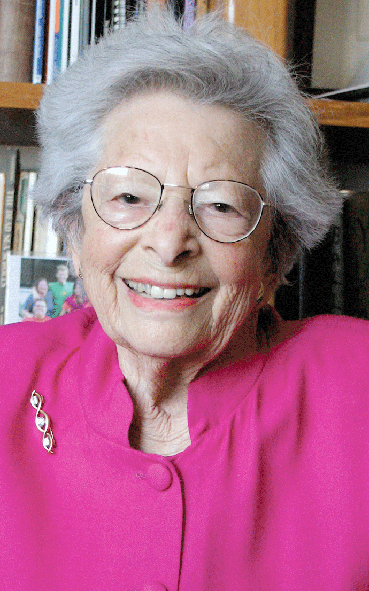 In the introduction to Harvest: Collected Poems and Prayers (Holy Cow! Press, 1999), a sort of Ruth Brin "greatest hits" edition, Charles E. Silberman wrote:
"Ruth F. Brin, whose meditations, prayers, and poems are collected here, is one of the liturgical pioneers of the post-World War II era. As early as the 1950s — the age of the 'edifice complex,' as it came to be called, when most American Jewish men seemed more concerned with the grandeur of the synagogues they erected than with the content of the prayers they uttered, and most Jewish women seemed content with their traditional subordinate and passive role in public worship — Brin was trying to create a contemporary idiom for kavanah [intent during prayer] and struggling to reconcile traditional Jewish prayers and texts with modern sensibilities."
Silberman continues: "As much as anyone, she was responsible for creating an atmosphere conducive to liturgical innovation and experimentation; it is hard to think of a new Reform, Conservative, or Reconstructionist prayerbook or anthology that has not included one or more of her prayers."
On this latter point, I wrote in a 1999 AJW story about Ruth's memoir, Bittersweet Berries: Growing Up Jewish in Minnesota (Holy Cow! Press, 1998), that the new Conservative prayerbook, Siddur Sim Shalom, contains seven of Ruth's prayers and poems, more than from any other writer.
In a touching remembrance of his safta (grandmother) at the funeral held at Adath Jeshurun Congregation, Shai Ingber commented that his grandmother will always be with us, especially when we find ourselves in shul, leaf through the siddur and read Ruth's beautiful words.
Each of my three sons read one of Ruth's poems on the occasion of their Bar Mitzva, which is a Friday night custom at the Temple of Aaron in St. Paul. I found my son Max's siddur from that evening, with his introduction to Ruth's poem "Uncompleted Journey" inserted on the opposite page.
Max told the congregants that he chose this particular poem "because we all are still struggling to complete this journey of life. As you can see by looking at any newspaper, we're still a long way from achieving peace and freedom in the world."
In "Uncompleted Journey," Ruth wrote of "the uncompleted journey of our people: To forsake slavery, to fight tyranny, / to see the difficult ways of God, which alone teach us to build a world of freedom and peace."
About four feet, six inches, with sparkling eyes and a quick laugh, Ruth was always a delightful presence. She had a wonderful, sometimes sardonic sense of humor, and a vast interest in things Jewish and everything else going on in this crazy world.
Shai, a lawyer in Washington, D.C., also mentioned at the funeral that during his frequent phone conversations with his grandmother, he would discuss various legal issues consuming his time and Ruth would respond with advice that was sharper than what he was hearing from his professional colleagues. Noah, Ruth's other grandson, also spoke at the funeral and recalled being taken on a trip by his safta to the Galapagos Islands, where the penguins seemed to be attracted to Ruth's black and white bathing suit. Ruth loved to swim.
Rabbi Deborah Brin, one of Ruth's two daughters and the spiritual leader of Nahalat Shalom, a Reconstructionist synagogue in Albuquerque, New Mexico, told me that her mother was "intellectually ravenous."
"She was always a seeker," her other daughter, Judith Brin Ingber, of St. Louis Park, told the Forward, which published a news obituary about Ruth this week. "She was always challenging things intellectually."
Ruth also had two sons, David and Aaron, of whom she was very proud. Aaron, who lives with his wife, Harriet, on a farm near LaCrosse, Wisc., certifies organic farms. David, who lives with his partner, David, in Sonoma, Calif., is an editor. Judith, who is known to many in the local Jewish community, is a choreographer and dancer, a co-founder of the Sephardic music and dance ensemble Voices of Sepharad, and the author of books on Jewish and Israeli dance. All in all, Ruth leaves behind amazingly accomplished, interesting children and grandchildren, who personify menschlichkeit (the Jewish value of honesty and decency).
Lana Gersten's article in the Forward noted that Ruth, who was the daughter of Milton and Irma Firestone of St. Paul, graduated Phi Beta Kappa from Vassar College in 1941. She later returned to Minneapolis, married Howard Brin, and earned a master's degree in American studies at the University of Minnesota. The article notes that Ruth was a member of the Urban League, and contributed to a collaboration between that group and the National Council of Jewish Women to found the first daycare center in Minneapolis' African-American community.
The Brins were among the founders of the Minneapolis JCC, now the Sabes JCC Minnesota JCC. And Ruth started Identity, a literary magazine at the JCC. Ruth was a steadfast promoter of the local arts; a fund named for her late husband awards grants to local artists.
Ruth had 13 published volumes — Torah commentary, children's books, poetry, a memoir and a novel (published when she was 86) — to her name. She reviewed books in the Star Tribune for several decades, and was the Jewish World's book critic for the past dozen or so years.
Beyond writing reviews for this newspaper, Ruth spent many pleasurable hours with me discussing books and varied topics. In a ritual that developed, Ruth would come to the AJW offices, or I would go to her apartment (she enjoyed living in a place with a panoramic view of the Twin Cities), and she would consider an assortment of books, select a few worthy of critical reading — and we would talk.
It's sad and bewildering that Ruth is gone. However, she lived a long and full life, and left a legacy of profound poetry and reflections for Jews, for everyone. It was a great privilege to know her.
(American Jewish World, 10.16.09)
Postscript
My remembrance of Ruth neglected to include the fact that she was a co-founder of Mayim Rabim, the Reconstructionist congregation in Minneapolis. I should know this because I was one of the speakers honoring Ruth at an event hosted by Mayim Rabim in May 2007.
Rabbi Renée Bauer wrote a remembrance of Ruth on the Web site of the Jewish Reconstructionist Federation, and noted: "Ruth was not only a Reconstructionist but also a lifelong feminist. For that I am grateful for I am aware that I am able to walk my path as a lesbian rabbi because of women like Ruth who expanded thought and practice in the Jewish community. Ruth did so with her feminist thought and creative liturgy." — M.S.