U of M history professor and public intellectual Hy Berman explained politics to generations of Minnesotans
By MORDECAI SPECKTOR
A conversation with Hy Berman about topical political events usually led to historical analogies, which one would expect from the popular University of Minnesota history professor. For example, researching a 2009 story about Al Franken finally being declared the victor in the 2008 U.S. Senate race — following a recount and a lawsuit brought by the incumbent, Norm Coleman — Berman recounted the bumpy road that two previous senators, Hubert Humphrey and Paul Wellstone, traveled when they entered the body.
Remembrance
Berman suggested that Franken keep a low profile while learning the ropes.
In addition to being a valued resource for local journalists and a beloved history professor over four decades, Berman was known widely for his nearly 100 appearances on TPT's weekly public affairs program Almanac, and for his political commentary on commercial TV stations. Berman also was a special advisor to Minnesota Gov. Rudy Perpich, from 1976 to 1979.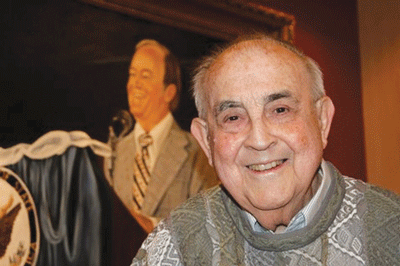 Berman died on Nov. 29. He was 90.
The son of Jewish immigrants who had a chicken farm in New Jersey, Hyman "Hy" Berman was born Feb. 20, 1925, in New York. He was a 1948 graduate of City College of New York, and earned his doctorate at Columbia University, in 1956.
At Columbia, Berman was influenced by the famous American historian Henry Steele Commager, and journalist and historian Allan Nevins, according to a 1984 interview with U of M history professor Clarke Chambers. Berman also told Chambers that he worked with William Leuchtenberg, a noted historian of 20th century America, and Richard Hofstadter, a public intellectual and author of books including The Paranoid Style in American Politics and Anti-intellectualism in American Life.
And Berman told Chambers that Salo Baron, widely regarded as the greatest Jewish historian of the 20th century, "had a profound influence" on his intellectual development.
While completing his doctorate at Columbia, Berman taught at City College. He told Chambers that he was hired "to give social science courses" to cantorial students at Hebrew Union College–Jewish Institute of Religion.
After short teaching stints at Bard College and Michigan State University, Berman came to the University of Minnesota, in 1961 (after rejecting a possible position at William Beadle State College, in Madison, S.D.).
Berman had been warned that the U of M's history department has a reputation for anti-Jewish bigotry. "That is a Judenrein [Jew-free] department, except for one man who is a Unitarian," Harry Carman, the Columbia dean, told Berman, who recounted the story in his interview with Chambers.
"There was a residue of gentile anti-Semitism and bigotry that still persisted among the old guard. I think that in the 1960s that was overcome," added Berman, regarding the social history of the U of M history department.
At the U of M, Berman taught the first courses on U.S. labor history. He was promoted to professor in 1970, and also taught courses on the Holocaust and Minnesota history.
"Hy was a real path breaker in demonstrating the ways that labor history and immigration history are interwoven," commented Peter Rachleff, a former history professor at Macalester College. Rachleff, and his wife, Beth Cleary, now run the East Side Freedom Library, a nonprofit center for labor and immigration history.
Rachleff explained that Berman was part of a group of U of M historians — including Chambers, Rudolph Vecoli and David W. Noble — who were instrumental in changing the focus of American history from being "about famous and powerful people" to focusing on the lives of "working people, ordinary people." Rachleff termed this a "paradigm shift" in the field.
Berman and his colleagues did the hard work of collecting the resources — union records, immigrant organization records, letter and diaries, initially with a focus on Minnesota's Iron Range — that would enable historians to study this new kind of history, according to Rachleff, who added, "You can't tell history in a new way without new sources."
Part of this complicated endeavor involved winning the confidence of people, "that they should trust you with their stories," noted Rachleff. That meant "spending time in people's living rooms, at their kitchen tables, explaining why they were interested in them — it was like they discovered a new country."
Berman was not prolific in writing books, according to Rachleff; but he is the co-author, with Eli Ginzberg, of The American Worker in the Twentieth Century: A History through Autobiographies. He also is the co-author, with Linda Mack Schloff, of Jews in Minnesota.
"What an intellect, what a memory — he was remarkable," Schloff recalled about her colleague in the field of Jewish history. "He was a real resource for the state."
She explained that the Minnesota Historical Society Press called on her to expand on Berman's chapter about Jewish history, in They Chose Minnesota: A Survey of the State's Ethnic Groups, edited by June Drenning Holmquist. That collaboration became Jews in Minnesota, a volume in "The People of Minnesota" series.
"In a sense, even though I had no courses from him, I followed in his footsteps, in that I was interested in bringing history, local history — in his case, Minnesota history, in my case, Jewish history — to a large audience," Schloff commented. "I had no interest in writing for scholarly journals and neither did he."
She also mentioned that Berman participated in Yiddish Vinkl meetings, and other Yiddish language discussion groups. His first language was Yiddish; and Schloff mentioned, although it might be "apocryphal," that Berman said that the first word he learned in English was "Bolshevik," given his left-leaning family milieu.
In the widest sense, Berman was an educator, and he reached a wide audience, throughout Minnesota and beyond the state's borders.
Regarding his teaching at the U of M (he retired in 2004 as professor emeritus), in a 1992 interview for TPT's "Portrait" series, Berman said that he wanted to give students "some kind of understanding that the world didn't begin with their birth… What I'd like for them to come away with is an idea that there is, in fact, a necessity to look into the experience of the past in order to understand their own contemporary world and their own situation in that contemporary world."
He also tried to encourage his students' "ability to think critically by using historical materials to understand their present condition."
Asked about the rewards of his career in academia, getting to know thousands of students and contending with great historical issues, Berman commented, "It's been fun."
Berman was preceded in death by his daughter, Michelle Berman. He is survived by his wife, Betty; children, Ruth and Steve, and granddaughter, Stephanie; and a brother, Harold.
(American Jewish World, 12.18.15)