By ERIN ELLIOTT BRYAN / Community News Editor
On Nov. 6, Minnesota voters will be asked this question: "Shall the Minnesota Constitution be amended to provide that only a union of one man and one woman shall be valid or recognized as a marriage in Minnesota?"
The Minnesota Rabbinical Association (MRA) — comprised of 35 rabbis and 15 synagogues — as well as Jewish Community Action (JCA) and other local organizations are urging Jews, and all Minnesotans, to vote "no."
On Jan. 18, MRA members unanimously adopted a statement opposing the proposed marriage amendment. The rabbis' statement noted that the "Minnesota state constitution attempts to protect the rights of our citizens rather than to deny them," while the proposed marriage amendment "seeks to continue the practice of leaving individual families within the LGBT [lesbian, gay, bisexual and transgender] community vulnerable and unprotected by the law. To honor an individual is to fight against discrimination in society for any reason, including race, religion, natural origin, gender, age or sexual orientation. Throughout history the Jewish community has faced discrimination, and therefore we will not stand by while others are targeted."
Membership in the MRA comprises "the majority of the Jewish population of Minnesota," according to the statement, and includes spiritual leaders from Reform, Conservative and Reconstructionist congregations.
Orthodox rabbis in Minnesota did not sign on to the statement.
Many of the MRA members and their congregants will attend an event organized by JCA, "Just Vote No: Engaging and Educating the Jewish Community to Defeat the Marriage Amendment," 2 to 5 p.m. Sunday, March 4 at Adath Jeshurun Congregation, 10500 Hillside Ln. W., Minnetonka.
According to a press release, the event will focus on how the proposed amendment conflicts with Jewish values and what the community can do to educate and mobilize others.
"It is so important for Jewish people to be in a room together and realize how powerful we are as a community to get out a very powerful message of standing together to oppose [the marriage amendment], and to leave the room knowing how capable we can be at playing a significant role in trying to make sure the amendment doesn't pass," Vic Rosenthal, executive director of JCA, told the AJW.
Along with JCA, the event is co-sponsored by the Adath Jeshurun Keruv Committee, Temple Israel, Bet Shalom, J-Pride, Mount Zion Temple, Beth Jacob Congregation, Beth El Synagogue, Shir Tikvah, Mayim Rabim, Or Emet, the National Council of Jewish Women (NCJW)–Greater Minneapolis and NCJW–St. Paul, Jewish Family and Children's Service of Minneapolis (JFCS), the Jewish Community Relations Council of Minnesota and the Dakotas (JCRC), the St. Paul JCC and the Temple of Aaron Social Justice Committee.
The American Jewish World is a media sponsor of the event.
"We need to make sure that the constitution is only used to protect the rights and people in our state that have either been disadvantaged or disenfranchised. This feels like taking the state of Minnesota in the wrong direction," Rosenthal said. "It's very dangerous to use the constitution to deny people their rights or their equality, whether it's for marriage or voting or for anything else."
Minnesota law already bans same-sex unions; the ballot measure would amend the state constitution to prohibit gay marriages.
The Minnesota Rabbinical Association based their opposition to the marriage amendment on two principles from Jewish texts: Kavod HaBriyot, the concept of individual honor or human dignity, and Lo ta-amod al dam rei-echa, "Do not stand idly by as your neighbor bleeds" (Leviticus 19:16).
Rabbi Lynn Liberman, the director of congregational learning at Beth Jacob Congregation, is one of three co-chairs of the MRA, along with Rabbi Marcia Zimmerman, of Temple Israel in Minneapolis; and Rabbi Avraham Ettedgui, of Sharei Chesed Congregation in Minnetonka. She said the group has been discussing the issue since last summer.
"We came back and forth in conversation and finally proposed the idea that we wanted to have a public statement, especially as some other religious groups were making public statements — in particular, the Catholic Church here in Minnesota — and we wanted to say that there is another view of religious faith-based understanding on this," Liberman said. "A unanimous vote of the MRA, which is a fairly rare thing, came about."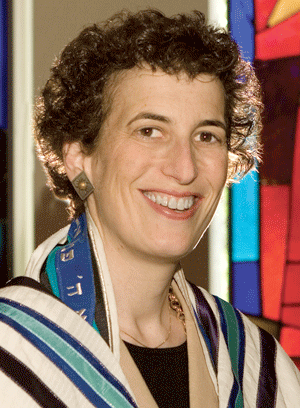 Liberman said the MRA exists to offer support to local rabbis, including those not employed by synagogues, and it affords an "opportunity to give an important and very needed voice on significant issues."
She said speaking out about the proposed marriage amendment provides a "spiritual voice of support for all families and all individuals."
"We want to be sure that people know there are those of faith who feel that human dignity is extremely important and preserving the opportunity for people to live out their lives in a full and humane way is important," Liberman said. "We don't believe discrimination should be institutionalized."
But others in the local Jewish community feel that the proposed marriage amendment is a way to preserve the "classic and eternal Torah definition of marriage," in the words of Rabbi Chaim Goldberger, of Kenesseth Israel Congregation in St. Louis Park.
"The Orthodox Jewish position is to favor the definition of marriage as a covenantal union between a man and a woman," Goldberger said. "Whether or not we support a constitutional amendment is a political question, it's not a theological question. But I can tell you that our tradition unequivocally links societal decay to that society's formal adoption of alternative definitions of marriage. If a society we're part of is choosing to fight to prevent this decay, I don't see how we cannot support it."
According to Goldberger, the MRA is not a representative group of the local community.
"They may have numbers, but numbers has never been the Jewish definition of representation," he said. "Judaism has a covenant, we have a tradition, we have a responsibility to be loyal to that tradition, and to understand it as it's been traditionally defined over the years."
Despite the Orthodox position on the amendment, Goldberger told the Star Tribune that his congregation would not release any statements or address the issue during services.
"We don't believe that politics belongs in the synagogue," Goldberger told the AJW. "We believe that the synagogue is a place to teach morality, to teach truth."
Whether or not the proposed marriage amendment passes in November, Liberman wants this discussion to lead to mutual respect for all.
"I hope people will come to know their neighbor, and come to know each and every one of us in this world as having human dignity and our responsibility of one to the other to uphold," she said.
***
On Feb. 9, the American Jewish World received a press release, "Statement of Orthodox Judaism on Same Sex Marriage," from Rabbi Chaim Goldberger, of Kenesseth Israel Congregation, and Rabbi Yechezkel Greenberg, of Congregation Bais Yisroel, both in St. Louis Park. The statement can be downloaded HERE.