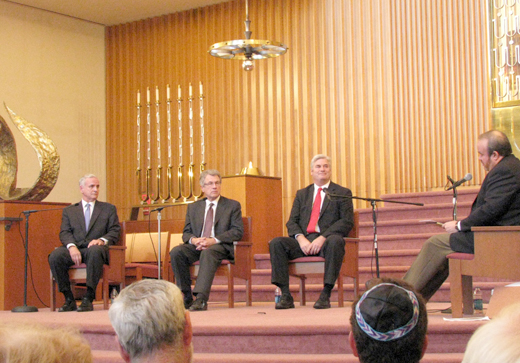 Funding for education, taxes, job growth, and a looming $6 billion state budget deficit were the issues that dominated a discussion among the three major party candidates for Minnesota governor on Sunday evening at Mount Zion Temple in St. Paul.
Former U.S. Senator Mark Dayton (DFL), Rep. Tom Emmer (R) and Tom Horner (IP) fielded questions from Prof. Larry Jacobs, director of the Center for the Study of Politics and Governance at the Hubert H. Humphrey Institute at the University of Minnesota.
The event was sponsored by the Jewish Community Relations Council of Minnesota and the Dakota, Jewish Community Action, Mount Zion Temple, and more than a dozen other local synagogues and Jewish groups, including the American Jewish World.
***
In the Oct. 15 edition, the American Jewish World will publish a special advertising section, "Elections 2010: Decision Time," with editorial content focused on the midterm elections on Nov. 2.