For some millennials, they're not interested in being in a Jewish community that's grounded in religious practice
By Josefin Dolsten
NEW YORK (JTA) — As a college student, Jake Max assumed he would work in banking or consulting after graduation. That was the path favored by many of his classmates.
But after experiencing the 2016 presidential campaign his senior year at Emory University, Max was spurred to action and decided to apply for a yearlong social justice fellowship.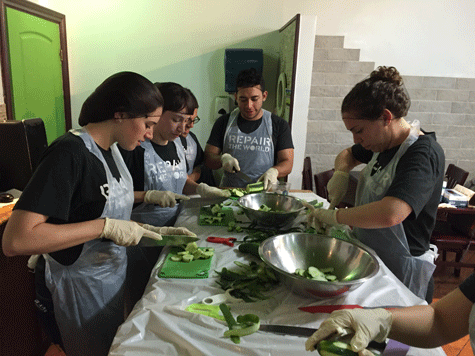 "I just saw how stratified the country was and how divisive the issues were, and I did not think we were headed in a good direction," the 23-year-old said.
Max spent the next 12 months volunteering at food pantries and soup kitchens across Brooklyn, working as a soccer coach for disadvantaged kids and attending events by different nonprofit organizations.
He says doing a fellowship with the Jewish social justice group Repair the World has helped him gain a new perspective — he can no longer imagine taking a job that would be about "making rich people richer." But the Baltimore native also found a connection to something else — Judaism, from whose religious practices he had long felt alienated.
"I'd become almost anti-religious because I hadn't found a place like Repair the World," said Max, who attended a Conservative day school through eighth grade.
"Repair the World is the perfect space for how I view religion. Going and doing shacharit every morning — that just had no meaning to me," he said, referring to the daily morning prayer. "Keeping kosher had no meaning to me. But this social justice community, bringing people together — that means something to me. That's something that I'm passionate about."
Max is one of Repair the World NYC's nine full-time fellows, who volunteer and live together above the group's headquarters — referred to as "the workshop" — in the Crown Heights section of Brooklyn. Fellows focus their volunteer work either on hunger relief or education, and organize events for the larger public, including Shabbat dinners with a social justice theme and happy hours, as well as volunteering opportunities.
Max isn't alone in how he connects good works with his Jewish identity. The idea of giving back and improving society is an important part of Jewish-American identity, said Aaron Hahn Tapper, the founding director of the Swig Program in Jewish Studies and Social Justice at the University of San Francisco.
Though different terms — such as service learning,  social justice and "tikkun olam" — have gained favor at different times to describe work done by groups such as Repair the World, "these ideas have been pretty central to Jewish-American identities for some time, for decades," Tapper said.
What's different are the expanding opportunities for doing this within a Jewish framework, said Rabbi Sid Schwarz, the author of the book "Judaism and Justice: The Jewish Passion to Repair the World."
"For a lot of people in previous generations, their involvement —  whether it was the labor movement or the civil rights movement or the women's movement or the environmental movement — they were acting on values they might have learned as Jews, but they didn't identify in any way as Jews," Schwarz said. "What's new is that now you have all these organizations that didn't exist 30-40 years ago where young Jews can do this work and get reaffirmed in their Jewish identity."
Repair the World's social justice focus attracts many millennial Jews who don't necessarily feel drawn to the ritual practices of Judaism, said Cindy Greenberg, executive director of Repair the World NYC, which launched in the fall of 2015.
"For some young people, they're not interested in being in a Jewish community that's grounded in religious practice," Greenberg told JTA.
"For many young people, what makes Judaism so exciting is that it helps them address the big questions in life of 'Who am I?' and 'What is my responsibility to my neighbor and my responsibility for the world?' So we empower the fellows to create a Jewish community that's grounded in service and in values of justice and in real action in their community," she said.
Others are looking to complement their current religious practice, Greenberg added.
To be sure, Repair the World events contain plenty of connections to Jewish tradition. All volunteer events feature a "Jewish lens" component in which participants learn how Jewish traditions relate to the issue at hand, such as food insecurity, affordable housing and racial justice.
Despite the Jewish focus, Repair the World attracts a diverse group of participants — about 40 percent of those attending events in New York are not Jewish, Greenberg said.
For some Jewish participants, the group serves a need traditionally filled by more traditional institutions.
Andrew Fretwell, a 32-year-old client executive at IBM, attends Repair the World events about once a month and serves on the group's advisory board. The New Jersey native, who lives in Brooklyn with his wife, has not yet "found the right synagogue," but says his involvement with the social justice group gives him some of the same benefits he would get from being a shul member.
"The closest I have to that is Repair the World — a regular point of contact with a community of other Jewish millennials and their friends who are like-minded, and we have a shared set of experiences that we continue to build on together," he said.
In some ways, Fretwell finds the approach used by Repair the World preferable to ones used in traditional Jewish settings.
"Jewish millennials, the message that we've been getting through so many different programs and avenues is asking us to receive something, to receive our identity, they want us to be recipients of loving Israel or of understanding Jewish tradition," he said.
Such an approach "lacks the boldness to actually ask of these same Jews, 'What are you doing for the world?' That's exactly what Repair the World does," Fretwell said.
Repair the World decided to make Brooklyn its New York base after conducting research that showed that it was the fastest-growing Jewish community in the city but that millennial non-Orthodox Jews there remained underserved by Jewish groups, Greenberg said. Engagement has nearly  doubled since the New York launch about two years ago, from 5,500 participants attending events in its first 12 months of operation to 9,100 this academic year.
"It's beyond what we could have imagined. We're meeting a real need in the community," Greenberg said. "I think that a Jewish community that's hyper inclusive and that's grounded in service is a very compelling community for young Jews."
Repair the World NYC receives most of its funding from grants made to the national group by Jewish foundations such as the Charles and Lynn Schusterman Family Foundation, the Jim Joseph Foundation and the William Davidson Foundation, Greenberg said. It also recently received a grant from the local Brooklyn Community Foundation.
"It's not a Jewish foundation, it's a foundation that's really about supporting those in need in Crown Heights, so for me it was a real affirmation of the community valuing the work that we're doing here," Greenberg said of the recent grant.
Jhena Vigrass, 23, applied to the Repair the World fellowship because she wanted to do social justice work, specifically with a focus on the environment. As a food justice fellow, she volunteers at urban farms in Brooklyn, helping with the farming work as well as recruiting volunteers.
Though Vigrass grew up attending Hebrew school through the end of high school, she was not involved in Jewish life during her studies at the University of Michigan. Becoming a Repair the World fellow changed that.
"I didn't really have a connection with other Jews. I wasn't used to having Jewish friends, or going to Friday night services and knowing people in that room and feeling comfortable in that space," she told JTA.
Vigrass now attends Shabbat services once or twice a month at different synagogues or minyans in Brooklyn.
"I feel much more connected to [the Jewish community] than I did before starting the program," she said.
For Max, Repair the World serves as an alternative to religious Judaism — and the answer to the question of how to reach unengaged young Jews.
"It's just way more progressive, it's a more modern approach," he said. "I think the way I was raised has become archaic.
"All of these Jewish organizations — synagogues, nonprofits — they keep talking about how it's so difficult to reach our generation, and I think the real answer is you have to reach them where they are and they gotta change the tune of the song they're singing if they really want to hit people."