By MORDECAI SPECKTOR
In his 2012 book, The Gershwins and Me: A Personal History in Twelve Songs, Michael Feinstein writes: "At the age of twenty, I met one of the legends of American popular music, Ira Gershwin. It was the most exciting moment of my life and I recall it in vivid detail. I worshipped what he had created with his brother George and had never dreamed I'd meet him. As he spoke about his lifetime of work I knew everything he was referring to, even though it had all taken place decades before I was born."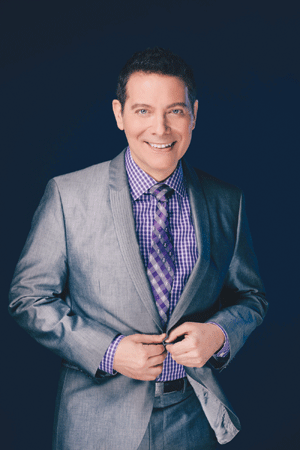 Feinstein continues, "When he eventually realized that I knew all his stories at least as well as he did, he suddenly stopped and stared at me, taking in my twenty-year-old countenance as if for the first time. In a perplexed voice he said, 'How many more of you are there?'"
Feinstein, a singer, pianist and educator billed as the "Ambassador of the American Songbook," will perform four shows Sept. 19 and 20 at the Dakota in downtown Minneapolis.
It will be his first time at the club on Nicollet Mall, he says, during a recent phone interview with the Jewish World. As it happened, Feinstein called while walking through Central Park on the way to his club, Feinstein's/54 Below.
He's concertized before in Minneapolis, with the Minnesota Orchestra "a number of times." The Dakota shows will see Feinstein, 62, "working with a jazz trio, with an amazing pianist named Tedd Firth, bass and drums, which gives me tremendous flexibility for a nightclub engagement."
"It'll be a fun and casual gig," he comments. "My shows are very interactive with audiences, and I love a nightclub experience because of the intimacy and the connection that is different from being in a concert hall, which I usually play 90 percent of the time."
In addition to his repertoire from the Great American songbook, when he plays the Dakota, Feinstein will perform "some newer American classics. I've been doing songs by James Taylor and Carole King, and Bachrach and David… I've been expanding the borders of the Songbook."
I mention that we'd talked once before, and Feinstein asks me to remind him of the conversation.
It was in 2003, when Feinstein was touring with the acclaimed songwriter Jimmy Webb, who wrote "Up, Up and Away," "Wichita Lineman," "After All the Loves of My Life" (better known as "MacArthur Park"), etc. The "Only One Life" tour, featuring Feinstein and Webb on two pianos onstage, played the Pantages Theatre in Minneapolis. I interview both Feinstein and Webb, and wrote a story for the AJW's Oct. 24, 2003, edition.
"Jimmy is one of my favorite people, as well as being a great songwriter," Feinstein recalls. "He's so much fun to be around, so wise and funny, and sees the irony of life. So, that whole experience was joyful."
And Feinstein tells a story from that time: "I remember during that tour, we had gone to Phoenix and Glenn Campbell was living there, and spontaneously Glenn Campbell came onstage and sang 'By the Time I Get to Phoenix,' and we accompanied him on two pianos. That was the last time I worked with Glenn and it was a very poignant moment."
Campbell, who was afflicted with Alzheimer's disease, died in 2017.
Over the years, I've asked Jewish songwriters and musicians — Jerry Leiber and Mike Stoller, Neil Sedaka, John Kander, et al. — about the Jewish tunesmithing gene. Jews, from Irving Berlin to Bob Dylan, predominate in the realm of American popular song.
"Why are there so many Jewish songwriters?" Feinstein replies, with a simplified version of my question.
"Going back to the classic era, the teens and '20s, these predominantly Jewish songwriters were the children of immigrants who had come to America for a better life." he explains. "And these children were raised primarily in New York City, which was the cultural melting pot, and they wanted to express an American ideal. They were influenced by this [confluence] of cultures that all shared the excitement and joy of being Americans. So, it was a combination of love for their heritage, and reflecting the swagger and the hope, the humor, the joy and the promise of that time."
Feinstein adds, "And that sense of optimism is also part of Jewish culture; in spite of the suffering, Jews are survivors, and Jews are people who make honey out of vinegar. So, there is a passion and an innate need to express goodness, in life and in art and culture, that led to the creation of some amazing songs."
In a sociological vein, Feinstein mentions that "many Jews had gone into the song publishing business," because there was no prejudice — it was a business that was open to Jews in the olden days. And these Jewish publishers of sheet music "would hire young boys who sang in the synagogue choirs, who would go out to all the vaudeville houses and plug the songs that the publishers were trying to get heard…. and many of these kids ended up going into the music business and becoming songwriters."
I recall that George Gershwin was a song plugger.
"Yes, that's how he got started," replies Feinstein, an eminent music scholar, who fills in some biographical details about the famous composer whose original name was Jacob Bruskin Gershowitz.
Gershwin went to work at the age of 15 for Jerome H. Remick and Company, performing songs for vaudevillians. The young song plugger soon wrote a song, "Swanee," his first hit, which was published by another outfit.
Of course, with his lyricist brother Ira — who Feinstein ended up working for as a cataloguer and researcher for six years — Gershwin wrote many of the great American popular songs, which are still being covered today by singers and jazz musicians.
At the end of our chat, Feinstein says he's looking forward to returning to Minneapolis, and remarks, "I consider the gift of being able to make music at this time a very important part of helping people to look at the goodness in life at a time when there's so much hardship. I see music as the fundamental healing tool… music can uplift and connect us spiritually to the hearts of others. It builds bridges with people with whom we might not otherwise have anything in common. To be able to help bring people together is more important than ever now. So, I hope that whenever I make music, it will uplift and bring something good into the world."
***
Michael Feinstein will play 7 and 9:30 p.m. Thursday, Sept. 19 and Friday, Sept. 20 at the Dakota, 1010 Nicollet Mall, downtown Minneapolis. For tickets, call 612-332-5299 or go to: dakotacooks.com.