A recent trip to India with American Jewish World Service demonstrated the need to meet our responsibilities to our neighbors around the globe
By RABBI AMY EILBERG
Raika and Goldie and I shared little common language, except for a few words of English they had learned in school. These beautiful 10-year-old girls live in Bikharipurwa, a tiny rural village in Uttar Pradesh, India's poorest state. The village has no electricity, running water or sewage facilities. But Raika and Goldie are radiant with the beauty and hopefulness of childhood, and willing to befriend strangers from a foreign land.
Among the many images I brought home with me from India were these two little girls, who took up residence in my heart.
I was in India with 16 other rabbis on a rabbinic delegation, sponsored by the American Jewish World Service. An organization I have long admired, AJWS draws inspiration from the time-honored Jewish commitment to justice, working "to realize human rights and end poverty in the developing world." AJWS works with partner organizations in the poorest nations on the globe, regardless of race, religion or nationality, to achieve the communities' own goals for development, empowerment and human rights.
The organization also brings groups of rabbis and rabbinical students to developing countries for intensive work-study trips filled with physical labor alongside residents, briefings with local civil society leaders, and study of Jewish teachings on the struggle for human rights and the alleviation of poverty.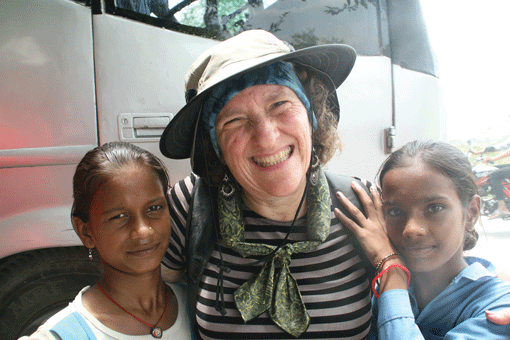 Hosted at the campus of a nonprofit organization that provides leadership and vocational training for a range of tiny rural communities, we rabbis arose each morning to contribute our labor to improvements to the school at Bikharipurwa. Hard as this might be to imagine, this group of American rabbis laid bricks for a new play area, prepared the ground for a new drainage system to prevent flooding during monsoon rains, and created new surfaces for more sanitary food preparation in the school's kitchen, where all students receive a government-funded hot meal each day.
Consistent with the collaborative philosophy of AJWS, we did not impose our judgments about what was most needed to improve the school's primitive facilities. We offered our help to support our hosts' desires for their own community.
Our journey was filled with the intense sights, sounds, smells and sensations of any trip to impoverished areas in India. In extreme heat and humidity, we saw makeshift dwellings and businesses made with sticks and brush by the side of the road. We encountered cattle sharing the streets with a cacophony of cars, bikes and tiny electric rickshaws. We experienced young women and children begging Westerners for money.
We also witnessed magnificent Hindu and Muslim houses of worship, and the dramatic beauty of the richly colored saris, dupattas (shawls) and headscarves of Indian women. And we met with remarkable civil society leaders, working toward an end to discrimination based on caste, gender and sexual identity. These activists are challenging a prevalent definition of economic development that tolerates rampant poverty while their nation's upper classes grow ever wealthier.
But at the heart of our trip was our work with the villagers. At first, as we exited our air-conditioned bus, they rightly looked at us with suspicion in their eyes. But they soon reacted to our evident desire to help, our genuine offers of the greeting "Namaste," our sweat and toil at the school work site, and our obvious affection for their children. The villagers placed strings of marigolds around our necks and red strings around our wrists, and asked us (in their few words of English) to visit their village again on our next trip.
Most impactful of all for me were these two stunning little girls. It has been a very long time since I played little girl games with my own daughter — who is now in her late 20s and has deep commitments to global social justice — but the maternal instincts came back quickly. Raika and Goldie delightedly touched my white skin (as I admired the exquisite tone of their south Asian complexion), taught me Indian versions of "pat-a-cake" games, and playfully tried on my wedding ring.
It was easy to love these children, though they live halfway around the world in very different circumstances than my own family. While before my trip the children of India were a distant abstraction, now these girls have a place in my heart.
I went to India to have my heart opened to distant branches of the human family, and the people of Bikharipurwa have broadened my heart greatly. These people — and their counterparts throughout the global South — can never again be invisible, expendable or irrelevant to my own well-being. They are no longer someone else's problem. They are now in my own circle of love and concern. I can never again forget that these people are as deserving as my own immediate neighbors of the basic rights that all people deserve.
We privileged Westerners must expand our hearts and minds to care, learn and contribute more to our distant relatives in the developing world. We are responsible to and for them, as we are to our own children and families. When we begin to meet our responsibilities to our neighbors around the globe, all people will know greater well-being and justice.
***
Rabbi Amy Eilberg is the first woman ordained as a Conservative rabbi by the Jewish Theological Seminary of America. She is nationally known as a leader of the Jewish healing movement, and lectures and writes on issues of Jewish healing, spiritual direction and peacemaking. Rabbi Eilberg currently serves as the special consultant for interfaith conversation at the Jay Phillips Center for Interfaith Learning at the University of St. Thomas.
(American Jewish World, 8.16.13)