Reviewed by NEAL GENDLER
The strangely organized Druggist of Auschwitz is filled with distressing ghastliness and stunning prevarication — and you can't stop turning the pages.
The druggist was Victor Capesius, and his story is a fascinating goulash of testimony from a 1960s "Auschwitz trial" in Frankfurt, Germany; survivor and perpetrator accounts; interrogation notes; letters and documents; interviews; and non-fiction narrative bound together by a fictional Sonderkommando — a concentration camp prisoner forced to aid in the disposal of victims — named Adam.
I'm extremely skeptical of any novelization of history. How can we know what people now dead were thinking, doing or — absent witness testimony — saying? What's to prevent author invention?
The problem is that as the events grow ever more distant, it becomes harder to separate fact from fiction. We can, for example, scoff or hoot at a movie such as Inglourious Basterds (even if we would like it to have been true), but will a viewer 30 years from now be able to differentiate the kernels of fact from the heap of fairy tale?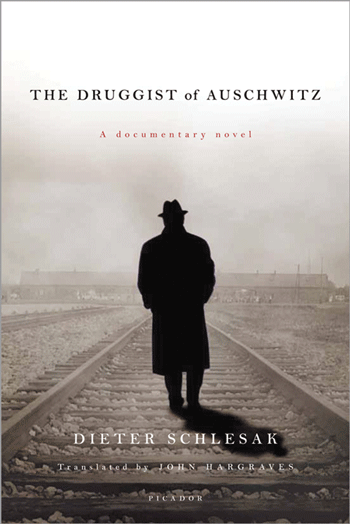 Dieter Schlesak mostly avoids this problem by putting Adam's thoughts and actions in italics and the factual material — the great majority of the book — in regular type. But Schlesak's peculiar arrangement takes some getting used to. Portions leap from one source or decade to another, and occasionally it takes a few sentences to catch on.
But it's one terrific read — in both senses of terrific. Druggist gives us a gruesome vision of the hell of a death camp plus the unrestrained fantasy of perpetrators justifying or denying their deeds — or even admitting to them with little or no hint of qualms then or remorse after. The oft-used "following orders" cliché is scant excuse; historians have shown that refusal to participate in atrocities seldom was punished.
Schlesak only slowly dribbles out the facts of his family's involvement. Born in 1934, his family and community were Transylvanian Saxons, German speakers in a border-shifting portion of the former Austro-Hungarian Empire. Several relatives served in the SS.
Friendly, Romanian-born Capesius owned the town pharmacy, where young Schlesak bought candy. In 1941-42 Capesius was a pharmacist in the Nazi-allied Romanian army. He was drafted into the German army, then moved into the Waffen SS and made head pharmacist at Auschwitz in the fall of 1943.
Schlesak extensively interviewed a remorse-free relative who became an SS lieutenant at Auschwitz and Capesius himself. Capesius claims he saved Jewish prisoners by employing them in his pharmacy — which may be true — but he denies working at "selections" of Hungarian Jews who arrived by the tens of thousands in spring and summer 1944. Yet witnesses not only say that he did but that he used his fluent Hungarian and pleasant smile to calm arrivals — some of them former customers and neighbors — saying they would soon be reunited with family members; Schlesak calls him "Mengele's mouthpiece."
Most such reunions would occur within hours, but only if the spirit survives death. Schlesak memorably describes a picture of dazed-looking arrivals: "Shortly after they became photographic images, their bodies became ash."
Capesius' duties included monitoring gas chamber killings. In sources found online, witnesses say he participated in ghastly "medical experiments" at Auschwitz, from which results were forwarded to once-distinguished medical centers.
Capesius was captured in 1946 and released, but unlike Mengele, he was caught again. The Auchwitz trial court sentenced him to nine years.
When Schlesak met Capesius in Göppingen, Germany, in 1978, he owned a pharmacy and a cosmetics shop, and lived in a swanky neighborhood. Where did he get the money? He denied theft, but witnesses said Capesius would go though arrivals' abandoned bags and had a room at the Auschwitz pharmacy containing suitcases of dentures, and even cut out jaws with gold teeth.
Unpleasant stuff, but an unusual, perhaps unique, presentation that's enlightening and spellbinding.
***
Neal Gendler is a Minneapolis writer and editor.
(American Jewish World, 3.2.12)