Reviewed by NEAL GENDLER
In a work of uncommon clarity, New York Times reporter Diana Henriques traces Bernie Madoff's empire of lies from rise through demise — and a bit beyond, in a record swindle far from resolved.
Henriques writes with the skill of a top-level newspaper professional accustomed to making complex subjects understandable. Leading the Times' coverage of the scandal provided her the broad and deep knowledge accumulated by reporting a story day by day for months.
Additionally, she interviewed Madoff twice in prison and corresponded with him to gather more firsthand information, although she warns that it's not always possible to tell when Madoff is truthful.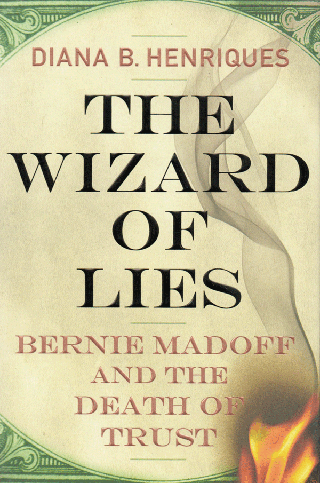 The fraud, exposed in December 2008, when Madoff ran out of money, involved a galaxy of investors and "feeder funds" that she calls "a vast worldwide irrigation system that sustained Madoff's fraud with steady high-pressure streams of cash."
Some people invested directly with Madoff, becoming wealthy from his regular payments. But multitudes were unaware that investment funds into which they poured their savings were reinvesting in Madoff's investment firm, which really wasn't investing at all.
Madoff was using the cash to pay fake profits to earlier investors. It was the classic Ponzi scheme, carried to an unimagined $64.8 billion loss of purported account values and actual cash losses of about $20 billion among thousands of account holders around the world — some in Minnesota.
Madoff ran two operations. One was a legitimate brokerage — large, profitable and respected for innovative technology to speed trades. That business, which employed his sons Mark and Andrew, and his brother Peter — the force behind the innovation — was in gleaming offices on the 18th and 19th floors of Manhattan's Lipstick Building, nicknamed for its shape. The secretive investment operation, in plainer surroundings on the 17th floor, ran the Ponzi scheme.
But the wealth Bernie Madoff claimed to be creating for investment clients created its own problem: As purported fortunes grew, clients began spreading their riches among philanthropies, often on grand scales. To do so, they needed to withdraw millions from their accounts. And as the numbers of clients soared, so did Madoff's need to come up with "earnings" to send them.
In 2005, Madoff began covering withdrawals with cash from his legitimate brokerage; the line between the two became "blurred beyond repair," Henriques says. Throughout, regulators were pacified or failed to follow warnings.
Madoff made his scheme more attractive by feigning exclusivity; you were "lucky" to get in. But collapse damaged some rich people and charities and others — including multitudes who were not rich — were left broke.
Henriques deftly organizes a blizzard of information into a gentle breeze. It's chilling, though, to read page after page containing Jewish names. But Henriques shows no agenda, and the book gains strength from her journalistic restraint: She doesn't tell readers what to think, just presents her great abundance of facts in an orderly, nonjudgmental manner so they can speak for themselves. She even manages not to say an arrangement "wasn't… strictly kosher" until page 254.
Nosy Minnesotans will be disappointed by the lack of local names — just one fund recruiter, one victim, one synagogue and a country club.
In Henriques' account, Madoff, who did not begin wealthy, indulged himself and his family, but for all the luxury around him — including three vacation homes — he was neither brash nor flashy, living, for a rich man, rather quietly. Her Madoff is not a monster who set out to swindle but someone who began earnest and became dishonest.
She shows sympathy for Madoff's sons, wife and brother, whose professions of innocence seem supported by their refusal to flee. Their losses include harassment, slander, friendships and careers. Worst, Madoff's son, Mark, was so overwhelmed he killed himself.
Perhaps that will satisfy those who've maintained that the swindler's sentence of 150 years wasn't punishment enough.
***
Neal Gendler is a Minneapolis writer and editor.
(American Jewish World, 7.22.11)