Reviewed by NEAL GENDLER
Irène Némirovsky's slender novel is a model of economy, capturing an enormous range of emotion and relationships in spare, simple language.
All Our Worldly Goods follows a prosperous small-town French family from happy times at the beginning of the 20th century through the slaughter and destruction of the needless war of 1914 to the despair of the next one, as a panic-stricken, incompetent France collapses in 1940.
Némirovsky, a Jew born to a wealthy Kiev banking family in 1903, moved to France during the Russian revolution, attended the Sorbonne, and became a highly successful writer for newspapers and journals and of other books. She was murdered in Auschwitz in 1942.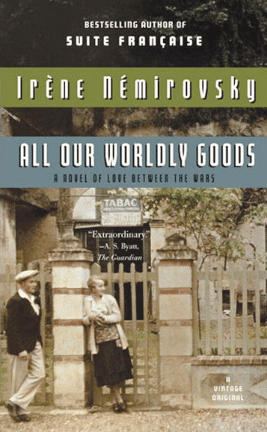 Her acclaimed Suite française, set in Paris as the Nazis take over, lay unknown and unpublished until 2006. All Our Worldly Goods was published in France in 1947, and in England in 2008.
In her "translator's note," Sandra Smith provides a worthy description, saying that the book "is about love: forbidden love, married love, unrequited love, the love of parents for their children, of people for their homes, of citizens for their country."
True, but don't misinterpret that as sort of a chick-flick on paper. Worldly Goods is much more: war, destruction, rebuilding, renewal and fear, all delivered with what Smith aptly calls "the astute psychological and social observation for which Némirovsky is now known."
The story centers on Pierre, grandson of Saint-Elme's leading citizen — a somewhat benevolent tyrant who owns a paper mill. Grandfather has arranged for Pierre to marry plump, orphaned heiress Simone. But Pierre secretly and chastely has been meeting Agnes, daughter of a brewer and thus lower in the town's rigid social order.
Soon after a lavish engagement dinner, he announces his desire to marry Agnes instead. His parents object, his enraged grandfather disinherits him. Agnes and Pierre marry quietly in Paris, and he begins work as an engineer, living happily with Agnes in Spain. But in July 1914, Pierre is called to join his regiment.
Némirovsky's minimal words bring maximal effect in describing Agnes and Pierre's agony of separation; the flattening of Saint-Elme and the suffering of its residents, and Pierre's recognition of the futility of the Great War. He returns mostly recovered from wounds that will leave him with a painful hip.
Grandfather relents a bit — although shunning Agnes — and takes Pierre into the paper mill, rebuilt partly with funds from Simone, who becomes co-owner. She has married a Parisian she met in a ditch while fleeing Germans and installed him at the mill. They have an attractive daughter, and, as a good novelist would contrive, she attracts the attention of Pierre's son Guy.
In the intertwined lives of these two families, Pierre and Agnes are pretty much the soul of goodness. Simone, unforgiving of Pierre, becomes fat, widowed and unhappy. The families live in quiet, tolerant dislike.
Everyone's mood deepens, and relationships change, in dread of a second German war. Pierre and Agnes have a new, greater fear when Guy is mobilized.
Described, this might seem tame, but the plot's twists, individual dramas and surprises pull you in and keep you glued. Némirovsky captures the shock, fear and resignation of her adopted nation as it is outwitted and outfought in Hitler's invasion.
Smith says Worldly Goods does not show the author's premonition of impending doom, but instead "an underlying feeling of hope." Yet, mid-book, with our knowledge of history, there is an eerie note: At the grandfather's 85th birthday celebration in 1924, he recalls that his grandfather lived to 103, but considers his failing health and concludes that he won't live to that age — which would be in 1942.
***
Neal Gendler is a Minneapolis writer and editor.
(American Jewish World, 9.30.11)