Trusted Wall Street insider preyed on members of Jewish country clubs in Twin Cities
By MORDECAI SPECKTOR
Members of Oak Ridge Country Club who invested with Wall Street insider Bernard Madoff have lost tens of millions of dollars, according to knowledgeable sources in the local Jewish community.
Federal authorities arrested Madoff, 70, on Dec. 11, after he admitted to running a massive pyramid scheme that bilked investors of as much as $50 billion.
Locally, one family lost $26 million that they invested with Madoff, and another family is out $10 million, sources told the AJW this week.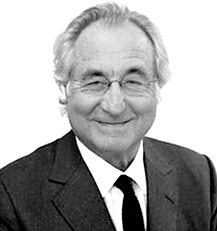 "A lot of people lost everything," said a Minneapolis-area financial professional with personal knowledge of Madoff's local clients. He said that he could not divulge names of Oak Ridge members who were victimized by Madoff and spoke on condition of anonymity.
"Some people are going to have to sell their homes, their jewelry," he said, regarding bilked investors who belonged to the predominantly Jewish country club in Hopkins. He added that some individuals approaching retirement have lost their life savings in the Madoff scam; they may have to return to work.
Harold Roitenberg told the Jewish World this week that he lost "millions" that he had invested with Madoff over the past 25 years.
"In addition to my own money [invested with Madoff's firm], I had the money in a charitable lead trust that I used for making contributions, and that's gone," Roitenberg said.
Roitenberg and his wife, Ruth, are among the leading philanthropists in the local Jewish community. They were the lead donors for the Sholom Community Alliance's Roitenberg Family Assisted Living Residence in St. Louis Park, and for the new Roitenberg Family Adult Day Center under construction at the new Rossy and Richard Shaller Family Sholom East Campus in St. Paul.
"I have been in touch with my bank and they know I lost money," Roitenberg commented. "I'm trying to salvage whatever I can from this debacle."
The local impact of the Madoff scam adds to the woes of Jewish non-profits – the federations, synagogues, schools, agencies and charities – operating in a weakened economy.
"I think all of the Jewish organizations will have problems," Roitenberg said, regarding the fact that many local Jewish donors also have lost money that they invested with Madoff. He said that he knew of "a lot" of local Jews who have suffered losses.
An article in the Star Tribune on Tuesday put losses in the Madoff scam, among Jews in the Twin Cities, at $300 million. A Wall Street Journal story last week put the figure at $100 million lost among investors at Oak Ridge and the Hillcrest Country Club in St. Paul.
"There's lots of pledged money to Federation and other local charities that will not be paid, because these people don't have the money they thought they did," a local source told the AJW.
In a Dec. 15 letter to its board members, the Minneapolis Jewish Federation stated that research conducted by the Fund Evaluation Group, the investment consultant employed by the Jewish Community Foundation, revealed that no assets were invested with Madoff's firm.
The letter also noted that the Federation was "greatly pained" by the fact that several charities have gone out of business as a result of the Madoff scam, and that "individual investors have lost their entire fortunes, and other organizations will experience enormous losses from which it will be difficult to recover."
Likewise, the United Jewish Fund and Council of St. Paul (UJFC) expressed its "support and sympathy for the individuals and philanthropies affected by the alleged Madoff investment fraud."
In a statement issued Tuesday, UJFC, the St. Paul-area federation, noted "that many outstanding members of the worldwide and local Jewish philanthropic community are victims and we are especially saddened that this alleged fraud will impact so many who have done so much with their own resources to help the most vulnerable among us. To the best of our knowledge at this time, we believe that the St. Paul Jewish community will have limited exposure to this tragic event."
Nationally, the downfall of Madoff is seen as "catastrophic" for Jewish charities, according to a Wall Street Journal story on Tuesday.
The national newspaper reported that Madoff's "alleged Ponzi scheme is proving disastrous to Jewish and other charities across the country, which have begun announcing funding shortfalls and unexpected shutdowns."
The Robert I. Lappin Foundation in Salem, Mass., announced Dec. 12 that it would shut down after losing $8 million – all of its money, according to JTA. And the Chais Family Foundation, which gives out some $12.5 million each year to Jewish causes in Israel, the former Soviet Union and Eastern Europe, announced its closing Dec. 14.
At least one nonprofit is calling out for help in the wake of Madoff's collapse. The Gift of Life Foundation, a Jewish bone marrow registry that relied heavily on Madoff as a benefactor, announced on its Web site Sunday that it would immediately need to raise $1.8 million to make up for recent losses.
Sources close to Yeshiva University, where Madoff served as treasurer of the board of trustees and board chairman of the university's Sy Syms School of Business until he resigned last week, said the school has lost at least $100 million. Y.U. officials declined to offer any specifics.
JTA also reported that the endowment fund of the Jewish Federation of Greater Washington, D.C., had more than $10 million invested with Madoff's scam fund.
In a letter to donors, the United Jewish Endowment Fund (UJEF) said the Madoff investments represented less than the 10 percent maximum for any single fund manager in the fund's active portfolio, in keeping with the organization's investment policy. The endowment fund's holdings as of Nov. 30 – including the Madoff-invested funds – had totaled $125 million, meaning Madoff's firm managed approximately 8 percent.
The UJEF letter says the fund has "engaged legal counsel" to "pursue recovery" of the lost funds. It adds that "at this time, we do not know the status of the Federation's investment" but would continue to communicate with "all of the Federation's stakeholders."
The Associated Press reported last Friday that Madoff targeted the Jewish community here, beginning about 20 years ago. Mike Engler was Madoff's liaison to the Jewish country club set, according to the AP story. Engler, who lived in Minnetonka, died in 1994.
An Oak Ridge member recalled that Madoff was treated like visiting royalty when he visited the country club some years ago. 
Robert Barrows, immediate past president and a current board member of Oak Ridge Country Club, told the Jewish World that the country club has a policy of not commenting on its members.
The AJW was not able to confirm any information about losses suffered by investors who were members of Hillcrest Country Club.
A friend of a local couple who lost their life savings in the Madoff investment scam recalled that the elderly couple referred to Madoff as "Uncle Bernie."
In addition to local investors — as well as prominent figures in the American Jewish community, including Sen. Frank Lautenberg, publisher Mort Zuckerman, and the foundations of Steven Spielberg, Elie Wiesel — who lost large sums of money to Madoff, the AJW was told that relatively small investors also were victimized.
"I never knew that you could have a relatively small account with that guy," said a local reputable source, who previously thought that Madoff's threshold was at least a million dollars. "He made himself out to be extremely exclusive," but some families invested as little as $50,000 with Madoff's scam operation in New York City.
"People who got in with the small dollars" felt as if Madoff had granted a "personal favor to let them in," said the AJW's source. "You felt privileged to have your money with him, because he always made money, year in and year out – even when Warren Buffett lost money, this guy still made money."
(Jacob Berkman of JTA contributed to this story.)
FROM THE AMERICAN JEWISH WORLD / December 19, 2008
 
UPDATE 12.19.08
More details are coming out about Jews and Jewish groups defrauded by Bernie Madoff. The Philanthropy Journal, in a Dec. 17 news roundup, reported that the Associated Press puts losses to Jewish philanthropy as a whole at between $600 million and $1 billion. This figure is likely on the low end, and does not account for all of the family charitable trusts invested with Madoff (as mentioned by Harold Roitenberg above).
Yeshiva University officials now say that they have lost $110 million that was invested with Madoff. Hadassah–The American Women's Zionist Organization, Inc., which operates medical centers in Israel (including Hadassah-Ein Kerem Hospital, which I visited in November), lost $90 million in the scam. Hadassah President Nancy Falchuk addresses economic hard times and the Madoff sting in a Web video. 
I found a list of Madoff's victims in the New York Times, and noticed that Technion, the Israel Institute of Technology had lost $26.5 million. However, a spokesperson for the American Technion Society told me that their group had lost $72 million — a fourth of their portfolio — in the scam. Here is part of their statement:Â 
The American Technion Society (ATS) was one of the many organizations, both within and outside the Jewish community that had a portion of our assets managed by Madoff Investment Securities.
The ATS investment portfolio took a loss as a result of our investments with Madoff Investment Securities. Our portfolio (prior to the Madoff disclosure) was estimated at $274 million, down from $305 million on September 30, 2008 due to general market conditions. Our loss from the Madoff portion of the portfolio totaled $72 million, which represents a net investment of $29 million and reported gains of $43 million not withdrawn.
Somewhat softening the blow, ATS has received $2.8 million in unrestricted gifts since the Madoff scandal became known, according to a spokesperson in New York.
And losses by the Carl and Ruth Shapiro Family Foundation is the big Madoff-related story in the Boston area. The Boston Globe reported that the prominent philanthropy lost one half of its money, about $145 million, to Madoff.
The newspaper reported on Dec. 18 that the Shapiros are trying to find a way to continue their funding of numerous non-profit groups. The Boston philanthropic community was already bracing for tough economic times before details of the Madoff scam emerged:
"It's taken what was already a high level of apprehension up significantly," said Paul S. Grogan, president and chief executive of the Boston Foundation, the largest funder of nonprofit organizations in Massachusetts. "None of us know what the full effects of this is going to be. The anxiety that people are feeling is really palpable."
Grogan said the Shapiro family has been stalwart backers of a range of organizations, large and small. "They're emblematic of how incredibly generous the successful Jewish families have been in philanthropy in the Boston community," he said. If the Shapiros can step up their contributions in the face of the Madoff scandal, "it would set a tremendous example for the whole community," Grogan said.