Proceeds from the event will support programs that encourage Jewish connection
By ERIN ELLIOTT BRYAN / Community News Editor
Aish Minnesota will welcome speaker Charlie Harary and honor Judy Victor and Jennie Teichman at "IlluminAISHon," its annual benefit, on May 21 in the Northstar Ballroom at the Hyatt Regency in downtown Minneapolis.
"There's a lot of dinners, a lot of benefits going on, every organization has one — and they're all wonderful — but we wanted to keep it short and sweet," said Rabbi David Fredman, executive director of Aish Minnesota. "We wanted to give people a taste of what we're trying to do at Aish and give them positive feelings, in terms of what we're offering and who we are."
Aish Minnesota is a branch of Aish HaTorah, an organization based in Jerusalem that provides opportunities for Jews of all backgrounds to discover their heritage. In Minnesota, Fredman wants to offer something for every one of the 40,000 Jews who call the Twin Cities home, regardless of their level of religious observance.
"Where the Bar and Bat Mitzva dropped off, we pick up 15 to 20 years later," Fredman said. "They start thinking, I'm Jewish, what does that mean? That's where we want to meet them… We look at ourselves as supplementary to everything else that's going on in the Jewish community. Want something a little more or different than what you're getting? We want to be there to try and meet those needs."
Proceeds from the annual benefit — including a raffle to win a six-night stay in a luxury villa in the Bahamas — will support the work that Aish does, including classes, Shabbat services, holiday events, partnership programs with other local organizations and more.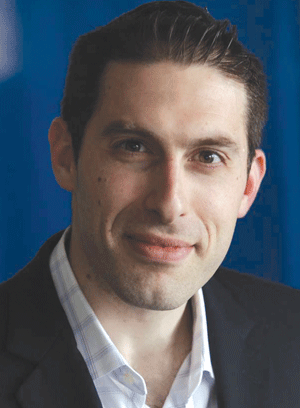 The event, chaired by Bonnie Lazar, will also honor two deserving women.
Victor, the part-time program coordinator and part-time volunteer, will receive the Enlightening Influence Award. Victor, who has been involved with the organization for six years, stepped up to a leadership role during Aish Minnesota's recent transition and was "tremendously helpful" to the Fredmans when they came into the organization.
"Basically, anything positive that happened, and a lot of things that continue to happen, are because of Judy," Fredman said. "She's a jack-of-all-trades, she's excellent in organizational skills, she's a charismatic person, she's a great person to connect to, she loves other people and she is certainly at the face of a lot of what Aish does."
Teichman, who has been an Aish volunteer for the past three years, will receive the Sparkling Service Award. She is largely responsible for all of Aish's communication.
"Any communication that happens through Aish is through Jennie," Fredman said. "Bottom line is that she gives a tremendous amount of time and energy toward helping Aish… There's so many things that have to happen on the back end to run an organization and Jennie is right in the thick of it."
Both Victor and Teichman increased their involvement with Aish after participating in the Jewish Women's Renaissance Project's T.A.G. (Transform and Grow) Missions to Israel. Similarly, it was a trip to Israel that ignited the Jewish passion for keynote speaker Harary.
"It was there that I started to realize that Judaism really isn't about taking away the physical or material, which I thought in high school… It's not negating the physical, it's elevating the physical. It's enhancing our everyday lives," Harary told the AJW. "God is trying to give us a certain experience in life and that intrigued me. I very much wanted to understand that… That was a moment for me I figured I would try the journey and try to better understand why we do what we do."
Harary, a laywer by trade, is the first vice president of residential operations and legal counsel of RXR Realty, a multi-billion-dollar real estate company based in New York. He grew up religious and attended day school, and continued his Jewish involvement as a volunteer with NCSY.
After his yearlong experience in Israel, he began speaking around the country to organizations, schools and institutions, and is now a senior lecturer for NCSY, the Orthodox Union and Aish HaTorah. He is a member of the board of the OU as well as founding president of its Young Leadership Cabinet, and is a member of the Conference of Young Jewish Presidents.
Harary has also created dozens of videos and podcasts, all of which are available at: charlieharary.com.
During his time in the Twin Cities, Harary wants guests at Aish's annual benefit to realize "how powerful all of us are."
"Greatness is not something that we need to become, it's something that we need to reveal," Harary said. "In each and every one of us is this source of happiness, this source of courage and power, and our ability to tap into that, to go deeper within us, is how we can become the people we deep down want to be."
Harary sees Judasim as a "sea of knowledge" that has much to offer. He encourages everyone to stick with it, dig deeper and ask questions.
"I believe we find insights for how to live a great life, and I think that's what Judaism is trying to do for everybody," Harary said. "It's important for all of us to be proud of who we are and recognize that there's a source of wisdom that we can access, that we should try — at everyone's level, at whatever time and in whatever way we can… And I think Aish is trying to do that."
***
The Aish Minnesota Annual Benefit will take place on Tuesday, May 21 in the Northstar Ballroom at the Hyatt Regency, 1300 Nicollet Mall, Minneapolis. For tickets and information, visit: aishmn.org.