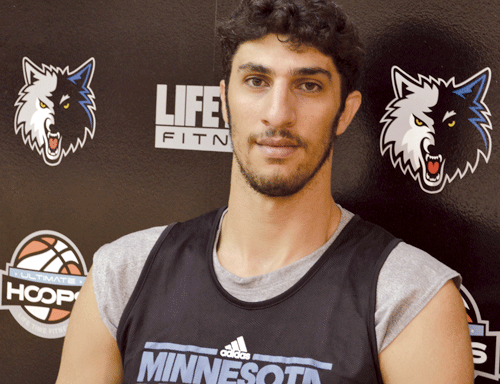 Lior Eliyahu, a power forward with Maccabi Electra Tel Aviv, is finishing up his week as a member of the Timberwolves team in the NBA Summer League in Las Vegas.
He played in the summer league once before, in 2006, with the Houston Rockets team. He was selected that year by Orlando, in the second round, 44th pick overall, in the NBA draft, then traded to Houston.
On June 26, the Timberwolves traded their 18th pick in the upcoming NBA draft to Houston for Chase Budinger and the draft rights for Eliyahu.
During a chat with the AJW last week, while practicing at the Target Center with the Wolves, the 6-foot, 10-inch native of Ramat Gan, Israel, mentioned that he was only 20, when he had his last exposure to NBA-type competition in the annual summer league.
Eliyahu roomed with Omri Casspi when they both played for Maccabi Tel Aviv. Casspi became the first Israeli to play in the world's premier basketball league, in 2009, when he joined the Sacramento Kings. The personable, extremely tall Israeli told the Jewish World that he would like to be the second Israeli to play in the NBA.
"I think it's the goal for any basketball player all over the world," Eliyahu commented.