The Lincoln Del Cookbook: Best-loved Recipes from the Legendary Bakery and Deli, by Wendi Zelkin Rosenstein and Kit Naylor, Minnesota Historical Society Press, paperback, 224 pages, $24.95
Reviewed by NEAL GENDLER
Still miss the Lincoln Del?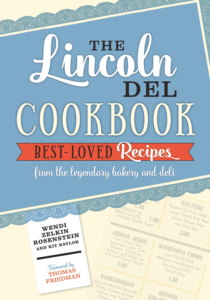 Except for owners of today's Jewish delis, who doesn't?
We can't get back the atmosphere of the Berenberg family's decades-ago, kosher-style Del, part of which was peculiar to geography and demography.
But thanks to The Lincoln Del Cookbook, out in a couple of weeks, folks with a little kitchen ambition can recreate Lincoln Del favorites such as soft bagels, caraway rye bread, cole slaw, sky-high pies, addicting cabbage borscht soup and multi-layer cakes.
Morrie Berenberg's granddaughter Wendi Zelkin Rosenstein and Kit Naylor give us 86 pages of recipes cut to home-kitchen size amid a delightful, well-written, beautifully illustrated assembly of history, stories, photos, menus, anecdotes and testimonials from employees and customers, some of whom ate at one of what became three locations nearly every day.
"The Del was like home to me," says Anna Simon. "You knew everybody. And if you didn't know anyone, someone at your table knew the brother-in-law's mother's cousin of the person sitting next to you." Growing up in Wayzata, "the Del was part of my Jewish identity and culture."
Indeed. When the first Del opened, the Minneapolis area's Jewish community was more compact than now. On Friday nights in Liz Herstein Salsberg's Jewish neighborhood, the smell of traditional Jewish cooking wafted out onto streets. "That's the way the Del smelled," she says. "Like home." In fact, some recipes originated in the kitchen of Morrie's wife Tess, the family as testers.
One reason for many products' Old World taste was schmaltz — liquefied chicken fat as oil, now shunned by the artery-conscious.
The book begins with history — Frank Berenberg bringing his very old sour starter from Romania in 1897. He and the Malinsky family opened the Northside Bakery in 1930. Berenberg opened his own Lincoln Bakery in 1933, naming it in admiration of the former president.
He brought his family into the business: sons Abraham (known as Robert or Boonie), Irving (Izzy) and Moishe (Morris or Morrie). In 1935, daughters Ann, Agnes and Gloria joined.
In 1957, the business moved, adding a restaurant, to 4100 W. Lake, St., just inside St. Louis Park. Popularity created long lines. Rosenstein's father, Jack Zelkin, married into the business, and after grueling training, ran the Lincoln Del West, which opened in 1965  at Hwys. 12 and 100, St. Louis Park.
Lincoln Del South opened in 1975 in Bloomington by I-494 and France Ave. S. in 1975. By 2000, all were gone.
Rosenstein says the brothers always "thought of themselves primarily as bakers." In 1974, bread was 25 percent of bakery sales even with display cases showing acres of caloric enticements. Baking, done at Lake Street, reached 1,200 bagels a day.
The Del's fame spread, with out-of-town visitors stopping in to stock up before leaving. Rosenstein and Naylor include parts of published reviews; Karen Winegar's reminiscence of being a gentile Albert Lea girl visiting a big-city Jewish world is a hoot.
Jews hardly were the only customers. Success came from freshness, assured by Del ovens running 24 hours a day; extra-grade ingredients; glazing of pastries; large portions, and focus on quality and consistency. A baker said: "If it wasn't right, you didn't serve it," and everything had to taste the same every time.
The authors call the brothers generous employers, their loyal employees able to buy houses and send children through college. Students, often the children of owners, relatives and friends, worked toward college tuitions. Journalist Tom Friedman's mother was the Del bookkeeper, and Rosenstein suggests that Morrie and friends paid his tuition after his father died. Friedman wrote the book's foreword.
In the 1980s, Morrie's son Danny and Twin Cities PR executive Dave Mona created a charity event they named "Kaiser Roll," possibly the first big race to mix runners and wheelchair racers.
Danny also created the Chicken Soup Del-a-Gram: matzo ball chicken soup in a special collector's bowl delivered by taxi as a get-well alternative to flowers or candy. The law wouldn't let the Del claim its soup would cure a Minnesota cold or flu, he once said, "but we're not denying it, either."
***
Neal Gendler is a Minneapolis writer and editor.
A book-launch celebration is scheduled for Sunday, Sept. 10, at 4100 Minnetonka Blvd., St. Louis Park, now an Edina Realty office. Preorders of the book may be made at shop.mnhs.org.
(American Jewish World, 8.11.17)