Reviewed by NEAL GENDLER
Little is needed to shatter the veneer of ethnic coexistence, as tragically illustrated in Buczacz, once an attractive city in Galicia, now in western Ukraine.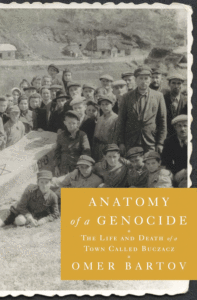 In 1921, its 13,000 people were Poles, Ukrainians and, about half the population, Jews. The groups had lived relatively amicably for centuries until World War I lifted the lid on a submerged cauldron of resentments and hatreds.
Anatomy of a Genocide, a work of 20 years, seeks to "reconstruct the life of Buczacz in all its complexity," says author Omer Bartov, a Brown University European history professor and author of four previous war and Shoah-related books.
Buczacz, birthplace of Nobel Laureate S.Y. Agnon, was taken over in 1612 by the Polish Potocki clan, which ruled for 150 years, welcoming and protecting Jews, says Bartov, whose mother was raised there. Austria took over in 1772.
World War I changed everything. For six years, Buczacz "was conquered and occupied repeatedly by one side or the other, devastated by fighting, looting, wanton destruction and a ferocious violence" creating a lust for vengeance. Buczacz suffered horribly — Jews the worst, beaten, raped and slaughtered by Cossacks. The autumn of 1918, the Austrian empire dissolved and Buczacz went back and forth between warring Poles and Ukrainians. With each switch, Jews suffered looting, brutality, rape and murder.
Poland took over in 1919, stirring Buczacz Ukrainians' resentment.
As Polish and Ukrainian nationalism swelled, Jews became outsiders. Until the war, they'd done well in business and politics. Jews were mayors.
But Jews never fully recovered from the war, and during the Depression, they increasingly were affected "by Ukrainian economic boycotts and anti-Jewish government policies." In 1937, one third of Jewish households were listed as indigent.
Germany's next war worsened everything, even without Nazis. The USSR moved into its agreed half of Poland, ruling with terror. In mass deportations, Jews were disproportionally represented, a fortuitous persecution. They were accused by the locals of collaborating. Jews lost their businesses, most synagogues were closed and Hebrew study was forbidden.
When Germany invaded the USSR in 1941, Ukrainian nationalists formed militias that attacked "real and perceived local enemies," and harassed Poles and Jews. Under German occupation, first came Einsatzgruppen, who in one year killed 1.5 million people in the Soviet Union, most of them Jews. They were replaced by gendarmes "whose primary purpose was to murder the Jews," and they and Germans shot Jews dead in streets, homes and hideouts. What is striking in Bartov's narrative is the casualness of killing Jews, almost as recreation. One German gendarme, Sgt. Peter Pahl, boasted of having killed his 2,000th Jew.
Jews were deported, mostly to Belzec, in five major "actions" between October 1942 and June 1943, when Buczacz was declared Judenfrei, "Jew-free." Yet several hundred Jews survived in hiding, many in forests. They returned when the Soviet army pushed out the Germans in March 1944, only to be slaughtered when the Germans returned in April.
"By the time the Soviets returned for good on July 21, fewer than 100 Jews were still alive in the area," Bartov says.
Such a small number, the departure of the last Jew in 2005, and the passing of decades leaves few to provide first-hand accounts, but Bartov has some enlivening documentation from his massive research; notes fill 95 pages. Bartov's 298 pages of clear, engaging writing, plus photos, make Anatomy compelling despite its dismal subject.
"Jewish accounts of the German occupation in the Buczacz district are invariably about rescue and betrayal by gentiles," he says. Some countryside Poles and Ukrainians hid Jews, but often for money and sometimes robbing them, then throwing them out.
Fania Feldman recalled asking a neighbor for milk for her sick father. He replied: "I'd rather give it to a pig than sell it to a Jew."
Survivor Zev Anderman "described the Ukrainians as 'a thousand times worse than the Germans,'" Bartov says. Yet, Alderman's family was sheltered by Polish and Ukrainian villagers during several roundups.
"Instances of unadulterated goodness," Bartov says, "appeared miraculous precisely because of their rarity."
***
Neal Gendler is a Minneapolis writer and editor.