By MORDECAI SPECKTOR
It's hard to know where to start when writing a remembrance of Les Block, a multifaceted musician, bandleader and impresario who also had a long career as a dentist and professor of public health at the University of Minnesota.
In 2018, I wrote about Block's upcoming concert, with singer Heidi Ziman, at the Sabes JCC (now the Minnesota JCC's Sabes Center), which featured the music of George Gershwin, and those influenced by the legendary composer. I know a few things about American popular music, but Block was a fount of knowledge about the Great American Songbook and the songwriters of yesteryear.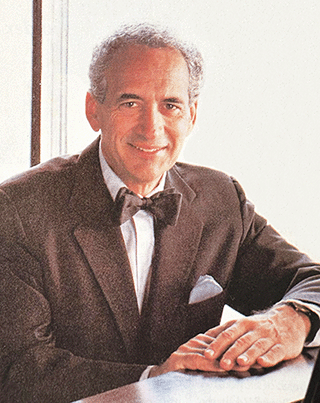 Remembrance
During our back and forth related to my story, Block stopped by the Jewish World office and dropped off a copy of an interview he conducted with the legendary Tony Bennett, which focused on the highly acclaimed but little-known singer David Allyn. Bennett died on July 21 in Manhattan. I'm not sure what happened to the CD with Block's interview of the singer.
Lester Block, a native of New York City, died after a brief illness on June 24. He was 88.
Apart from his musical renown, Les Block's name became known across the United States from its mention on the syndicated radio show Car Talk. The show's hosts, brothers Tom and Ray Magliozzi — aka "Click and Clack, the Tappet Brothers" — had a question for anybody calling in from Minneapolis: "Do you know Les Block?" (Tom Magliozzi passed away in 2014.)
Block's life partner Judy Fink provided an obituary to the Star Tribune that provided insights into the music maven's life trajectory.
Fink wrote that "by age 17, as a music student at the High School of Music and Art in New York City, [Block] formed his own society band, sharing billing with such name groups as the Tito Puente Band. After college and graduation from NYU Dental School in New York and his service as captain in the Air Force stationed in Hawaii, he went on to earn a master's degree in public health from UCLA."
Block became a professor of public health at Boston University, according to Fink, and moved to the Twin Cities in the 1970s to join the public health faculty at the University of Minnesota.
"Soon after arriving in Minneapolis, Les began performing as a solo pianist at the city's more elegant restaurants, winning acclaim from the city's most well-known music critics, including Michael Anthony of the Star Tribune," Fink wrote. "Les then formed Les Block and Company in the 1980s, comprised of a select group of singers backed by players from the Minnesota Orchestra joining him."
The ensemble performed in "numerous musical shows that Les created, produced and directed during the next couple of decades, selling out Orchestra Hall, the Jewish Community Center … and other local venues."
Block conceived and executed these musical tributes to famous Jewish composers, including Irving Berlin, George and Ira Gershwin, Jerome Kern, Harold Arlen, et al.
Fink noted that Block also created "the first show in the country dedicated to women composers and lyricists, held at the JCC."
The obituary by Fink quoted Block's musical partner Heidi Winer (née Ziman): "Les shared his knowledge with anyone lucky enough to be in his presence. I'll always be grateful for his guidance and his dedication to me as a performer."
Block told me, in 2018, that when he was in college he learned about how Jews predominated in the world of popular music.
"We had this teacher, who was not Jewish, but he loved American popular songs, and he said something like 'If it weren't for the Jewish songwriters, we wouldn't have the kinds of songs we have because the vast majority of those people were, or are, Jewish.'"
As Fink mentioned, in 2011, Block presented a concert titled "From the Shtetl to Broadway," which he performed for Congregation Or Emet.
"In listening to Ella Fitzgerald's famous rendition of 'A Tisket A Tasket,' for example, he heard melodic strains that sounded Jewish to him. He proceeded to call the composer, Van Alexander, finding that sure enough, the composer had been born Feldman, and was in fact Jewish, acknowledging to Les what he agreed were Jewish influences in composing that seemingly non-sectarian song," Fink wrote.
She also mentioned that Block was a founding member, in 2008, of the Twin Cities Cabaret Network, a cabaret group whose members were awed by his "encyclopedic fountain of knowledge."
In more recent years, Block co-produced a series of radio tributes to celebrated songwriters and singers "where he interviewed such music celebrities as Tony Bennett (twice), Barry Manilow, Dave Frishberg, Johnny Mandell and scores of others," Fink wrote.
These shows can be accessed on internet radio, and many have been accepted into the Library of Congress.
Block wrote articles on the music of the American Songbook for JazzNotes, a publication in Minneapolis.
"Above all, loved and admired by all who knew him, Les was a gracious, generous-hearted man known for his genuine warmth and concern for others, alongside his witty dry sense of humor," Judy Fink wrote.
In addition to his life partner, Judith Fink, of Minneapolis, Block is survived by his brother, James Block (wife Pat), of Riverdale, N.Y.; sister Gail Elson, of West Newton, Mass.; and other family and friends.
A celebration of his life is scheduled for Aug. 31, 2023. For details, email: Judy_LesBlock@aol.com. Memorial donations may be made to Minnesota Public Radio or Friends of the Hennepin County Library.
(American Jewish World, August 2023)